RAW Organic Protein - Real Raw Vanilla
Garden of Life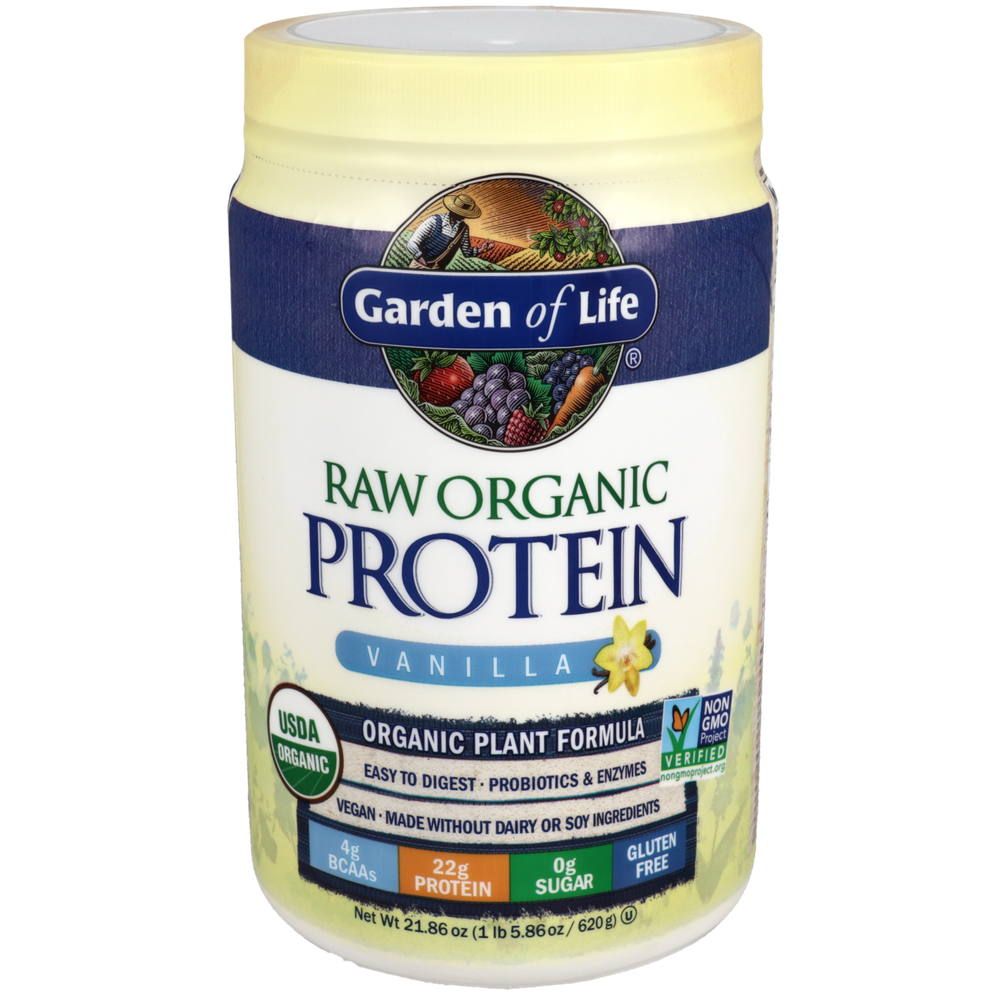 SKU: GRD-101867
Raw Organic Protein is a Certified Organic, Non-GMO Project Verified Raw Vegan Protein powder made with 14 Raw sprouted proteins delivering 22 grams of protein that is dairy free with a complete profile of all the essential amino acids along with added whole food fat-soluble vitamins, probiotics and enzymes.
Unleash the nutritive power of living grains and seeds with Garden of Life Raw Organic Protein—a certified organic, raw, vegan protein powder with a scrumptious taste. Featuring 22 Raw and organic sprouts, Raw Organic Protein is an excellent source of complete protein—providing 22 grams and 29% of the Daily Value—including all essential amino acids. Raw Organic Protein contains fat-soluble vitamins A, D, E and K and supports digestive health and function with live probiotics and protein-digesting enzymes.† Raw matters because heat can denature proteins, reducing their availability to your body. But Garden of Life's Certified Organic plant proteins are different—always gently produced at low temperatures, without any added fillers or carriers, preserving their complete amino acid integrity and whole-food, Certified Organic, Non-GMO goodness.
Raw Organic Protein—an excellent source of Certified USDA Organic, Non-GMO Verified, Informed-Choice Clean for Sport, Raw, vegan complete protein powder from 22 raw and organic sprouts.
Made from Certified USDA Organic Plants grown without the use of pesticides or synthetic fertilizers, sewage sludge, genetically modified organisms or ionizing radiation
Non-GMO Project Verified is an assurance, through ongoing testing, that the product has been produced according to consensus-based best practices for GMO avoidance.
Products bearing the Certified Vegan logo must not contain any animal or animal by-products or chemical products tested on animals, keeping them in our world and out of our bodies.
NSF Gluten-Free Certification ensures that companies have a gluten-free compliance plan and undergo onsite inspections of their production and handling facilities.
Mix 1 level scoop (scoop included) with 10oz of water. Delicious with unsweetened almond milk.
Serving Size:
1 Scoop (31g)
Amount Per ServingCalories
... 110
Total Fat
... 2.5g
Saturated Fat
... 0g
Trans Fat
... 0g
Polyunsaturated Fat
... 1g
Monounsaturated Fat
... 0.5g
Cholesterol
... 0mg
Sodium
... 180mg
Total Carbohydrate
... 2g
Dietary Fiber
... 1g
Total Sugars
... 0g
Added Sugars
... 0g
Protein
... 22g
Vitamin D
... 10mcg (400IU)
Iron
... 6mg
Vitamin A
... 60mcg
Vitamin K
... 5mcg
Zinc
... 2.8mg
Manganese
... 0.7mg
Calcium
... 40mg
Potassium
... 47mg
Vitamin E
... 3mg
Magnesium
... 15mg
Selenium
... 42mcg
Ingredients
: Raw Organic Protein Blend: Organic Pea Protein, Organic Sprouted Brown Rice Protein, Organic Amaranth Sprout, Organic Buckwheat Sprout, Organic Millet Sprout, Organic Cracked Wall Chlorella, Orgaic Quinoa Sprout, Organic Chia Seed Sprout, Organic Garbanzo Bean Sprout, Organic Lentil Sprout, Organic Adzuki Bean Sprout, Organic Flax Seed Sprout, Organic Sunflower Seed Sprout, Organic Pumpkin Seed Sprout, Organic Sesame Seed Sprout, Organic Flavor Blend: (Organic Vanilla Flavors, Organic Erythritol, Organic Stevia Extract (leaf), Sea Salt), Organic Guar Gum, Organic Carob Bean Gum, RAW Probiotic and Enzyme Blend: Lipase, Protease, Aspergillopepsin, beta-Glucanase, Cellulase, Bromelain, Phytase, Lactase, Papain, Peptidase, Pectinase, Hemicellulase, Xylanase, [Lactobacillus acidophilus, Lactobacillus plantarum, Lactobacillus bulgaricus](3 Billion CFU)
Typical Amino Acid Profile:
Alanine ... 900mg
Arginine ... 1800mg
Aspartic Acid ... 2500mg
Cystine ... 200mg
Glutamic Acid ... 3700mg
Glycine ... 850mg
Histidine ... 480mg
Isoleucine .... 1020mg
Leucine ... 1800mg
Lysine ... 1600mg
Methionine ... 240mg
Phenylalanine ... 1400mg
Proline ... 950mg
Serine ... 1300mg
Threonine ... 800mg
Tryptophan ... 200mg
Tyrosine ... 830mg
Valine ... 1100mg
Store in a cool, dry place. Do not use if safety seal is broken or missing. Packaged by weight not volume. Settling may occur.
Made without dairy or soy ingredients, tree nuts, added sugars, filler ingredients, nor artificial colors, flavors, sweeteners or preservatives.
Manufactured in a facility that also processes egg, milk, soy and tree nuts. May contain traces of soy due to agricultural practices.