RAW Probiotics Kids
Garden of Life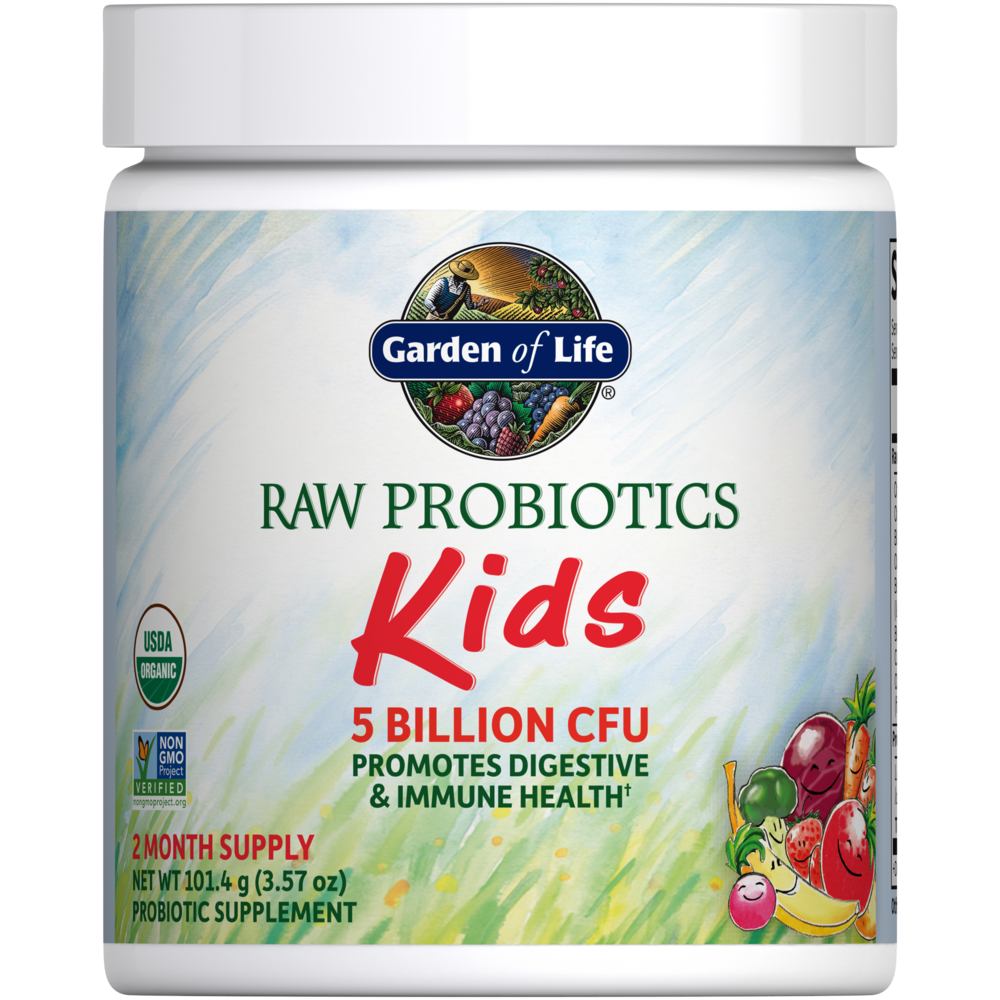 SKU: GRD-101767
RAW, organic, whole food probiotic formula specifically designed to meet the unique needs of children, RAW Probiotics Kids is formulated with powerful probiotics, 23 RAW and organic fruits and vegetables, plus RAW inulin, a prebiotic that supports probiotic growth. RAW Probiotics Kids delivers over 5 Billion live probiotic cells1 per daily serving.
RAW Probiotics Kids features Garden of Life's Arrive Alive! Potency Promise—utilizing temperature controlled cold storage and delivery from the moment the probiotic cultures are harvested all the way to your refrigerator—so you can be certain they are fresh, alive and body-ready.
-Supports Digestive Health
-Supports Immune System
-For Kids Age 3 Months and Older
For children 3 months and older, start with 1/4 teaspoon daily and gradually increase to full serving of 3/4 teaspoon daily or use as directed by a pediatrician.
Serving Size: 3/4 Teaspoon (1.6g)
RAW Organic Fruit and Veggie Prebiotic Blend ... 1.52g
(Inulin, Banana (fruit), Strawberry (fruit), Cherry (fruit), Blackberry (fruit), Blueberry (fruit), Raspberry (fruit), Beet Juice (root), Carrot Juice (root), Spinach Juice (leaf), Broccoli Juice (flower and stem), Tomato Juice (fruit), Kale Juice (leaf), Red Cabbage Juice (leaf), Parsley Juice (leaf), Brussels Sprout Juice (leaf), Green Bell Pepper Juice (fruit), Cucumber Juice (gourd), Celery Juice (stalk), Garlic Juice (bulb), Ginger Juice (root), Green Onion Juice (bulb), Cauliflower Juice (flower and stem), Asparagus Juice (flower and stem))
Probiotic Blend ... 81mg
(Lactobacillus gasseri, Lactobacillus plantarum, Bifidobacterium lactis, Lactobacillus casei, Lactobacillus acidophilus)
Total Cultures ... 5 billion CFU