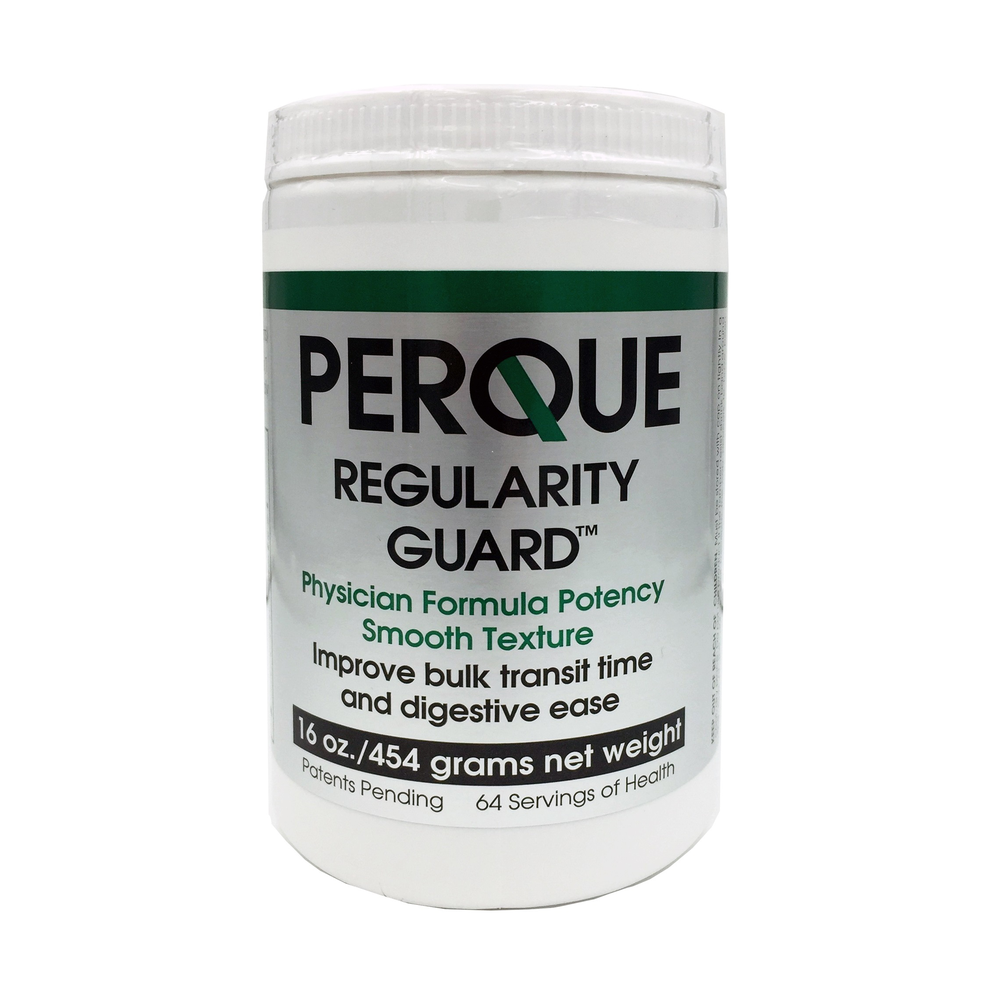 SKU: PER-192
Benefit: Improves overall digestive health, balances glucose levels, and lowers blood fats.
When we are "regular, " we just feel better… more energetic, more focused, more resilient. Fiber and fluids are keys to prebiotic health and essential, yet often overlooked, steps in digestive health. Proper, unprocessed fibers, in optimized balance, are better answers to constipation, dyspepsia, and to feeling heavy, fatigued,
unfocused, or drained.
PERQUE Regularity Guard is a patent pending unique combination of health-promoting prebiotic fibers. Take in water or any beverage to bind toxins, accelerate their safer removal from the body, and nourish the rapid growth of healthy, digestion-promoting bugs. Ample healthy bugs crowd out and prevent the growth of pathogenic "bad" bugs.
As a dietary supplement, take 7 grams (1 scoop) in water or juice one (1) to five (5) times daily or as directed by your health professional.
Serving Size: One Scoop (7g)
Amount Per Serving
Selenium ... 125mcg
(as 100% l-selenomethionine)
Gum acacia ... 3.5gm
(standardized wild-crafted gum arabic)
Glucomannan ... 2gm
(freeze-dried)
Oat fiber ... 1gm
(14% beta glucan; Oatwell 14®)
Dextran FOS ... 500mg
(short-chain prebiotics)
OPC ... 12.5mg
(ActiVin IH636™; proanthocyanidins 92% soluble)
Phosphatides ... 36mg
(includes phosphatidyl-choline, -ethanolamine, and inositol)
This product does not contain
citrus
MSG
wheat
gluten
corn
starch
sugar
wax
soy
yeast
zein
sulfate
phosphates (other than coenzymes)
preservatives
casein
other milk derivatives
GMOs
KEEP OUT OF REACH OF CHILDREN
Must be stored with cap on tightly in a cool, dry, place. Do not use product if the tamper-resist shrink band around the cap or the inner seal beneath the cap appears to have been tampered with or is missing.