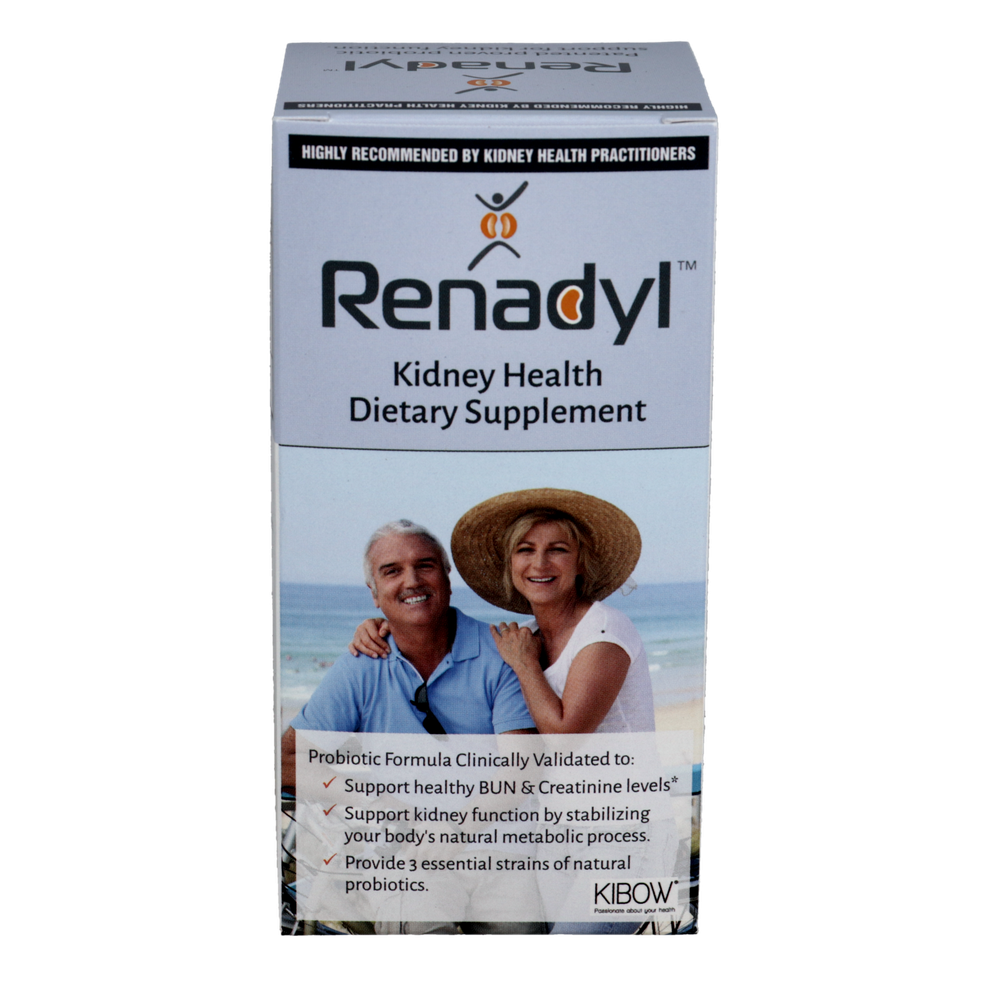 SKU: KIB610-9685916115
Renadyl™ is a combination of unique beneficial probiotics and prebiotics that can metabolize nitrogenous wastes that diffuse from the bloodstream to the bowel as a result of an ailing kidney. Renadyl™ is a highly effective probiotic supplement that contains 45 billion live probiotic bacteria per capsule. Renadyl™ is 100% natural and enclosed in an acid-resistant capsule to ensure that the probiotic bacteria are not destroyed by gastric or bile acids before they are released into the bowel.
Renadyl™ is formulated with all-natural, highly specific strains of beneficial bacteria that can help maintain kidney health
Three clinical studies have shown, Renadyl™ can help reduce BUN (Blood Urea Nitrogen) Levels.
With continued use, Renadyl™ may stabilize eGFR (Glomerular Filtration Rate), a key test in measuring kidney function.
Our 2014 study showed a reduction in C-Reactive Protein (CRP), a marker of inflammation, in dialysis patients.
Renadyl™ utilizes natural processes in the gut to help reduce levels of urea, uric acid, and creatinine.
Suggested Use:
Take 1-2 capsules twice daily with a meal, or as suggested by your healthcare professional. It is important to note that Renadyl™ should be used for a full 3 months to receive its full benefits.
Servings Size:
1 Capsule
Amount Per Serving
Proprietary Blend
... 45 Billion CFU
S. thermophilus (KB 19)
L. acidophilus (KB 27)
B. longum (KB 31)
Xylo-oligosaccharide (prebiotic)
Inulin (prebiotic)
Other Ingredients:
Magnesium Stearate
Storage:
Renadyl™ is now FULLY STABLE without refrigeration for at least 2 WEEKS and maintains effectiveness without the need for cold shipping. Upon receiving, please store Renadyl™ in your refrigerator between 39-45° F (4-8°C) to maintain maximum effectiveness. Do not freeze.