Renewable Energy: Pre-Workout Powder - Beet & Pomegranate
Ora Organic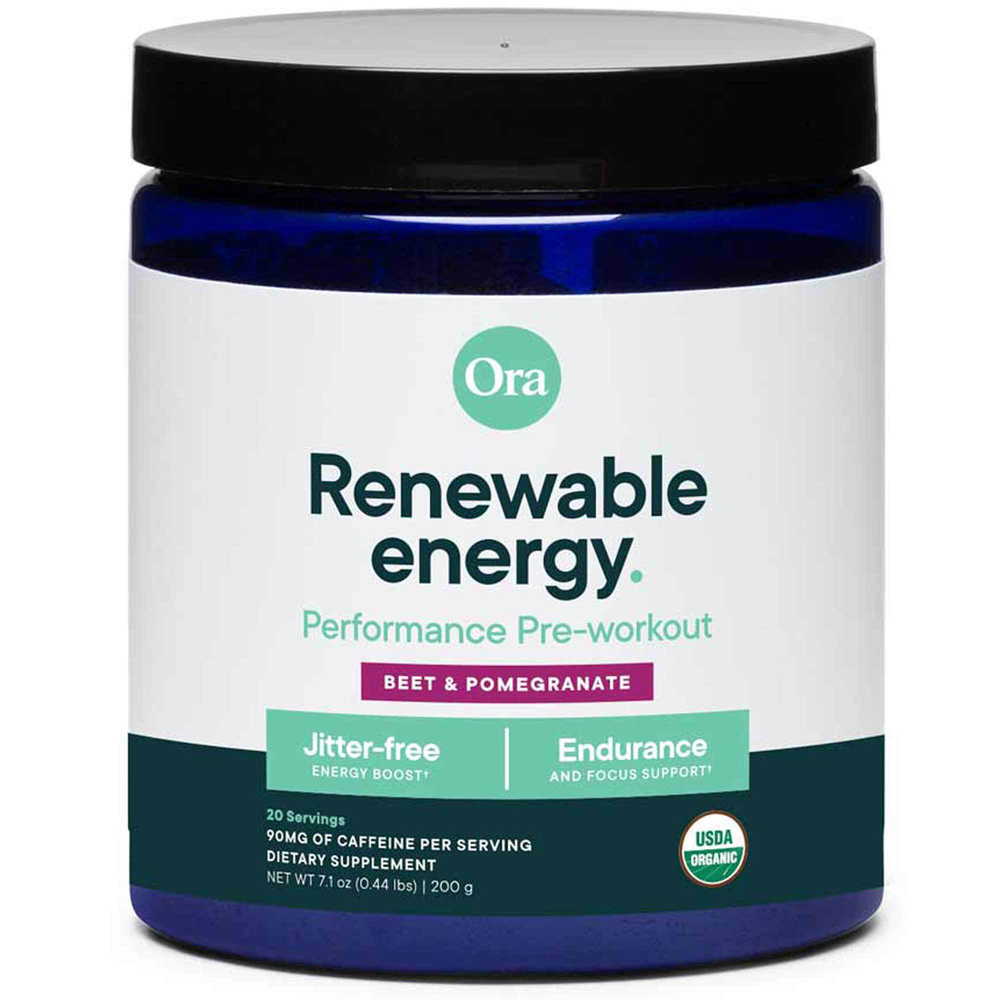 SKU: ORA858-1150P
Plant-based and USDA certified organic, Renewable Energy contains Yerba Mate, known as one of the cleanest energy boosting foods available. It doesn't leave you strung out and comes in delicious organic beet and pomegranate!
Thanks to a balanced blend of organic green coffee bean, yerba mate, matcha tea, eleuthero root, and ginseng you get 90mg of caffeine to kickoff your workout (or work-day. AND without beta alanine that means a jitter-free boost!
Sometimes raw energy isn't enough, so Ora Organics included nitric oxide boosting fruits and veggies which increase blood flow to key muscle groups and vital organs, supporting strength and endurance.

Suggested Use:
Mix 1 scoop (included) with 1 cup (8oz) of water or add to your smoothie, granola or culinary creation of choice!
Serving Size:
1 Scoop (10g)
Amount Per ServingCalories
... 35
Total Carbohydrate
... 9 g
Dietary Fiber
... 1 g
Sugars
... 2 g
Calcium
... 8.3 mg
Iron
... 0.2 mg
Sodium
... 10 mg
Organic Energy and Electrolyte Blend
... 3.75 g
Organic Tapioca, Organic Coconut Water, Organic Green Coffee Bean, Organic Matcha Green Tea, Organic Yerba Mate
Organic Nitric Oxide Blend
... 2.45 g
Organic Pomegranate Juice Powder, Organic Beet Root Powder, Organic Spinach, Organic Kale
Organic Focus and Endurance Adaptogens
... 850 mg
Organic Ashwagandha, Organic Rhodiola Root, Organic Ginseng, Organic Maca Root, Organic Crodyceps Mushroom, Organic Eleuthero Root
Other Ingredients
: Organic Apple Powder, Natural Berry Flavor, Organic Raspberry, Organic Cranberry, Organic Monk Fruit, Organic Raspberry Flavor, Organic Stevia.
Contains NO:
Grains, dairy, gluten, soy, GMOs, peanuts, added sugars, artificial ingredients (flavors, colors, sweeteners, or preservatives)
Contains coconut.Warning
: If pregnant, nursing, or taking prescription drugs, consult your healthcare professional prior to use.
Storage: Store in a cool, dry place and keep away from moisture. Close lid tightly after using. Do not refrigerate.