Replenish the Right
Kan Herb Company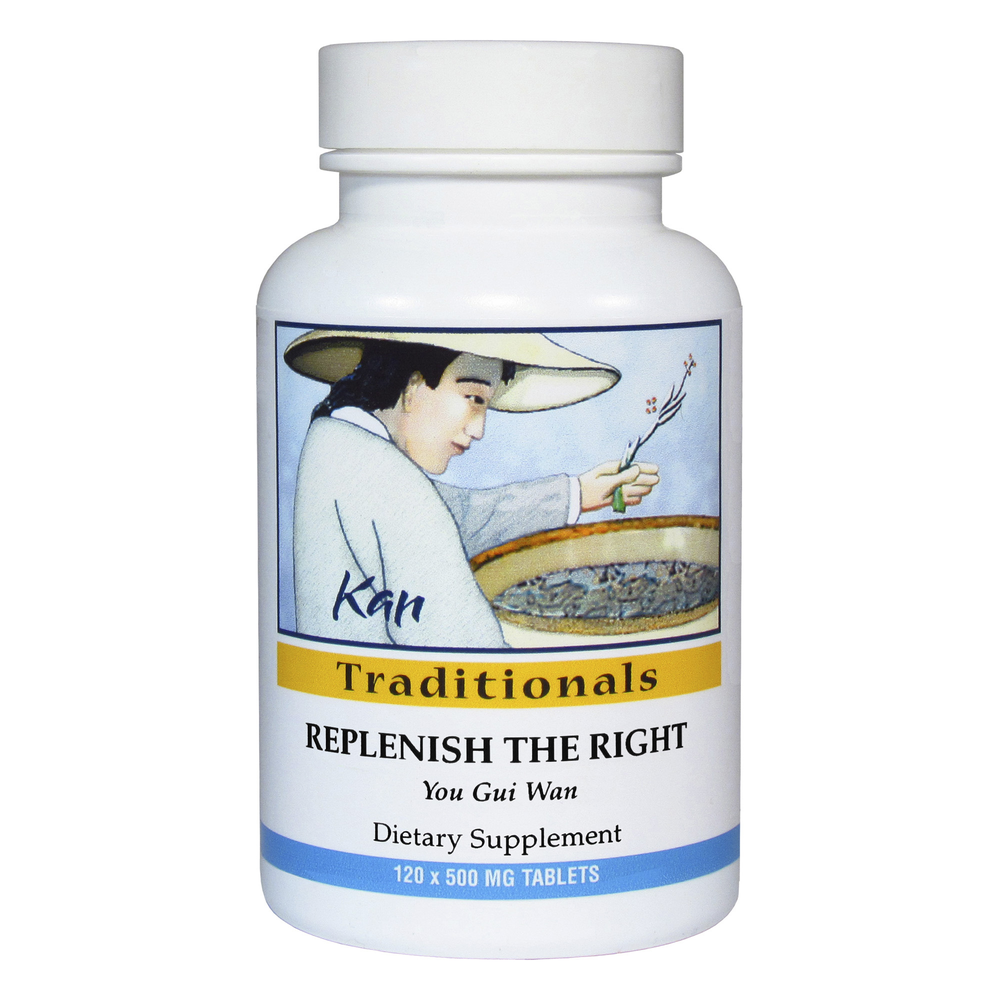 SKU: KA3T-RTR120
Pattern Identification:
Kidney Yang deficiency, waning Fire of the Gate of Vitality, Blood deficiency

Chinese Action:
Warms and Tonifies Kidney Yang, replenishes Essence (Jing) and nourishes Blood and Essence

Pulse:
Deep and weak, particularly in the rear positions

Tongue:
Pale and damp
Indications (Symptoms):
-Temporary aching and weakness of the lower back and knees
-Occasional fatigue, dizziness, aversion to cold and coolness of the extremities with a desire to wear warm clothing
-Helps relieve occasional loose stools, possibly with undigested food
-Occasional watery leukorrhea, frequent urination, slight incontinence, water retention in the ankles
Take 1-2 tablets, 2-3 times daily
Pinyin Name
-Common Name

Shu di huang
-Rehmannia root (prepared)
Lu jiao jiao
-Deer horn gelatin (soybean)
Shan yao
-Chinese yam rhizome
Gou qi zi
-Lycium fruit
Tu si zi
-Chinese dodder seed
Du zhong
-Eucommia bark
Rou gui
-Chinese cinnamon bark
Shan zhu yu
-Asiatic cornelian cherry
Dang gui shen
-Dong quai root
Zhi fu zi
-Sichuan aconite root

50mg excipients and binders: silicon dioxide
(glidant/dehydrant), stearic acid
(lubricant/binder), microcellulose (coating).
Use only under the direct supervision of a qualified health care practitioner, seek their advice if pregnant or nursing. Keep out of reach of children. Keep tightly capped and out of direct sunlight. Store at room temperature.