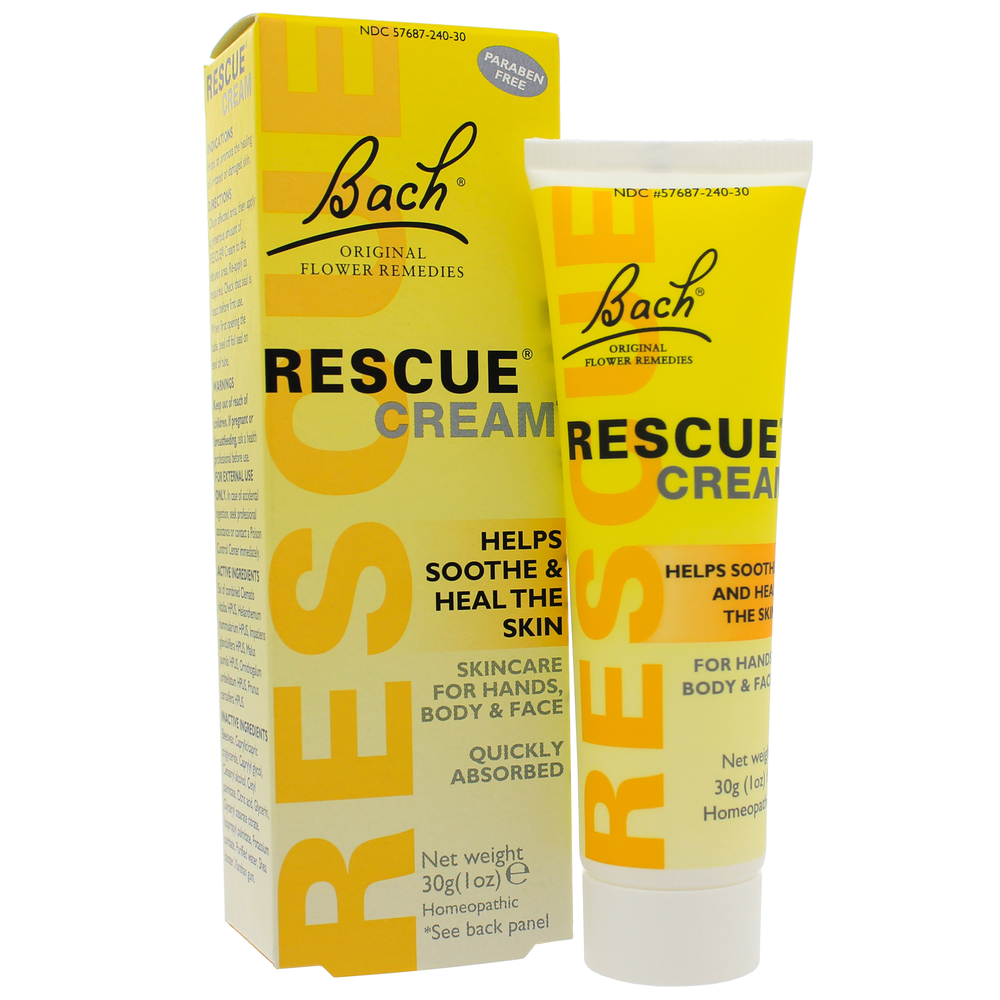 SKU: RESC30
Rescue Remedy Cream 30g is available by Bach Flower Remedies.
Bach®
ORIGINAL
FLOWER REMEDIES
RESCUE®
CREAM
HELPS SOOTHE & HEAL THE SKIN
NATURAL SKINCARE FOR HANDS, BODY & FACE
QUICKLY ABSORBED
Net Weight
30g(1oz)
A Homeopathic Remedy
Benefits:
* Soothes dry, irritated skin
* Heals damaged skin
* Natural skincare for hands, body and face
* Paraben free
More Info:
INDICATIONS
Helps to promote the healing of irritated or damaged skin.
RESCUE® Cream is an intensive moisturizer designed to soothe dry, irritated, or damaged skin caused by the stresses and strains of everyday life. As a well-known indicator of how the body feels inside, our skin is often the first place where you see the effects of a demanding, busy life. This can lead to dry, rough, uneven, dull looking skin.
With regular use, RESCUE Cream effectively repairs and helps protect the skin against environmental influences and other stress factors. RESCUE Cream is a combination of the famous flower essence Rescue Remedy developed by Dr. Bach, and the Bach® Original Flower Remedy Crab Apple, which offers both cleansing and emotional support of appearance. Gentle, safe, and suitable for the whole family.
RESCUE Cream is non-greasy, fragrance-free, paraben-free, lanolin-free, and not tested on animals.
DIRECTIONS
Clean affected area, then apply a generous amount of RESCUE Cream to the desired area. Re-apply as required. Check that seal is intact before first use. To open, pierce tube seal with point in top of cap.
ACTIVE INGREDIENTS
5x of combined Malus pumila HPUS, Helianthemum nummularium HPUS, Clematis vitalba HPUS, Impatiens glandulifera HPUS, Prunus cerasifera HPUS, Ornithogalum umbellatum HPUS.
INACTIVE INGREDIENTS
Purified water, Cetostearyl alcohol, Apricot kernel oil, Cocoa seed butter, Glyercin, Cetyl palmitate, Glyceryl monostearate, PEG-100 stearate, Caprylyl glycol, Phenoxyethanol, PEG-20 stearate, Glyceryl caprylate, Benzyl alcohol.
Keep out of reach of children. If pregnant or breastfeeding, ask a health professional before use. FOR EXTERNAL USE ONLY. In case of accidental ingestion, seek professional assistance or contact a Poison Control Center immediately.
It looks like there are no similar
products available