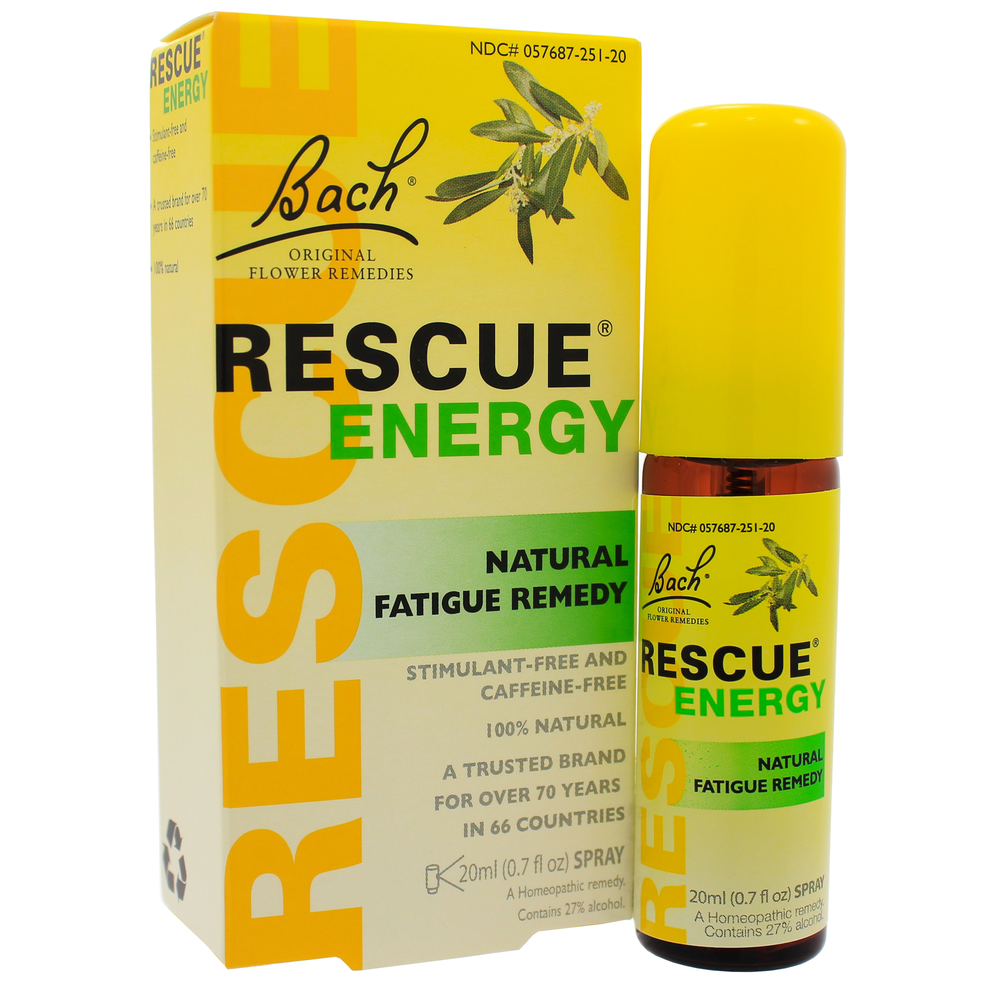 SKU: REN20
Rescue Energy 20ml is available by Bach Flower Remedies.
Bach
ORIGINAL
FLOWER REMEDIES
RESCUE
ENERGY
RESCUE
NATURAL
FATIGUE
REMEDY
STIMULANT FREE AND
CAFFEINE FREE
100% NATURAL
A TRUSTED BRAND
FOR OVER 70 YEARS IN 66 COUNTRIES
20ml (0.7 fl oz) SPRAY
A Homeopathic remedy.
Contains 27% alcohol.
More Info:
Stimulant free Rescue Energy improves the bodys ability to handle stress and strengthen its natural energy reserves. Restoring emotional vitality, Rescue Energy is all natural, non narcotic, and not habit forming.
Dr. Edward Bach stated that the flower remedy Olive, a key active ingredient in Rescue Energy, restores energy when you are physically and mentally exhausted.
Use when you need an energy support boost, anytime, anywhere.
Certain issues resulting in a lack of energy may be better treated by using one of the other 38 Bach Flower Remedies.
Directions
Bring spray nozzle up to mouth and apply 2 sprays onto the tongue during times of emotional fatigue. Additional sprays may be taken as needed.
Drug Facts
Active Ingredients
Each 5X (HPUS)
Clematis vitalba
[helps give focus when you are not grounded in reality]
Helianthhemum nummularium
[adds courage and presence of mind in the face of adversity]
Impatiens glandulifera
[helps you cope calmly and patiently with irritating problems or people]
Ornithogalum umbellatum
[softens the impact of shock or fright]
Olea europaea
[helps restore emotional vitality when you are tired after making an effort]
Prunus cerasifera
[helps you act rationally and think clearly with a calm and balanced mind when you feel you are losing control]
Uses
Provides natural relief from emotional fatigue caused by stress or strain during times of personal difficulty.
Inactive Ingredient
27% alcohol
* Keep out of reach of children
* If pregnant or breast-feeding, ask a health professional before use
* Consult a physician for use in children under 12 years of age
* Keep away from eyes
* For occasional use only
* Consult a physician if condition exists for more than two (2) weeks
* Not intended for use as a substitute for sleep. If fatigue or drowsiness persists or continues to recur, consult a physician
* Check that tamper-proof seal is not broken before first use
Other Information
* Store at 77

It looks like there are no similar
products available