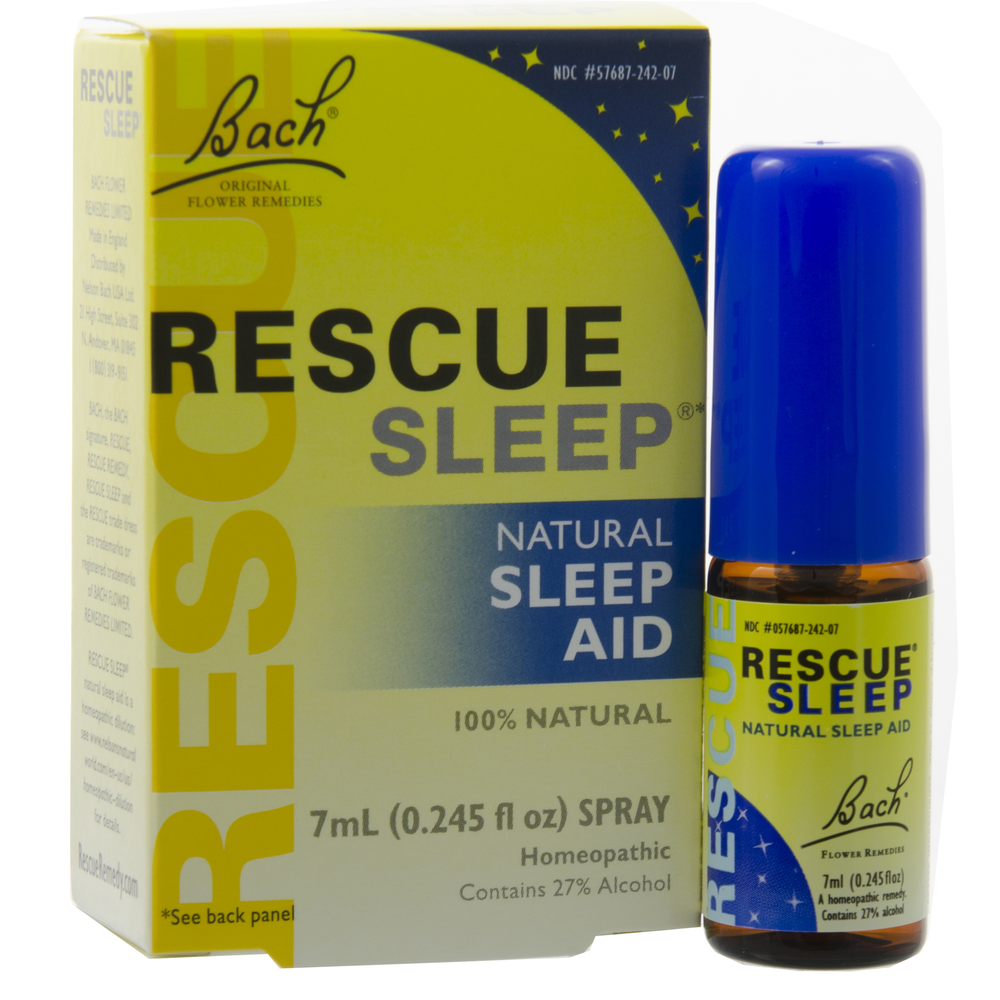 SKU: NEL-BF01408
Rescue Sleep 20ml Spray is available by Bach Flower Remedies.
Rescue Sleep calms your restless mind providing natural relief of occasional sleeplessness caused by stress repetitive thoughts.
Calms your restless mind providing natural relief of occasional sleeplessness caused by stress and repititive thoughts.
*NATURAL SLEEP AID
*NON-HABIT FORMING AND SAFE FOR THE WHOLE FAMILY
*FAST-ACTING SPRAY
*A TRUSTED BRAND FOR OVER 70 YEARS IN 66 CENTURIES
Bach® ORIGINAL FLOWER REMEDIES
RESCUE® SLEEP
20ml (0.7 fl oz) SPRAY
A Homeopathic remedy
All-natural, non-narcotic, and non-habit forming, Rescue Sleep provides relief for occasional sleeplessness that is safe for the whole family. Certain sleep difficulties may be better treated by using one of the other 38 Bach Flower Remedies.
This product has not been tested on animals.
Active Ingredients are made according to the Homeopathic Pharmacopoeia of the United States (HPUS).
Bring spray bottle up to mouth and apply 2 sprays onto the tongue prior to retiring. Additional sprays may be taken during the night as needed.
ACTIVE INGREDIENTS:
Each 5X (HPUS)
Aesculus hippocastanum
(relief from repititive thoughts)
Helianthemum nummularium
(adds courage and presence of mind in the face of adversity)
Clematis vitalba
(helps give focus when you are not grounded in reality)
Impatiens glandulifera
(helps you cope calmly and patiently with irritating problems or people)
Prunus cerasifera
(helps you act rationally and think clearly with a calm and balanced mind)
Ornitholgalum umbellatum
(softens the impact of shock or fright)
INACTIVE INGREDIENTS:
27% alcohol
Does Not Contain - Artificial colors, Artificial Fragrances, Animal products
Keep out of reach of children.
Consult a physician for use in children under 6 years of age.
Store below 77º F (25º C).
If pregnant or breast-feeding, ask a health professional before use.
Keep away from eyes.
Stop use and ask a doctor if sleeplessness persists for more than two (2) weeks. Insomnia can be a symptom of serious underlying medical illness.