Metabolic ReSet Chocolate
Nature's Way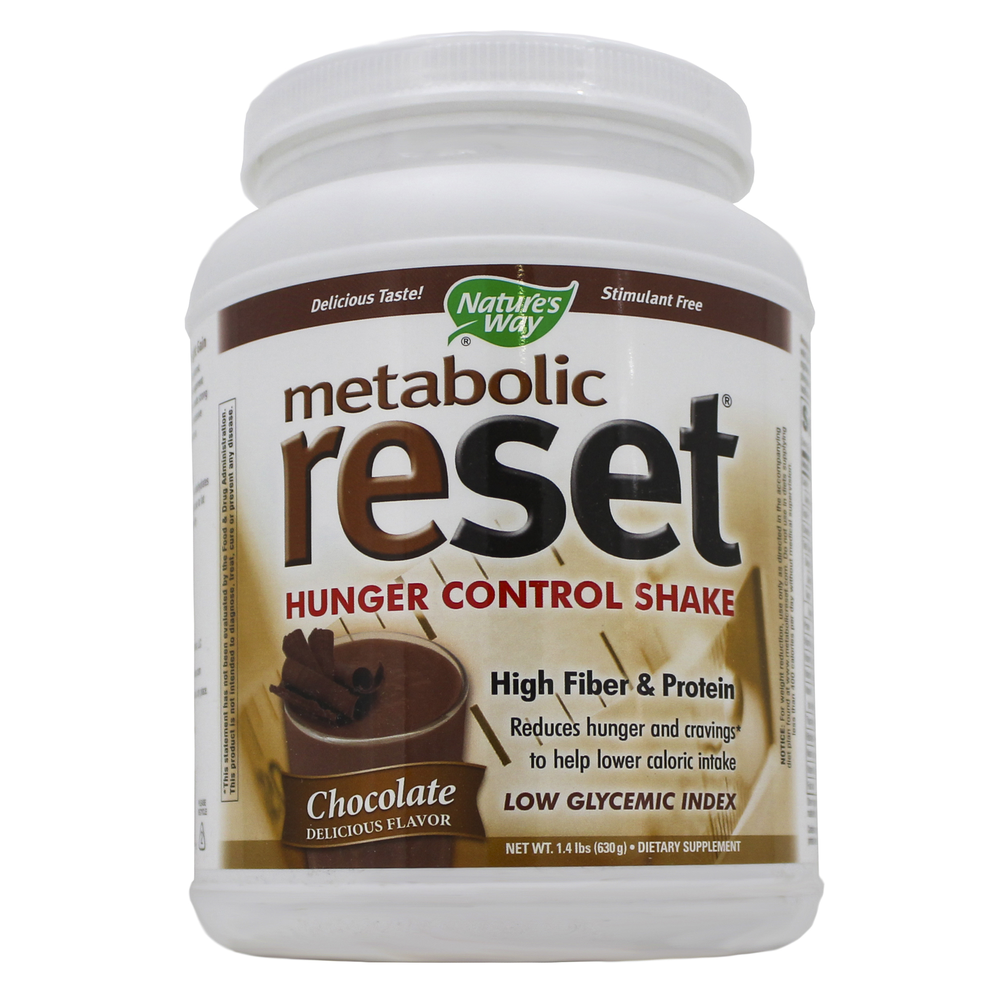 SKU: NW-15732
As part of a healthy diet and exercise plan, revolutionary Metabolic Reset Chocolate addresses both the glycemic and caloric causes of weight gain by safely reprogramming appetite to reduce hunger and cravings.*
-Natural formula; No artificial sweeteners or preservatives
-No stimulants
-High fiber / high protein
-Low glycemic index
-Contains 100% whey protein isolate
-Only 6g of net carbohydrates per serving
-Fortified with vitamins & minerals
To make a satisfying shake, add 2 scoops (45 g)/1 packet of powder to 8 ounces of cold water. Shake or stir briskly into a smooth consistency. If desired, blend in fruit or other healthy ingredients. May also be mixed with skim, soy or other milk.
Serving Size: 2 scoops(45g)
Amount Per Serving
Calories ... 130
Calories from fat ... 10
Total Fat ...1g
Cholesterol ...2mg
Total Carbohydrate ... 13g
Dietary Fiber ... 7g
Soluble Fiber ... 4g
Sugars ... 1g
Protein ... 21g
Vitamin A ... 1, 667IU
(as beta carotene)
Vitamin C ... 20mg
(ascorbic acid)
Vitamin D ... 133IU
(as ergocalciferol)
Vitamin E ... 10IU
(as d-alpha tocopheryl acetate)
Thiamin ... 0.5mg
(as thiamin mononitrate)
Riboflavin ... 0.57mg
(Vitamin B2)
Niacin ... 6.67mg
(as niacinamide)
Vitamin B6 ... 0.67mg
(as pyridoxine HCl)
Folic Acid ... 133mcg
Vitamin B12 ... 2mcg
(as cyanocobalamin)
Biotin ... 100mcg
(as biotin triturate)
Pantothenic Acid ... 3.33mg
(as d-calcium pantothenate)
Calcium ... 500mg
(as dicalcium phosphate and from Whey Protein Isolate)
Iron ... 1mg
Phosphorus ... 330mg
(as dicalcium phosphate)
Iodine ... 50mcg
(as potassium iodide)
Magnesium ... 150mg
(as magnesium oxide)
Zinc ... 5mg
(as zinc oxide)
Copper ... 0.67mg
(as copper gluconate)
Sodium ... 150mg
Potassium ... 280mg
Whey Protein Isolate ... 22g
Viscofiber Proprietary Blend ... 8g
(Viscofiber Oat Beta-Glucan Concentrate; Inulin (chicory root extract); Xanthan Gum)
Stevia Extract ... 118mg
(leaf)
If you are pregnant, nursing or under 18 years of age, consult a healthcare professional before beginning any weight loss program.
Sold by weight, not volume. Store in a cool, dry place. Keep out of reach of children.
*These statements have not been evaluated by the FDA. This product is not intended to diagnose, treat, cure, or prevent any disease.
It looks like there are no similar
products available