Resveratrol 200mg
Protocol for Life Balance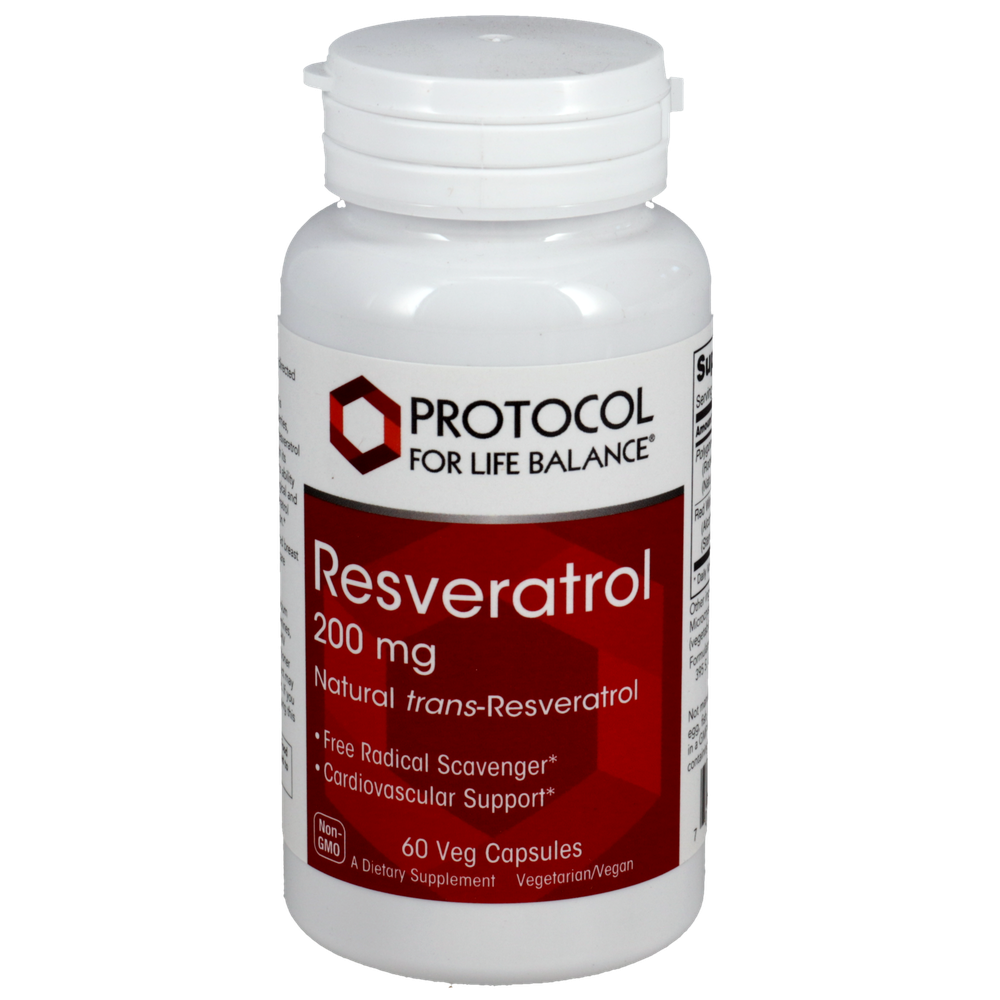 SKU: PROT-P3353
-Natural Trans-Resveratrol
-Free Radical Scavenger*
-Cardiovascular Support*
-Vegetarian Formula
-A Dietary Supplement
Resveratrol is a polyphenol that is naturally found in the skin of red grapes, certain berries, and other plants. Recent research has shown that Resveratrol can support healthy cardiovascular function through its ability to suppress reactive oxygen species, as well as through its ability to promote a healthy response to biological stress.* In addition, some studies indicate that Resveratrol may help to maintain a healthy blood flow.*
As a dietary supplement, take 1 capsule 1 to 3 times daily, or as directed by your healthcare practitioner.
Serving Size: 1 Veg Capsule
Amount Per Serving
Polygonum cuspidatum Extract ... 400mg
(Root)(50% Natural Trans-Resveratrol - 200 mg)
Red Wine Extract ... 10mg
(Alcohol-Free)(Vitis vinifera)(min. 30% Polyphenols)
Other Ingredients: Cellulose (capsule), Cellulose Powder, Magnesium Stearate (vegetable source) and Silica.
Not manufactured with wheat, gluten, soy, milk, egg, fish, shellfish or tree nut ingredients. Produced in a GMP facility that processes other ingredients containing these allergens.
Store in a cool, dry place. Please Recycle.
Certain populations, such as the French and the Greeks, have a low incidence of coronary artery disease, despite a diet relatively high in saturated fat. It has been suggested that regular consumption of red wine may explain this phenomenon, which is called the "French paradox." Evidence indicates that Resveratrol, a constituent of red wine, may play a key role in this phenomenon.
Resveratrol has been found to exert a number of potentially beneficial effects with respect to cardiovascular health. As an antioxidant, Resveratrol can synergize with CoQ10; it has also been shown to help maintain healthy levels of glutathione.* In addition, Resveratrol has been shown to support a healthy inflammatory response, as well as healthy blood clotting functions through its effects on the COX-2 enzyme.*
CAUTIONS AND INTERACTIONS: Women who have had breast cancer, or are at high risk, should consult a healthcare practitioner before using this product. Resveratrol may interact with NSAIDs and anticoagulant/antiplatelet medications; as well as with drugs metabolized by Cytochrome P450 3A4 such as statins, calcium channel blockers, anti-arrhythmic agents, antihistamines, benzodiazepines, erectile dysfunction drugs, and HIV protease inhibitors. Please consult a healthcare practitioner before use if taking any of these drugs. This product may cause digestive upset in some sensitive individuals. If you experience any gastrointestinal discomfort after using this product, discontinue its use.
This bottle contains an AGELESS® Oxygen Absorber to ensure freshness. Do not eat packet.
*This statement has not been evaluated by the Food and Drug Administration. This product is not intended to diagnose, treat, cure or prevent any disease.