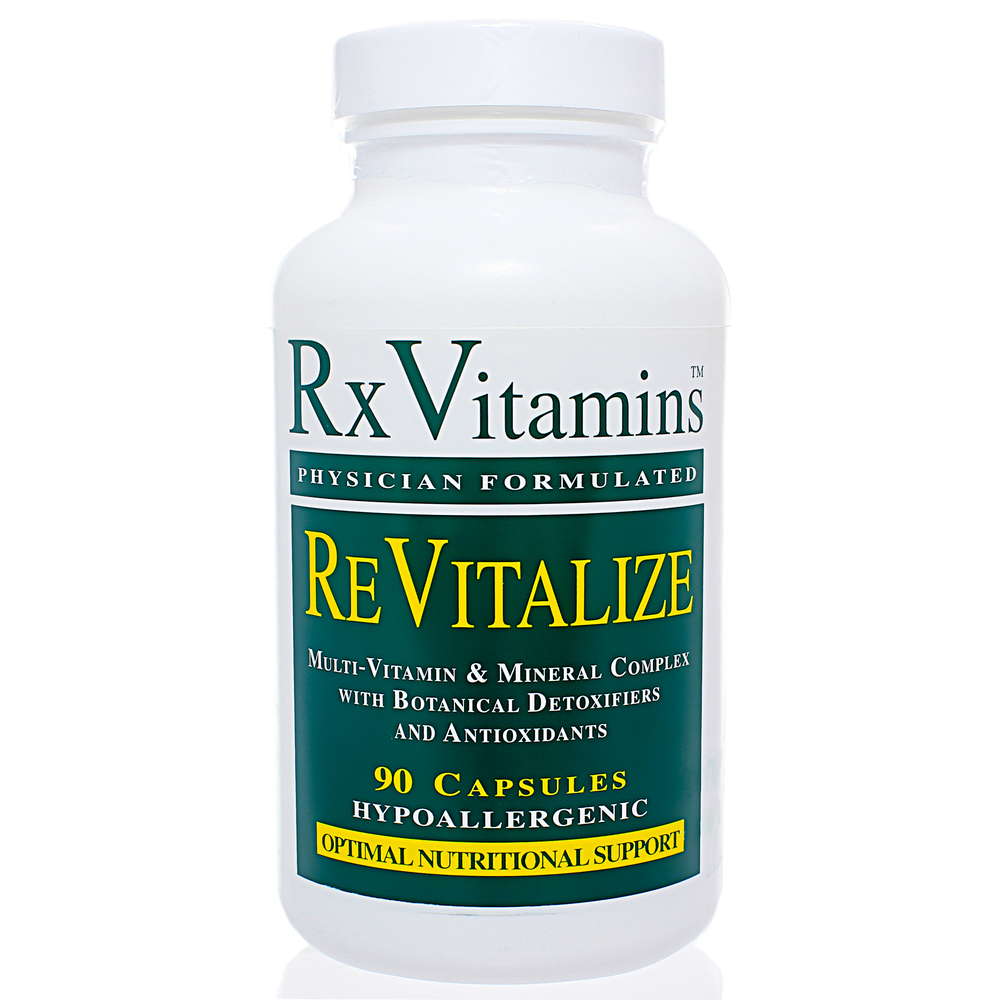 SKU: RXV-2000
ReVitalize is an innovative advancement in multiple vitamin and mineral formulation. Three capsules provide a daily nutritional program with a scientifically designed profile of nutrients and highly specialized botanical extracts.
ReVitalize provides a sophisticated profile of 27 vitamins and minerals including a mixed carotenoid complex and vitamin E. In addition, ReVitalize is fortified with powerful antioxidant concentrates such as Korean Ginseng and Ginkgo Biloba to help protect the body from the harmful effects of free radical damage. Finally, select botanical extracts such as standardized milk thistle,
borage seed oil and parsley leaves have been added to help support the natural cellular detoxification process.
As a dietary supplement take three capsules daily, or as recommended by your physician or health care professional.
Serving Size: 3 Capsules

Amount Per Serving
Vitamins & Minerals:
Mixed Carotenoid Complex ... 25, 000IU
(alpha, beta & gamma carotenes)
Vitamin C ... 200mg
(ascorbic acid)
Pantothenic Acid ... 100mg
(calcium pantothenate)
Calcium ... 50mg
(amino acid chelate/complex)
Magnesium ... 50mg
(amino acid chelate/complex)
Vitamin B-1 ... 50mg
(thiamine)
Vitamin B-2 ... 50mg
(riboflavin)
Vitamin B-3 ... 50mg
(niacin)
Vitamin B-6 ... 50mg
(pyridoxine HCI)
Citrus Flavonoid Complex ... 50mg
(active flavonols, flavonones, flavones & naringen - 44%)
Choline ... 50mg
(bitartrate)
Inositol ... 50mg
Potassium ... 25mg
(glycero-phosphate)
Zinc ... 15mg
(amino acid chelate/complex)
Manganese ... 5mg
(amino acid chelate/complex)
Iron ... 4.5mg
(amino acid chelate/complex)
Copper ... 1mg
(glycinate)
Vanadium ... 1mg
(as vanadyl sulfate)
Vitamin D ... 400IU
(calciferol)
Vitamin E ... 200IU
(d-alpha tocopherol succinate)
Folic acid ... 400mcg
Biotin ... 300mcg
Iodine ... 150mcg
(kelp)
Vitamin B-12 ... 100mcg
(cyanocobalmin)
Chromium ... 50mcg
(polynicotinate)
Selenium ... 50mcg
(amino acid complex)
Molybdenum ... 20mcg
(amino acid complex)
All Minerals are hypoallergenic, whole brown rice amino acid chelates.
Standardized Botanical Antioxidant Concentrates:
Korean Ginseng ... 50mg
(Panax ginseng) (standardized 5% ginsenosides)
Chinese Green Tea Extract ... 25mg
(Camilla sinensis) (standardized 40% polyphenols)
Ginkgo Biloba ... 10mg
(standardized 24% ginkgo flavone glycosides, 6% terpene lactones)
Bilberry ... 5mg
(Vaccinium myrtillus) (standardized 25% proanthocyanosides)
Wild Grape Seed Extract ... 5mg
(Vitis vinifera, seed extract) (standardized minimum 85% proanthocyanidins, 8.5mg)
Oleoresin Turmeric ... 5mg
(Curcuma longa) (standardized 90-95% curcuminoids)
Detoxifying and Rejuvenating Factors:
Milk Thistle ... 75mg
(Silybum marianum) (standardized 80% Silymarin)
Parsley Leaves ... 75mg
(Petroselinum crispum) (naturally rich in apiin and luteolin-7-apiolglucoside)
Juniper Berries ... 50mg
(Juniperus communis) (naturally rich in glucuronic acid)

* This statement has not been evaluated by the Food and Drug Administration. This product is not intended to diagnose, treat, cure or prevent any disease
It looks like there are no similar
products available