Roxalia
Boiron Homeopathics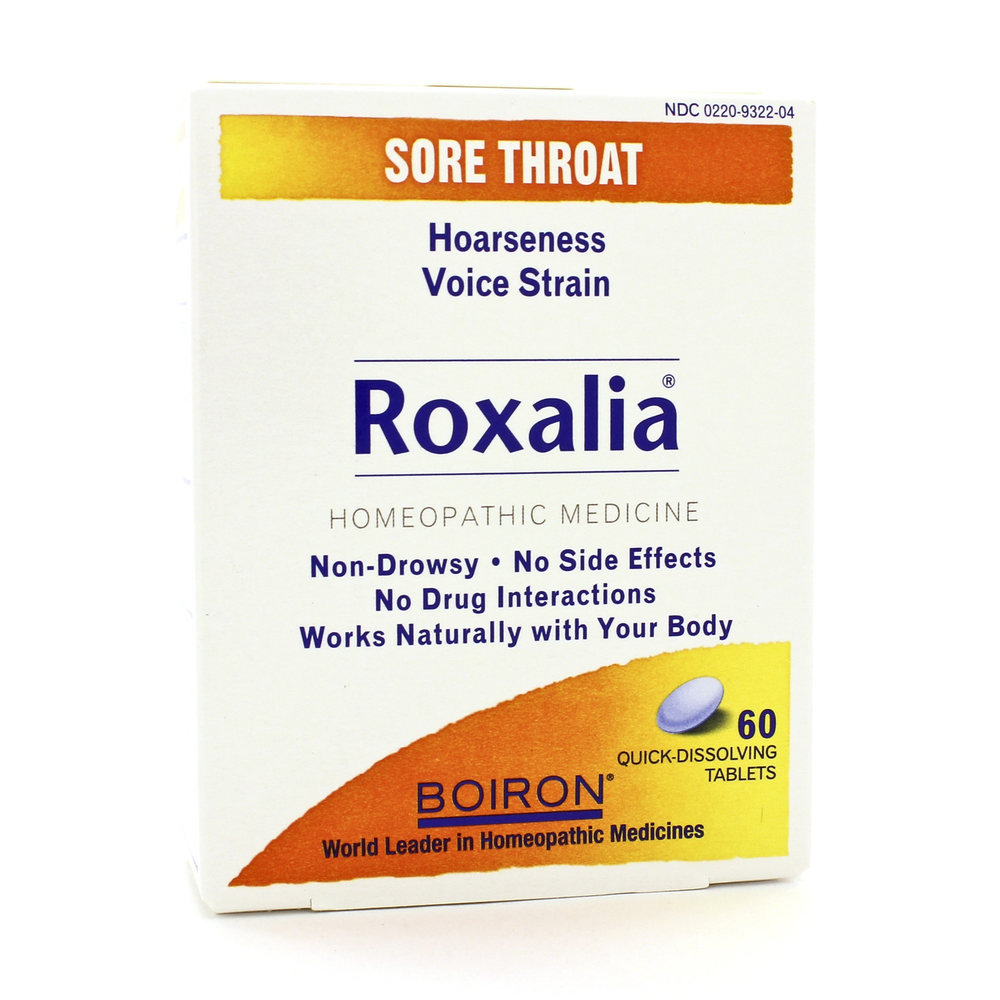 SKU: BOI-21041
Roxalia 60t is available by Boiron Homeopathics.
Roxalia combines homeopathic medicines traditionally used to treat sore throat and hoarseness. Regulated as drugs by the FDA, homeopathic medicines are safe and reliable. They are made of very diluted substances that stimulate our bodys natural resources.
Roxalia is made by Boiron, world leader in homeopathy. For more than 70 years, Boiron has been committed to funding scientific research and educating the public and health care professionals about homeopathic medicines.
SORE THROAT
HOARSENESS
Roxalia
HOMEOPATHIC MEDICINE
BOIRON
Quick Dissolving Tablets
60 TABLETS
Non-drowsy
No drug interactions
Uses
Temporarily relieves minor sore throat and hoarseness.
Store at 68-77F (20-25C)
Adults and children 12 years and over: Dissolve 2 tablets in the mouth every 2 hours up to 6 times a day. Children under 12 years: ask a doctor.
Active Ingredients
Arnica Montana 3C HPUS
(Relieves hoarseness due to overexertion of the vocal cords)
Arum Triphyllum 3C HPUS
(Relieves vocal cord fatigue in speakers and singers)
Belladonna 3C HPUS
(Relieves red and sore throat)
Bromium 3C HPUS
(Relieves swollen and painful tonsils)
Bryonia Alba 3C HPUS
(Relieves sore throat with intense thirst)
Mercurius Solubilis 3C HPUS
(Relieves sore throat with intense salivation)
Pulsatilla 3C HPUS
(Relieves raw sore throat)
Phytolacca Decandra 3C HPUS
(Relieves sore throat with pain spreading to the ears)
Spongia Tosta 3C HPUS
(Relieves hoarseness with dry throat)
Inactive Ingredients
Lactose, Croscarmellose Sodium, Magnesium Stearate
*The letters HPUS indicate that these ingredients are officially included in the Homeopathic Pharmacopeia of the United States
Keep out of reach of children.
Ask a doctor before use
-in children under 12 years of age
- if sore throat is severe, accompanied or followed by a fever, headache, rash, nausea or vomiting
Do not use if blister seal is broken.
If pregnant or breast-feeding, ask a health professional before use.
It looks like there are no similar
products available