SafeCell
Tesseract Medical Research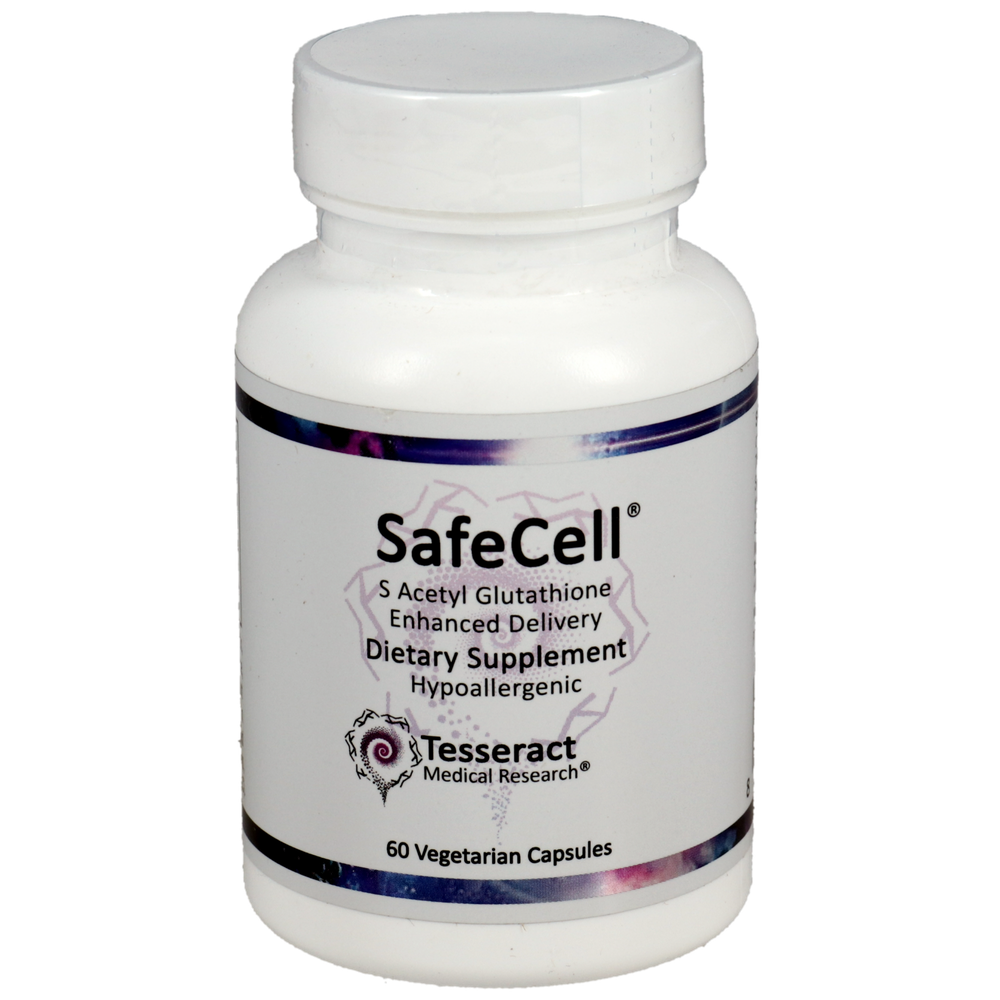 SKU: TES617-AM000
SafeCell's main ingredient, glutathione, is your body's primary antioxidant and detoxifying agent used to neutralize free radicals and excrete toxic substances*.
Glutathione depletion is a component of every chronic disease and inflammatory condition and is also a key factor in the aging process.
Production and recycling of Glutathione declines with age, and supplementation becomes necessary to achieve optimal
glutathione levels.
S-Acetyl-Glutathione is an acetylated form of oral glutathione with demonstrated optimal absorption and efficacy*.
SafeCell leverages this superior form of glutathione and maximizes its efficacy through Tesseract's unique nano-delivery science*.
Raising intra-cellular glutathione levels may protect against chronic health conditions*.
SafeCell™ Features:
Suitable for daily use
S-Acetyl-Glutathione is excellent daily nutritional support to enhance the efficacy of IV therapy for patients already pursuing glutathione treatment
S-Acetyl-Glutathione is the most readily-absorbed and effective form of oral glutathione available, supporting natural detoxification pathways and a normal inflammatory response*
S-Acetyl-Glutathione is powered by The Tesseract Effect™ for optimized delivery, absorption, and efficacy*
Take 1-2 capsules two times daily or as recommended by your health-care practitioner.
Serving Size:
One Capsule
Amount Per ServingS Acetyl Glutathione complex**
... 300mg
Other Ingredients:
CyLoc™ gamma dextrun fiber matrix, hypromellulose (derived from cellulose) capsule, cellulose, hydrocypropyl methyl cellulose, calcium laurate and plant amylase. **Soluability enhanced S Acetyl Glutathione in CyLoc™, an octadextrin matric molecular trap, compounded with DexKey™ release agent (patent oending, Al Czap, Czap R&D, licensed by Tesseract Medical Research, LLC)
Tamper Evident: Use only if bottle is sealed.
Store tightly sealed in a cool, dry place.
If pregnant, consult your health-care practitioner before using this product.