Safed Musil - Holistic extract powder
Rebel Herbs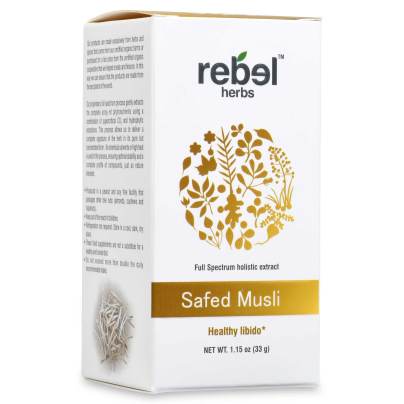 SKU: RBH-RH3008
Safed Musli is the hindi name for a herb that is the chief ingredient in the preparation of over a hundred ayurvedic formulations.
It is a very popular aphrodisiac agent. It may help support sexual potency and libido*
The powder can be mixed with juice,cold water or a morning protein shake daily.
Add 1/4 to 1/2 teaspoon per day to water,juice,or smoothie and shake until mixed.
Serving Size: 1 gram per day
Amount Per Serving
Safed Musli CO2 Extract++ ... 20mg
(100:1)
Safed Musli Water Extract** ... 940mg
(10% Saponins)
Other Ingredients: Safed Musli CO2 Extract,Safed Musli Water Extract,aerated silica.
++ Supercritical CO2 extract
** Hydrophilic Extract
As with any dietary or herbal supplement,you should get advice from your healthcare practitioner for the use of this product. If you are nursing,pregnant or considering pregnancy,you should consult your healthcare practitioner prior to using this product. Keep safe and out of reach of children.
It looks like there are no similar
products available