SAMe (S-Adenosylmethionine)
Allergy Research Group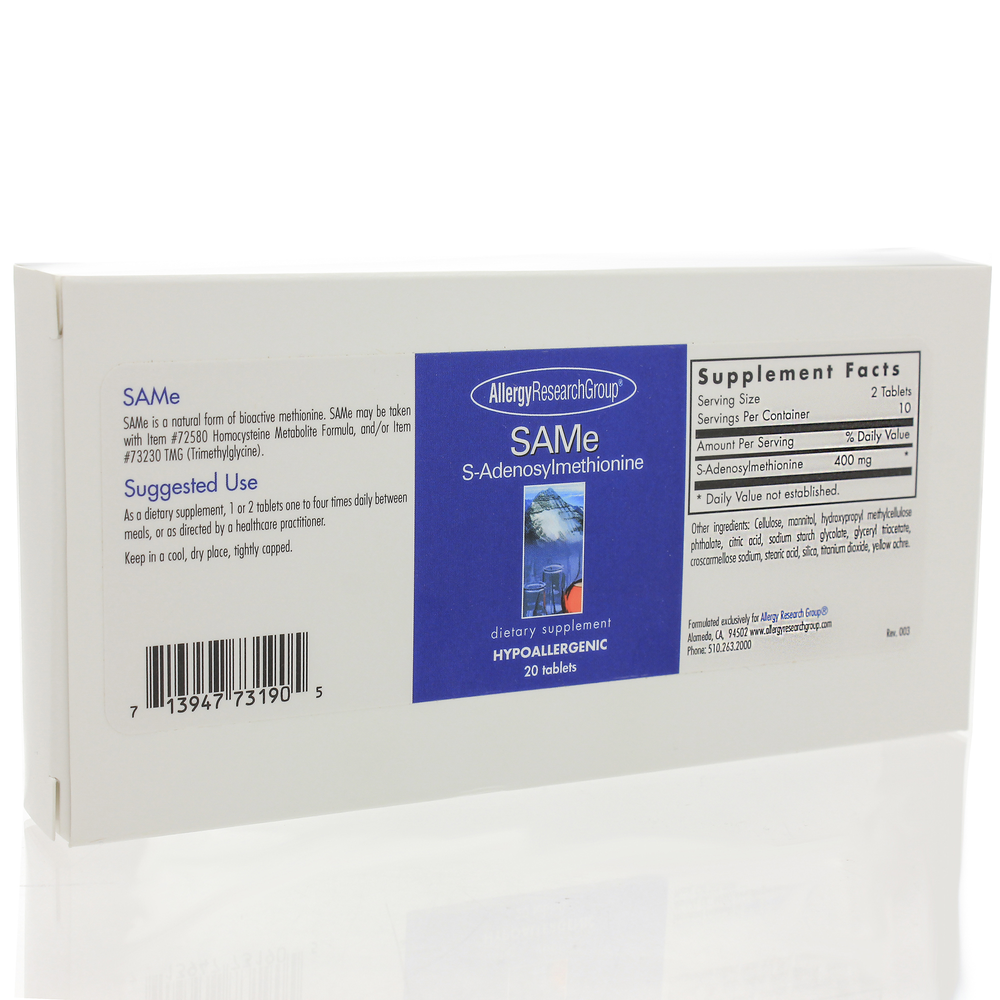 SKU: ARG-73190
SAMe is available by Allergy Research Group.
S-Adenosylmethionine
-S-Adenosylmethionine, a natural form of bioactive methionine, is utilized by almost every cell in the body. Supplementing with SAMe, therefore, has a wide range of potential benefit. SAMe has been widely reported in medical literature to support mood balance, joint health, proper liver functioning and to lower elevated levels of homocysteine often associated with cardiovascular and musculoskeletal conditions.
Allergy Research Group®
Dietary Supplement
HYPOALLERGENIC

More Info:
SAMe is a natural form of bioactive methionine that results when methionine is converted by ATP and SAMe synthetase. SAMe has a wide variety of benefits because it is utilized by almost every cell of the body. It is a precursor to the neurotransmitters dopamine, norepinepherine, and serotonin. It is used in the production and protection of DNA and RNA, and in the production of phosphatidylcholine, which may benefit cell membrane integrity. SAMe supports glutathione production and control of damaging cytokines (TNF) and free radicals, which may protect synovial cells and benefit joint function. In addition, SAMe may protect proteoglycans (protein cells, composed of keratin and chondroitin sulfate) and chondrocytes (cartilage cells, that make proteoglycans and collagen), components of the spongy cartilage tissue.
SAMe is used in the following metabolic pathways: methylation, synthesis of polyamines, and trans-sulfuration. Methylation is involved in protection or transformation of other molecules such as DNA and homocysteine. Synthesis of polyamines results in cell growth, gene expression and neuron regeneration. Trans-sulfuration is the synthesis of L-cysteine, glutathione and other sulfate groups, which are involved in liver support and detoxification. In Chinese medicine, the liver is thought of as the seat of emotion and normal liver function is thought to be involved in healthy mood. Research has shown SAMe to support liver enzymes within normal levels.
For optimal metabolism and utilization, SAMe can be taken with Item #72580 Homocysteine Metabolite Formula, and/or Item #73230 TMG (Trimethylglycine).
Supplemental Facts:
Formulated exclusively for
Allergy Research Group®
Alameda, CA 94502
As a dietary supplement, 1 or 2 tablets one (1) to four (4) times daily between meals, or as directed by a healthcare practitioner.
Serving Size: 2 Tablets

Amount Per Serving
S-Adenosylmethionine ... 400mg
Other Ingredients: Cellulose, Mannitol, Hydroxypropyl Methylcellulose Phthalate, Citric Acid, Sodium Starch Glycolate, Glyceryl Triacetate, Croscarmellose Sodium, Stearic Acid, Silica, Titanium Dioxide, Yellow Ochre.
Keep in a cool, dry place, tightly capped.