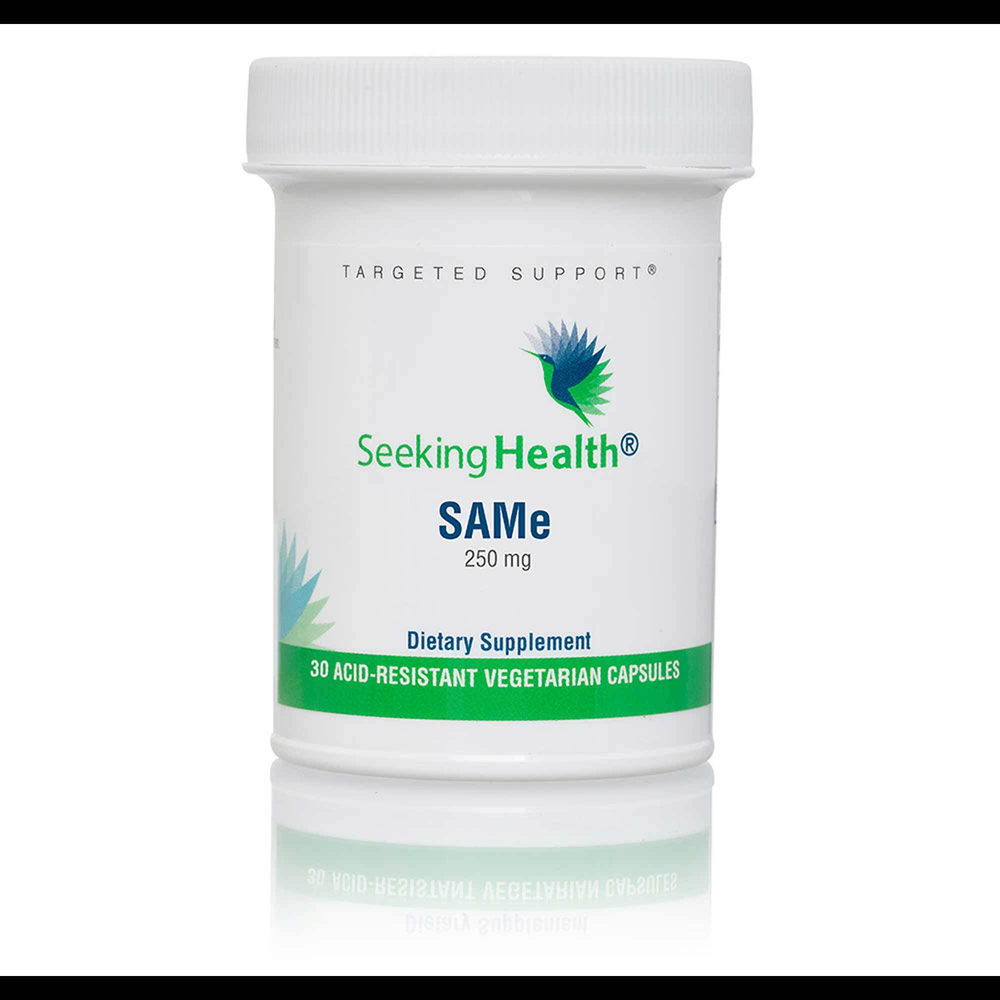 SKU: SKH-SAM30CAPS
May help support healthy mood
May help support healthy connective tissues
May help support normal glutathione levels and liver health
May help support healthy methylation processes
SAMe by Seeking Health provides 250 mg of S-adenosyl-L-methionine (SAMe) in each protective, acid-resistant vegetarian capsule. To optimize stability and prevent degradation on exposure to environmental factors, the capsules are protected from moisture and air via a desiccated bottle.*
SAMe is the body's main methyl donor - it is found in nearly every tissue and fluid in the human body. SAMe is naturally produced from the amino acid methionine and ATP. It is involved in the synthesis and regulation of chemicals in the brain, the maintenance of healthy cell membranes, the ATP cycle, and both methylation and transsulfuration pathways. As a sulfur-containing compound, SAMe is also important for normal production of glutathione, cysteine and taurine and may therefore be implicated in maintaining healthy liver function. Due to its role in supporting healthy synthesis of connective tissues, SAMe may also help support bone and joint health.*
Take one capsule 45 minutes before or 60 minutes after a meal or as recommended by your healthcare professional. Taking away from food increases absorption.
Serving Size:
1 Capsule
Amount Per ServingSAMe
... 250mg
(S-adenosyl-L-methionine)
Other Ingredients:
Acid-resistant capsule (hypromellose, gellan gum, and water), ascorbyl palmitate, silica, and microcrystalline cellulose.
Suitable for Vegans and Vegetarians
Free of:
Milk, Egg, Fish, Shellfish, Tree Nuts, Peanuts, Wheat, Artificial Colors, Artificial Flavors
Warnings:
Children and pregnant or lactating women should consult their healthcare professional prior to use. Do not use if the tamper seal is damaged. Consult with a healthcare professional prior to use if you have any medical conditions. Individuals taking medications of any kind, especially for depression or anxiety, or MAOIs, should consult with a healthcare provider prior to taking this supplement.