SAMe 400mg
Protocol for Life Balance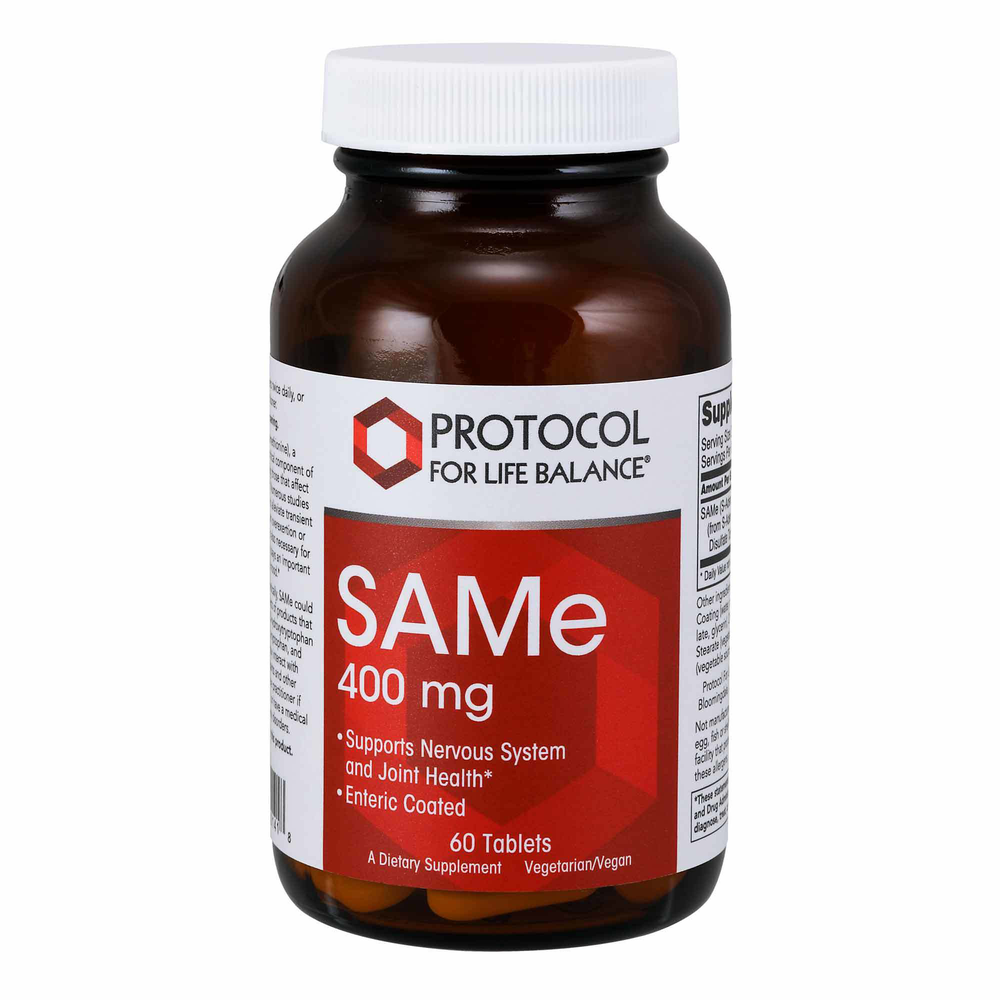 SKU: PROT-P0141
SAMe
(S-adenosylmethionine), a compound native to the body, is a critical component of many biochemical reactions, including those that affect brain biochemistry and joint health. Numerous studies have indicated that
SAMe
can help to alleviate transient normal aches and pains resulting from overexertion or stress. In addition, because
SAMe
is also necessary for the synthesis of neurotransmitters, it plays an important role in the maintenance of a positive mood.
Suggested Use:
Take 1 tablet 2 to 3 times daily, or as directed by your healthcare practitioner. Refrigeration recommended after opening.
Serving Size: 1 Tablet
Amount Per Serving
SAMe (S-Adenosyl-L-Methionine)… 400mg*
(from S-Adenosyl-L-Methionine Disulfate Tosylate)
Other Ingredients: Microcrystalline Cellulose, Enteric Coating (methcrylic acid, hypromellose, calcium carbonate, hydroxypropul cellulosem, glycerin), Croscarmellose Sodium, Magnesium Stearate (vegetable source), Silicon Dioxide, Stearic Acid (vegetable source), Ascorbic Acid and Citric Acid.
This product is Dairy Free, Egg Free, Gluten Free, Soy Free, Vegan/ Vegetarian.
Warning:
Theoretically, SAMe could increase the effects and adverse effects of products that increase serotonin levels, including 5-hydroxytryptophan (5-HTP), Hawaiian baby woodrose, L-tryptophan, and St. John's wort. In addition, SAMe may interact with MAO inhibitors, L-Dopa, antidepressants and other serotonergic drugs. Consult healthcare practitioner if pregnant/nursing, taking medication, or have a medical condition, especially bipolar or anxiety disorders.
Natural color variation may occur in this product.