SAMethylate Plus®
Biotics Research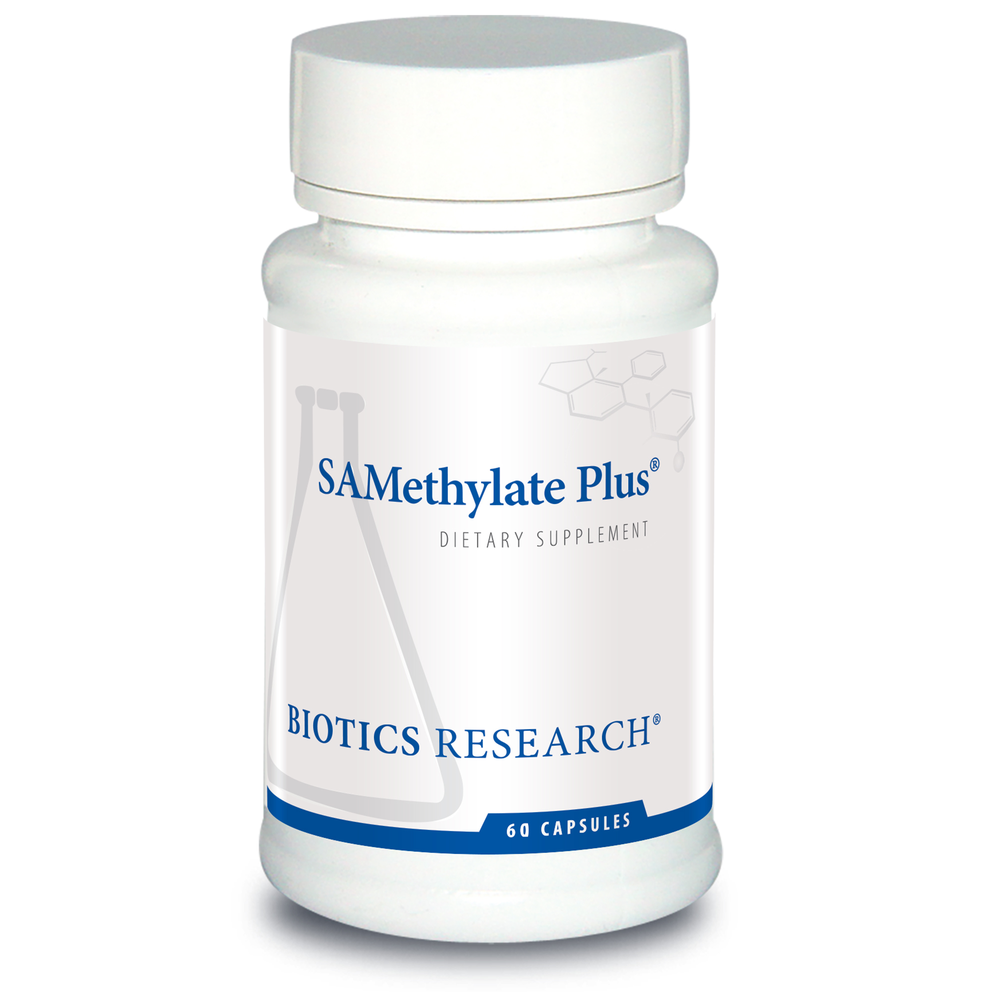 SKU: BRC-8010
SAMe (S-adenosyl-L-methionine) found in every living human cell, and is the principal methyl group donor in a great many reactions in the body with the ability to cross the blood-brain barrier where it impacts the synthesis and activation of various brain chemicals, including neurotransmitters.

SAMethylate Plus™ supplies a stable source of SAMe with important synergists and building blocks, including B6, Folate, B12, L-Methionine, Choline bitartrate, trimethylglycine, SOD and Catalase.*
One (1) capsule each day as a dietary supplement or as otherwise directed by a healthcare professional.



Serving Size: 1 Capsule

Amount Per Serving
Vitamin B6 ... 5mg
(as pyridoxal-5-phospate)
Folate ... 100mcg
(as 5-MTHF glucosamine salt)
Vitamin B12 ... 20mcg
(as methylcobalamin)
SAMe ... 200mg
(S-Adenosyl-L-Methionine disulfate p-toluensulfonate)
L-Methionine ... 50mg
Choline bitartrate ... 50mg
Trimethylglycine ... 25mg
Superoxide Dismutase ... 12.5mcg
(from vegetable culture†)
Catalase ... 12.5mcg
(from vegetable culture†)

Other Ingredients: Acid resistant vegetarian capsule shell (cellulose and water), silica and magnesium stearate (vegetable source).

This product is gluten and dairy free.

†Specially grown, biologically active vegetable culture containing naturally associated and/or organically bound phytochemicals including polyphenolic compounds with SOD and catalase, dehydrated at low temperature to preserve associated enzyme factors.
Caution: Pregnant or lactating women should consult with their physician prior to use. Avoid in patients taking monoamine oxidase inhibitors and herbs or supplements with serotonergic properties, or those with Parkinson's disease.

KEEP OUT OF REACH OF CHILDREN

Store in a cool, dry area. Sealed with an imprinted safety seal for your protection.