Scienca
D'Adamo Personalized Nutrition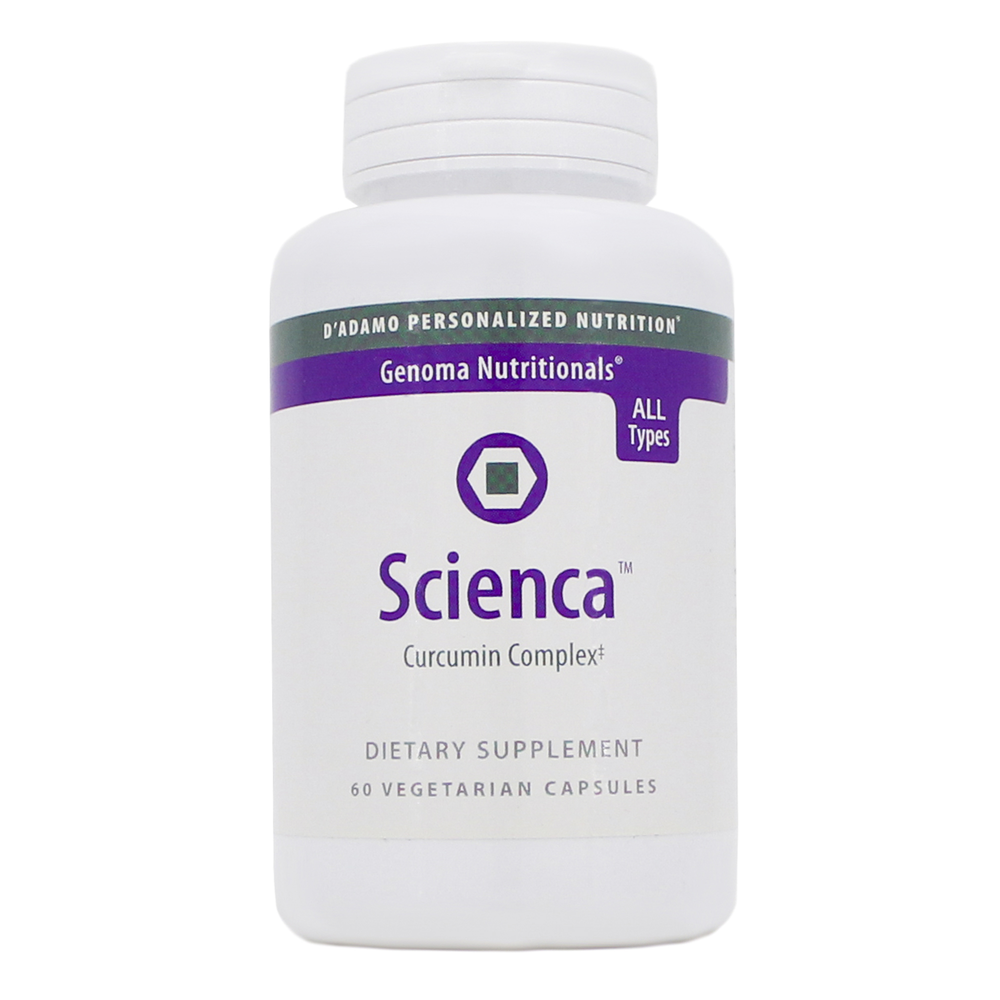 SKU: NAP-NP059
Blend of supportive nutrients and botanicals to promote relaxation and healthy stress control.
Dr. Peter D'Adamo crafted Scienca as a blend of several well-known herbs and nutriceuticals, designed to maximize and support joint comfort and enhance the body's natural regenerative mechanisms. Scienca is based around the well-known Ayurvedic antioxidant Turmeric, which is a member of the ginger family. You probably know of turmeric as one of the main spices in curry. Turmeric's healing effects are likely due to one of its main constitutents, called Curcumin.
There are hundreds of scientific research articles on the health effects of turmeric and curcumin. Many of these show benefits for temporary joint discomfort, enhancing cardiovascular health and soothing temporary upset stomach. In addition to turmeric, Dr. D'Adamo designed Scienca to include the synergistic factors Quercetin, a well-researched plant anti-oxidant flavonoid found red wine, onions, green tea, apples, and berries; in addition to Bromelain, the powerful protein-digesting enzyme derived from pineapple stems. Dr. D'Adamo feels that adding these co-factors can help to enhance the overall activity of the turmeric.
Suggested Use:
Take 2 capsules twice daily with meals as a dietary supplement.


Serving Size: 1 Capsule

Amount Per Serving
Turmeric ... 460mg
(Curcuma longa Root)
Quercetin ... 50mg
(from Dimorphandra mollis seed pods)
Bromelain ... 50mg (1200 GDU/g)

Other Ingredients: Vegetable Cellulose, Organic Rice Extract, Magnesium Citrate, Organic Rice Concentrate, and Silica.



This 100% vegetarian product contains no sugar, salt, gluten, wheat, yeast, corn, soy, eggs or dairy, no preservatives, color or flavors, and no artificial ingredients.