Fem-Dophilus shelf stable 1 Billion Organisiums
Jarrow Formulas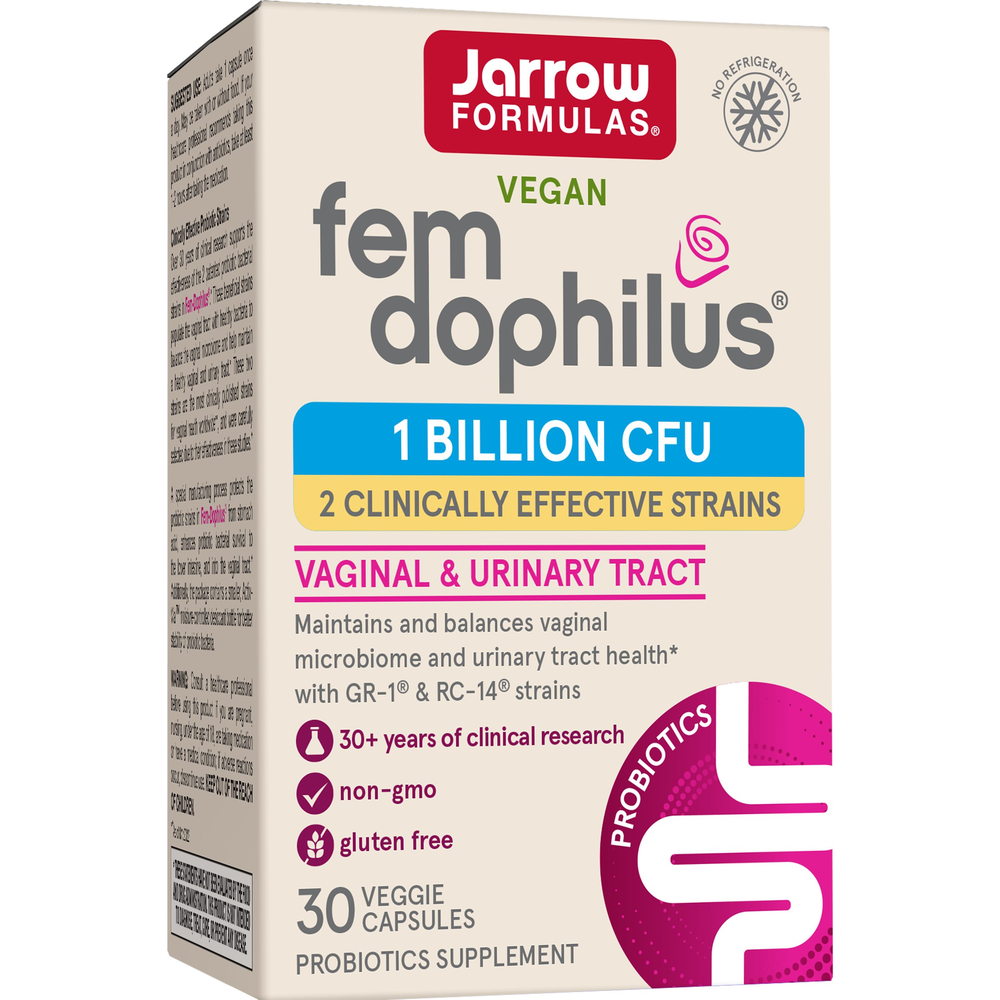 SKU: JAR-FEMS
Probiotic for Women with 25+ Years of Research That Supports Benefits For Vaginal and Urinary Tract Health*
Shelf-Stable Version of Fem-Dophilus: No Refrigeration Necessary
Oral Probiotic for Natural Vaginal Health*
Clinically-Documented Benefits
25+ Years of Research and Clinical Studies For Vaginal and Urinary Tract Health*
More Than 20 Studies Demonstrating Safety and Efficacy*
Patented Lactobacilli Strains: GR-1® and RC-14®
Prevention Magazine: Top 10 Breakthrough 07
Fem-Dophilus® contains two patented and clinically documented probiotic strains, Lactobacillus rhamnosus, GR-1® and Lactobacillus reuteri, RC-14®, discovered and developed by Dr. Gregor Reid and Dr. Andrew Bruce at Urex Biotech. Over 25 years of research supports the oral use of GR-1® and RC-14® to colonize and promote healthy vaginal and urinary tract health.* A special manufacturing process protects the probiotic strains in Fem-Dophilus® from stomach acid and enhances probiotic bacterial survival to the lower intestine.*
Fem-Dophilus® does not require refrigeration and can be stored at room temperature. Refrigeration will, however, extend the shelf life. Avoid temperatures above 77°F (25°C).
GR-1®/RC-14® and VAGINAL FLORA (also called microbiota)
In one of the randomized clinical trials, 75% of women in the GR-1®/RC-14® probiotic group experienced significant improvement in vaginal flora composition, while only 34% of women in the placebo (non-probiotic) group experienced similar improvement.
Martinez, et al. Can J Microbiol 2009;55:133-138
For maintenance, take 1 capsule orally per day, preferably with a meal and a glass of water, and increase to 2 capsules per day as needed or take as directed by your qualified healthcare professional. If your healthcare professional recommends taking this product in conjunction with antibiotics, take at least 1-2 hours after taking the medication.
Serving Size: One Capsule
Amount Per Serving
Total Probiotic Blend ... 1 Billion Viable Cells
Lactobacillus rhamnosus, GR-1®†, Lactobacillus reuteri, RC-14®†
Other Ingredients: Maltodextrin (non-GMO source), cellulose, magnesium stearate (vegetable source). Capsule consists of hydroxypropylmethylcellulose and titanium dioxide.
This product does not contain
wheat
gluten
soybeans
dairy
egg
fish
shellfish
peanuts
tree nuts
GMOs
major allergens
RC-14® and GR-1® are registered trademarks of Chr. Hansen A/S.
NOTE: If you have a medical condition, are pregnant, lactating, trying to conceive, under the age of 18, or taking medications, consult your healthcare professional before using this product.