Sleep and Relax Herbal Tea
Gaia Herbs/Professional Solutions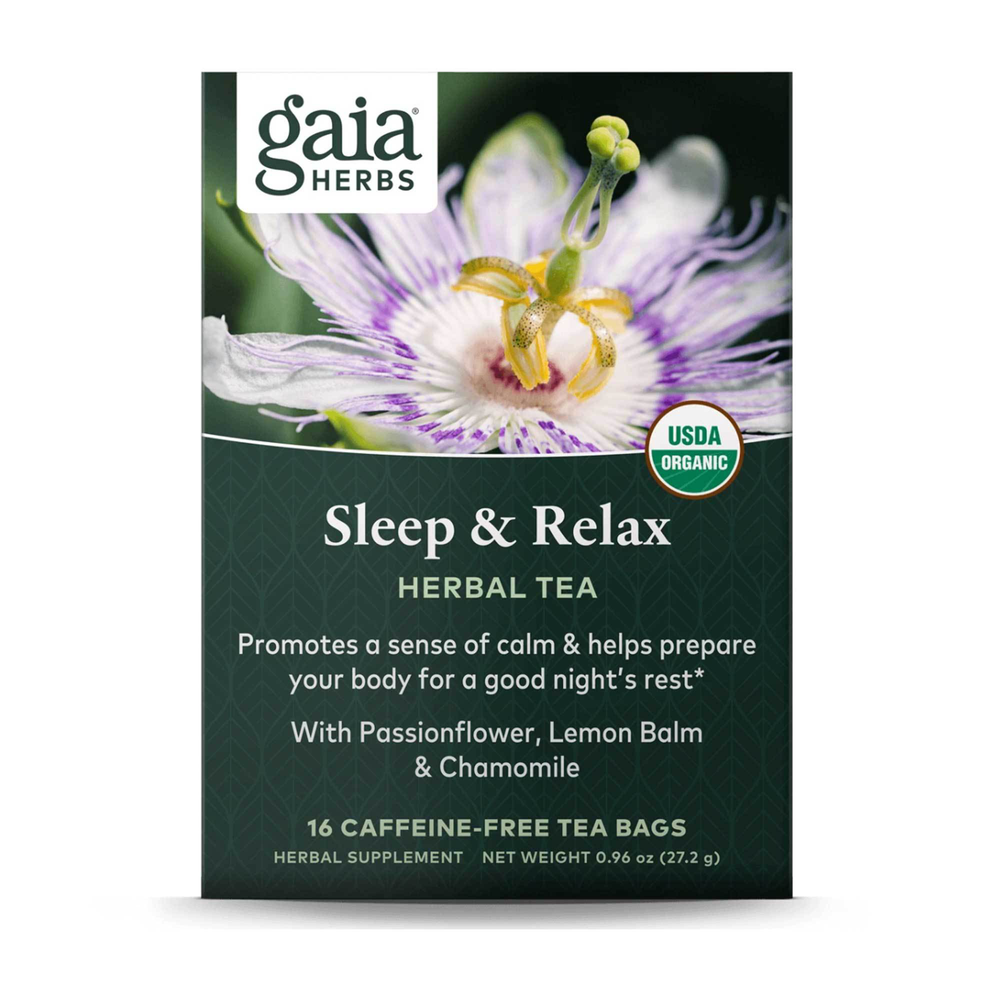 SKU: GAI-90C20020
Taking time to relax while sipping a hot cup of tea can be a great way to help signal the transition between day and night and help melt the tension of the day away. Gaia Herbs Sleep & Relax Herbal Tea helps you relax so you can wake up feeling refreshed.*
Made with a calming blend of Passionflower, Lemon Balm and Chamomile.*
Promotes a sense of calm and helps prepare the body for a good night's rest.*
Certified USDA Organic.
Suggested Use:
Adults pour 1 cup of freshly boiled water over tea bag. Cover and steep for 10 minutes. Drink 1 hour before bed. For added support, combine this tea with Sleep & Relax vegetarian capsules.
Serving Size: 1 Teabag
Amount Per Serving
Total Carbohydrate … <1g*
Dietary Fiber … <1g*
Organic Passionflower … 425mg†
(Passiflora incarnata) (leaf)
Organic Lemon Balm … 420mg†
(Melissa officinalis) (leaf)
Organic Chamomile … 45mg†
(Matricaria recutita) (flower) (freeze dried ext)

Organic Licorice root ... 342 mg†

(Glycyrrhiza glabra)
Organic Passionflower … 30mg†
(Passiflora incarnata) (leaf) (freeze-dried ext)
Other Ingredients: Natural orange flavor.
USDA Organic, Purity-Tested, Vegan, Dairy-Free, Gluten-Free, Soy-Free.
Note:
If you have a medical condition or take medications, please consult with your doctor before using this product. Licorice should not be taken if you have kidney or liver disease, hypertension, edema, potassium depletion or during pregnancy. Consult with your practitioner if breast-feeding. Store away from children.