Sleep Factors
Nutra BioGenesis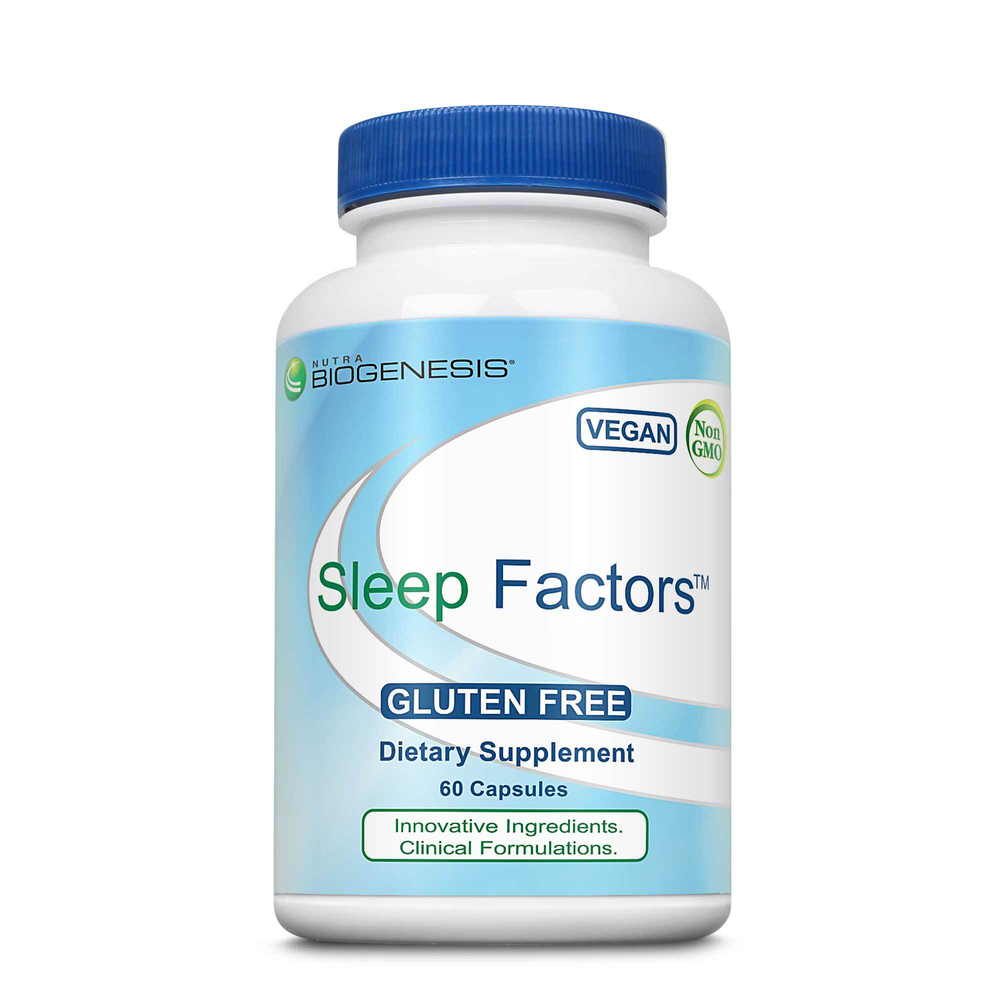 SKU: BI5-96219
Sleep Factors™ is intended to provide nutritive support for a restful nights sleep with relaxing amino acids, minerals, botanicals, vitamins, and melatonin.
Use only as directed. Take 1-2 capsules 30-45 minutes before bed or as directed by your healthcare practitioner.
Serving Size: 2 Capsules
Amount Per Serving
Calcium ... 40mg
(from calcium amino acid chelate)
Magnesium ... 40mg
(from magnesium amino acid chelate)
Valerian ... 120mg
(Valeriana officinalis)(root)
GABA ... 100mg
(gamma-aminobutyric acid)
Inositol ... 100mg
L-Theanine ... 100mg
5-HTP ... 40mg
(from Griffonia simplicifolia)(seed extract)
Chamomile ... 40mg
(Matricaria recutita)(flowering tops)
Hops ... 40mg
(Humulus lupulus)(cone extract)(4:1)
Passion Flower ... 40mg
(Passiflora incarnata)(aerial)
Skullcap ... 40mg
(Scutellaria lateriflora)(aerial)
Wild Lettuce ... 40mg
(Lactuca virosa)(leaf extract)(4:1)
Jujube ... 25mg
(Ziziphus jujuba)(fruit extract)(4:1)
Melatonin ... 3mg
Other Ingredients: Vegetable cellulose capsule, cellulose, rice flour, silica, maltodextrin, rice bran extract.
WARNING: Do not use if safety seal is broken or missing. Keep out of reach of children. Consult a licensed healthcare practitioner before using this product, especially if you are pregnant or nursing, a young adult, or an individual with autoimmune conditions, diabetes or other endocrine disorders, depressive disorders, illness or using medications. Do not take prior to or while operating machinery or a vehicle or if you are otherwise engaged in an activity in which you need to stay alert. This product is for adults and should not be used by children or teenagers.
Keep tightly capped and store in a cool, dry place.