Sleep Time
Nutritional Frontiers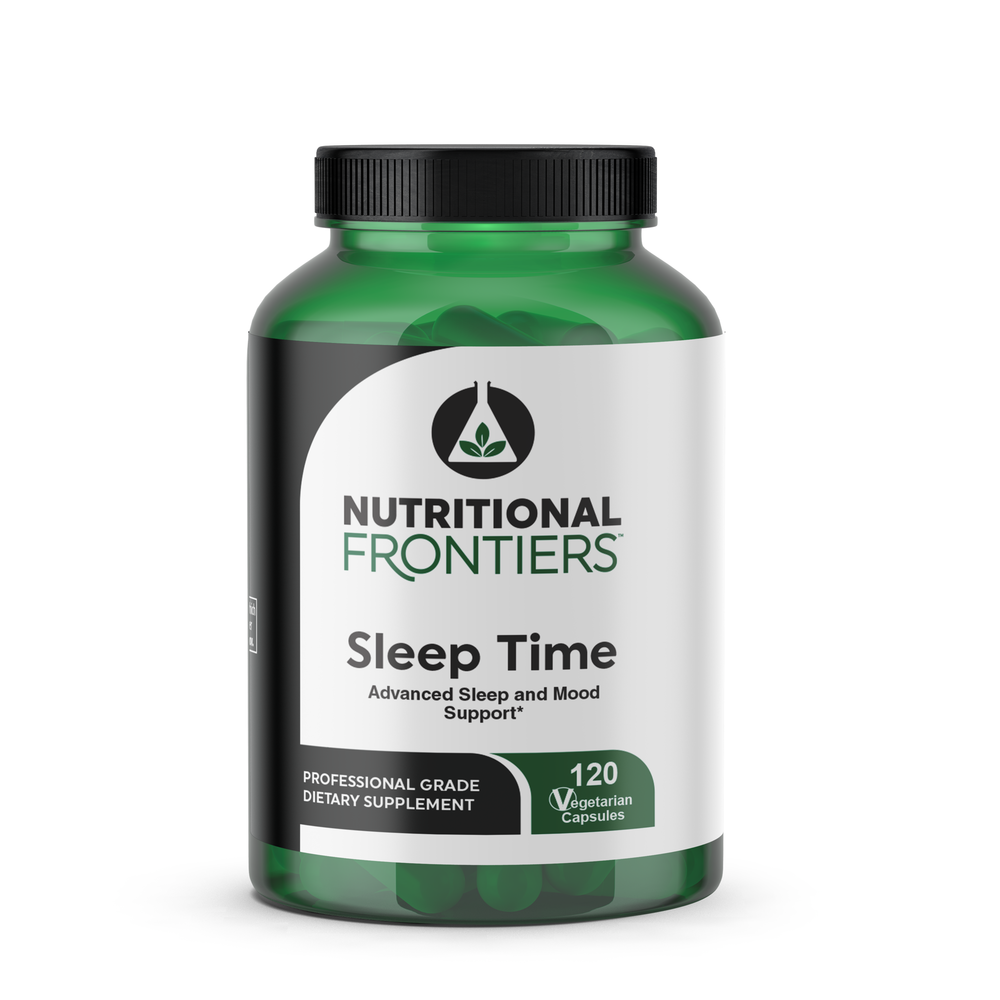 SKU: NUT412-01NF33D120
Neurotransmitters are natural chemical messengers in the nervous system that send signals from one nerve cell across a synapse to another nerve cell or target organ. Serotonin plays a role in sleep, mood, intestinal function, pain control, and inflammation. Dopamine plays a role in cognitive function, memory, learning, and pleasure. In our bodies, dopamine is released as a result of rewarding experiences. Certain nutrients and amino acids may help to balance levels of neurotransmitters by providing co-factors that assist in the body's ability to manufacture neurotransmitters.*
As a dietary supplement, take 2 capsules one hour before bedtime, or as directed by your healthcare practitioner.
Serving Size: 2 Capsules
Amount Per Serving
Vitamin B6 ... 10mg
(as Pyridoxal-5-Phosphate)
Pantothenic Acid ... 10mg
(as Calcium-D-Pantothenate)
Gamma Amino Butyric Acid ... 500mg
(GABA)
Glycine ... 500mg
Taurine ... 250mg
L-Theanine ... 100mg
(as Suntheanine®)
5-Hydroxytryptophan ... 50mg
(5-HTP) (from Griffonia simplicifolia Seed Extract)
Melatonin ... 3mg
Other Ingredients: Hypromellose (Capsule), Rice Flour, Vegetable Stearate.
The Sleep Time formulation, to be taken 1 hour before bed, is designed to improve problems with sleep.* Sleep Time was formulated to help support the neurotransmitters dopamine and serotonin, which have a role with sleep cycles and anxiety.*
Warning: Consult a healthcare professional if you are pregnant or nursing, experiencing long-term sleep difficulties; before use in children; before use in those with a medical condition, and those taking medication. Do not drive or operate machinery when taking melatonin.