Spectra Infinite Nutrition
DaVinci Labs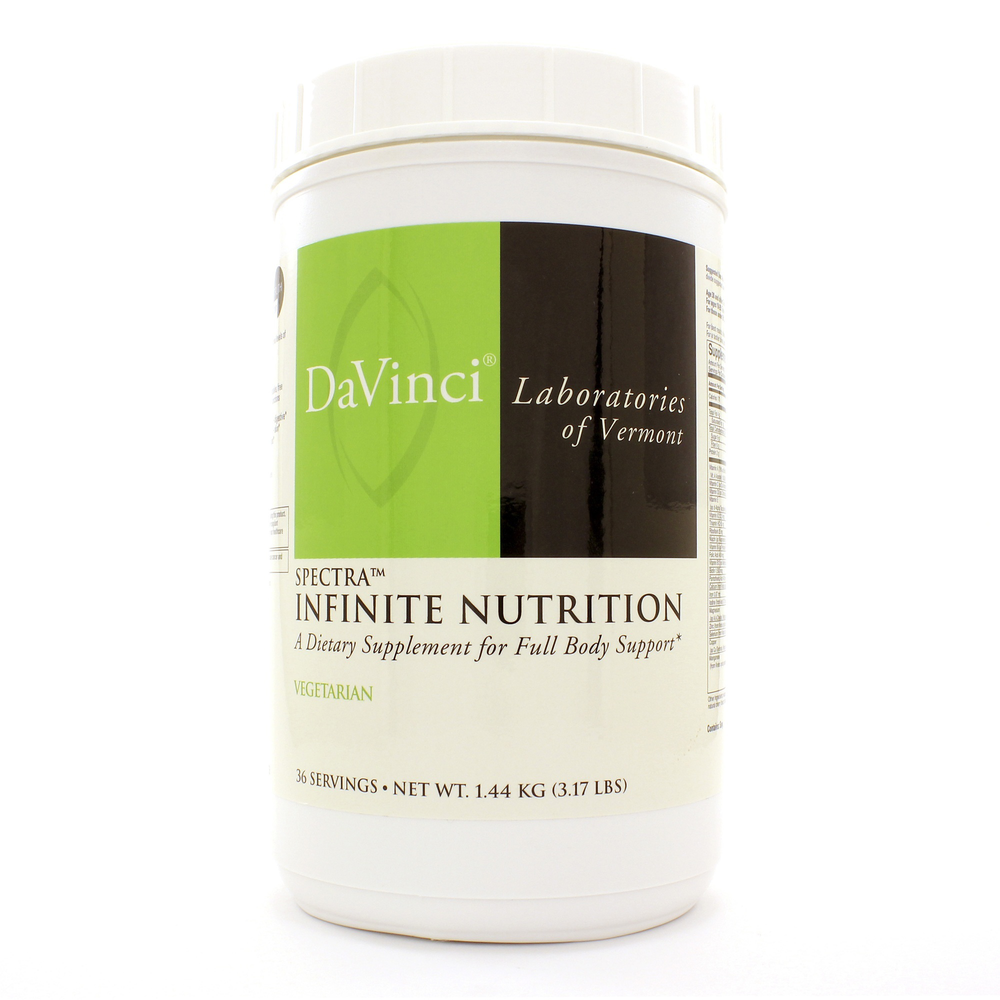 SKU: DAV-0200544036
Spectra Infinite Nutrition is DaVincis master formula that is a true, all-in-one powder formula with optimal levels of over 70 important nutrients to support the whole body.
As a dietary supplement, use as directed below, or as directed by a healthcare practitioner. For first week of use, divide suggested use between AM and PM.
Age 30 and older: Take 1 scoop daily.
For ages 19-29: Take ½ scoop daily.
For those under 18: Consult a healthcare practitioner before using.

For best results blend one scoop in blender with 8 - 12 oz of cold water, fruit or vegetable juice until desired consistency is achieved. For tastier drink, add frozen berries, frozen fruit or ice cubes.
Serving Size: 1 Scoop (39 grams)
Amount Per Serving
Calories ...150
Calories from Fat ...30
Total Fat ...3.5g
Saturated Fat ...0.5g
Total Carbohydrates ...27g
Sugar ...6g
Fiber ...6g
Protein ...3g
Vitamin A ...10, 000 IU
(75% Beta Carotene, 25% Vit. A Acetate)
Vitamin C ...2, 000mg
(Ca Ascorbate)
Vitamin D3 ...1, 000IU
(Cholecalciferol)
Vitamin E ...200IU
(d-Alpha tocopheryl Succinate)
Vitamin K2 ...22.5mcg
Thiamine HCl ...50mg
(Vitamin B1)
Riboflavin ...25mg
(Vitamin B2)
Niacin ...50mg
(as Niacinamide)
Vitamin B6 ...50mg
(Pyridoxyl-5 Phosphate)
Folic Acid ...450mcg
Vitamin B12 ...2.5mg
(Methylcobalamin)
Biotin ...1, 500mcg
Pantothenic Acid ...400mg
Calcium ...200mg
(from Krebs cycle powder)
Iron ...2mg
Iodine (from kelp) ...37.5mcg
Magnesium ...400mg
(A.A.Chelate, Krebs cycle powder)
Zinc ...11.45g
(Krebs cycle powder)
Selenium ...39.5mcg
(Krebs cycle powder)
Copper ...1.09mg
Manganese ... 500mcg
(Cu glycinate, Krebs cycle powder)(Krebs cycle powder)
Chromium ...250mcg
(Cr. Polynicotinate, Krebs cycle powder)
Molybdenum ...39.5mcg
(Krebs cycle powder)
Sodium ...54mg
Potassium ...100mg
(Krebs cycle powder)
Boron ...1.5mg
D-Ribose ...5, 000mg
Proprietary blend of reds and green fruits and vegetables ...5, 000mg
(beet root powder, carrot, cranberry, apple, banana, cherry, red raspberry, spinach, cauliflower, blackberry, pineapple, peaches, strawberry, pears, orange, plums, kiwi, broccoli, parsley, kale, papayas, watermelon, cabbage, purple cabbage, radish.)
Digestion Resistant Maltodextrin (Fibersol-2 brand) ...3055.5mg
Soy Phosphatidylcholine ...2, 000mg
Milled Flaxseed ...1, 000mg
Omega-3 fatty acids ...180mg
Omega-6 fatty acids ...50mg
Acetyl-L-Carnitine ...750mg
L-Carnosine ...500mg
Quercetin ...500mg
Turmeric (Curcuma longa) Root Extract ...421.05mg
yielding Curcuminoids ...400mg
ORAC-15, 000 Grape Extract ...335mg
yielding ... 5, 000 ORAC Units
N-Acetyl-L-Cysteine (NAC) ...300mg
Dimethylglycine (DMG) HCl ..

If pregnant or nursing, consult your healthcare practitioner before taking this product.

This product contains Vitamin K, if you have a blood-clotting disorder or are taking anti-coagulant medications such as Coumadin (Warfarin); do not take this product without consulting your healthcare practitioner.

Jar contains desiccant to reduce moisture and clumping. Do not eat desiccant.

Keep out of reach of children. Store in a cool, dry place.

If inner seal is broken, do not use.

Best if used within 60 days of opening.

Color of this product may vary due to color variations of the natural ingredients.

*These statements have not been evaluated by the Food and Drug Administration. This product is not intended to diagnose, treat, cure or prevent any disease.

WARNING: Consuming this product can expose you to chemicals including lead and arsenic, which are known to the State of California to cause birth defects or other reproductive harm. For more information go to www.P65Warnings.ca.gov/food