Spectra Purples
DaVinci Labs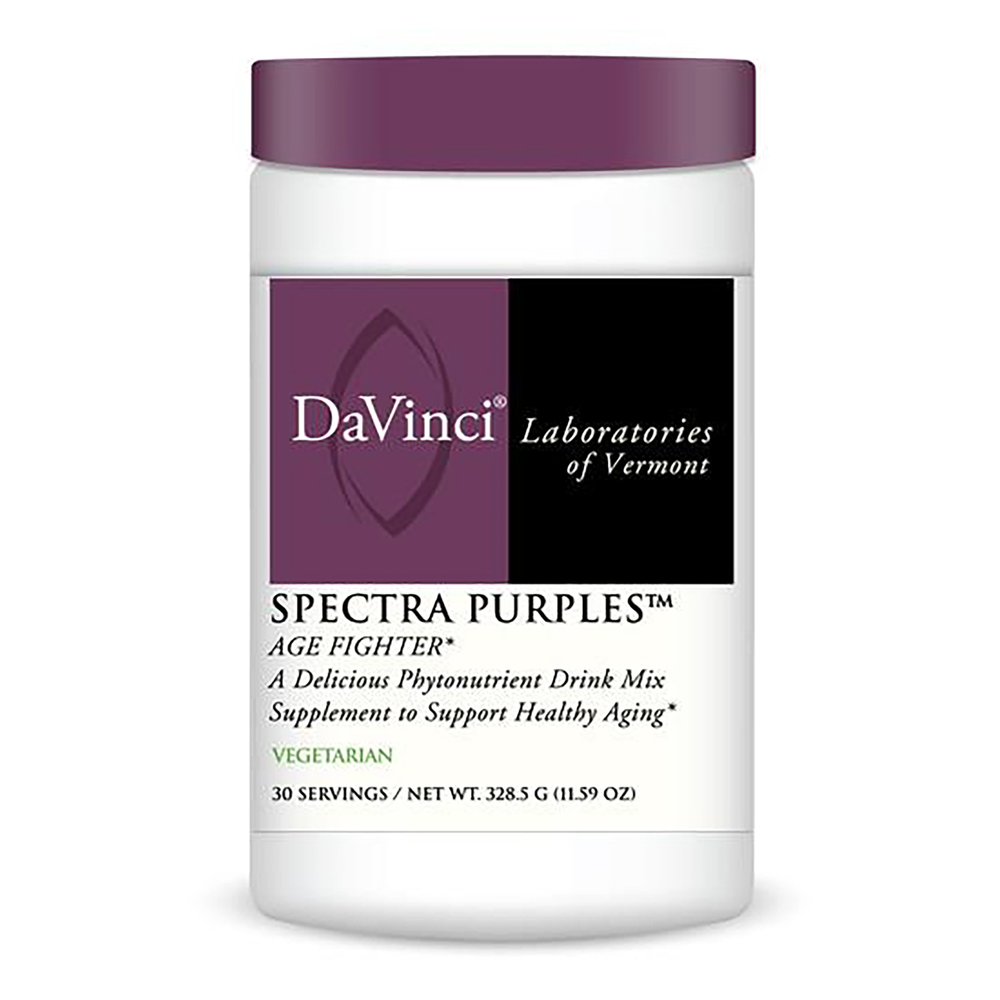 SKU: DAV-0200976030
Spectra Purples
-A delicious, anti-aging, drink mix that combines 19 nutrient rich whole fruits,
vegetables and extracts. Some of nature's most protective foods are darkly
colored fruits vegetables because they are rich in antioxidants such as phenols,
anthocyanins, ellagic acid, proanthocyanidins, bioflavonoids and Vitamin C,
which provide a variety of health benefits.* Also included are anti-aging
nutrients: Alpha GPC, L-Carnosine, and Folic Acid to support mental energy,
focus and clarity.*
As a dietary supplement, mix one (10.95 g) scoop, daily, in 6-8 oz. of cold
water or juice, or as directed by your healthcare practitioner.
Serving Size: 10.95g (1 Rounded Scoop)
Amount Per Serving
Calories ...40
Calories from Fat ...1
Total Fat ...0.5g †
Total Carbohydrates ...9g
Sugars ...4g
Fiber** ...3g
Protein ...1g
Vitamin A ...31 IU
Vitamin C ...2.95mg
Folic Acid ...400mcg
Calcium ...14mg
Sodium ...50mg
Proprietary Fruit Powder Blend ...4900mg
containing Blueberry, Blackberry, Black Cherries, Black
Raspberries, Black Currants, Plums, Elderberries, Bilberries,
Figs, and Raisins
Soluble Fiber ...2000mg
(Fibersol-2 brand)

Proprietary Vegetable Powder Blend ...1250mg
containing Eggplant, Purple Carrots, Purple Cabbage, and Beets

Acai Fruit Powder ...400mg
Camu camu Fruit Powder ...300mg
Mangosteen Fruit Rind Extract ...300mg
(Garcinia mangostan.a)Goji Berry powder ..200mg
(Wolfberry / Lycium barbarum)

Proprietary Brain Blend ...100mg
containing Phosphatidylserine, Inositol, L-Carnosine and Alpha GPC
P40p Pomegranate Extract ...40mg
Stevia Leaf Extract ...35mg
Other ingredients: raspberry, strawberry, cherry, vanilla, and spearmint
flavors, banana powder,
citric acid.

Contains: Soy.
WARNING: If pregnant or nursing, consult your healthcare practitioner before taking this product.
P40p Pomegranate Extract is a Trademark of PL Thomas & Company, Inc. Morristown, NJ 07960 USA.
Fibersol-2 is a Trademark of Matsutani Chemical Industry Co., LTD.
*This statement has not been evaluated by the Food and Drug Administration. This product is not intended to diagnose, treat, cure or prevent any disease.
WARNING: Consuming this product can expose you to chemicals including lead and arsenic, which are known to the State of California to cause birth defects or other reproductive harm. For more information go to www.P65Warnings.ca.gov/food