Spectra w/o Cu and Fe
DaVinci Labs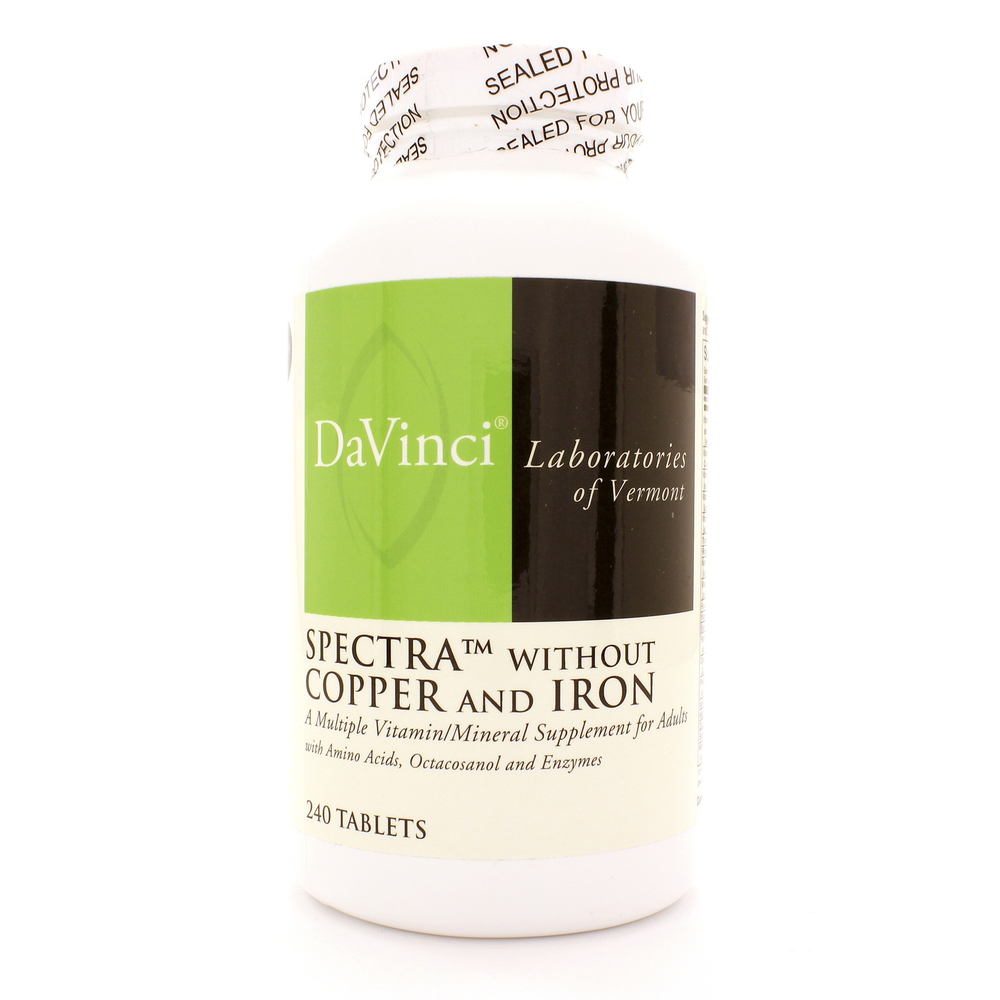 SKU: DAV-0200193240
Spectra w/o Cu and Fe
-without Copper and Iron is a ergogenic formula containing antioxidants,
digestive enzymes, octacosanol, and complete balanced B complex.
As a dietary supplement, take 2 tablets with breakfast and 2 tablets with
lunch, or as directed by your healthcare practitioner.
Serving Size: 2 Tablets
Amount Per Serving
Vitamin A ...9500 IU
(2000 IU as Palmitate and 7500 IUas beta-carotene)
Vitamin C ...500mg
(as Ascorbic Acid and Calcium Ascorbate)
Vitamin D3 ...200 IU
(as Cholecalciferol)
Vitamin E ...200 IU
(as d-alpha Tocopheryl Succinate)
Vitamin K1 ...2.5mcg
(as Phytonadione)
Thiamin ...35mg
Riboflavin ...35mg
Niacin ...35mg
(as Niacinamide & Niacin)
Vitamin B6 ...35mg
(as Pyridoxine HCl and Pyridoxal 5-Phosphate)
Folic Acid ...200mcg
Vitamin B12 ...35mcg
(as Methylcobalamin)
Biotin ...150mcg
Pantothenic Acid ...35mg
(as Calcium Pantothenate)
Calcium ...300mg
(as Ca Citrate)
Phosphorus ...180mg
(as Dicalcium Phosphate)
Iodine ...35mcg
(from kelp)
Magnesium ...180mg
(as Mg Oxide)
Zinc ...10mg
(as Zn Gluconate)
Selenium ...25mcg
Manganese ...2.5mg
(as Mn Gluconate)
Chromium ...25mcg †
(as Cr Polynicotinate)
Molybdenum ...25mcg
(as Mo AAC)
Potassium ...25mg
(as K Citrate)
Boron ...0.5mg
(as B AAC)
Silicon ...3mg
(from Horsetail Rush)
Vanadium ...10mcg
(as V AAC)
Choline ...35mg
Inositol ...35mg
PABA ...35mg
(Para-aminobenzoic Acid)
L-Cysteine ...50mg
(Enteric Coated)
L-Glutamine ...50mg
DL-Methionine ...50mg
(Enteric Coated)
L-Aspartic Acid ...75mg
Octacosanol ...500mg
(from sugar cane)
Soy Lecithin ...50mg
Linoleic Acid ...50mg
RNA (Ribonucleic Acid) ...5mg
Mixed Citrus Bioflavonoids ...100mg
Hesperidin ...12.5mg
Rutin ...12.5mg
Pectin ...12.5mg
Betaine HCl ...10mg
Bromelain ...2mg
Papain ...2mg
Cellulase Enzymes ...2mg
A proprietary blend of vegetarian enzymes ...8mg
(amylase, protease, lipase, hemicellulase, and lactase)
Other ingredients: stearic acid, cellulose, vegetable stearate, silica,
pharmaceutical glaze.

Contains: Soy.
Color of this product may vary due to color variations of the natural
ingredients.
If pregnant or nursing, consult your healthcare practitioner before taking this
product.
Keep out of reach of children.
Store in a cool, dry place.
*This statement has not been evaluated by the Food and Drug Administration.
This product is not intended to diagnose, treat, cure or prevent any disease.
WARNING: Consuming this product can expose you to chemicals including lead and arsenic, which are known to the State of California to cause birth defects or other reproductive harm. For more information go to www.P65Warnings.ca.gov/food