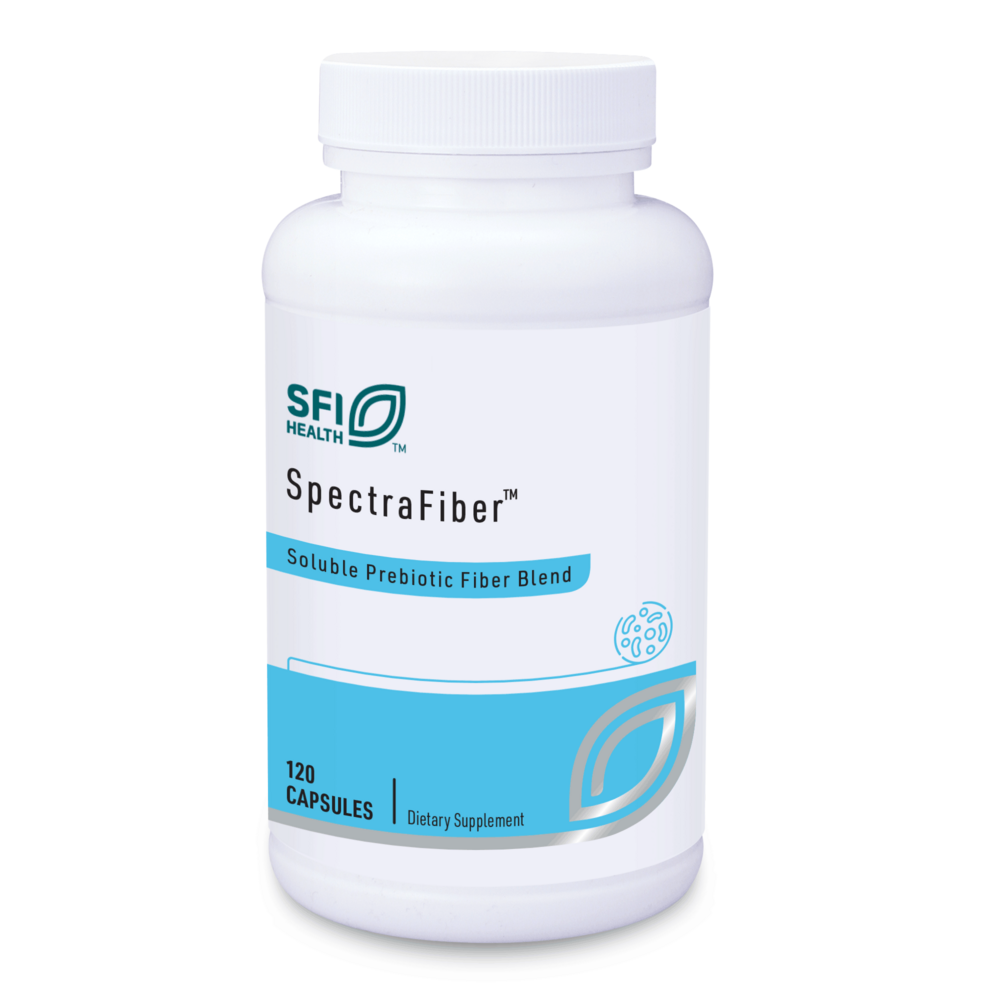 SKU: KLP-SPF
SpectraFiber™ combines purified and whole food plant concentrates containing a broad-spectrum of natural soluble fiber components with wide-ranging actions. SpectraFiber™ can be used to help boost soluble fiber intake in a concentrated, easy-to-take capsule form. Unlike many common bulk fiber supplements, SpectraFiber™ contains no bran, cereal grains, or psyllium seed that some individuals find irritating to the GI tissues or may need to avoid due to allergic reactions.
Take 1 capsule, 1 to 6 times daily with meals or as directed by a healthcare professional.
Serving Size: 1 Capsule
Amount Per Serving
Plant Concentrate Blend ... 750 mg
Glucomannan (Amorphophallus konjac)(root)
Prune (Prunus domestica)(fruit)
Carrot (Daucus carta)(root)
Celery (Apium graveolens)(leaves, stalk)
Apple Pectin (Malus spp.)(fruit)
Citrus Pectin (Citrus spp.) (fruit/peel of orange, lemon, and grapefruit)
Slippery Elm (Ulmus rubra)(bark)
Fennel (Foeniculum vulgare)(seed)
Sodium Alginate (derived from brown seaweeds)
Other Ingredients: Vegetarian capsule (hydroxypropyl methylcellulose, water), ascorbyl palmitate, and silicon dioxide.
Does not contain: Milk/casein, eggs, fish, shellfish, tree nuts, peanuts, wheat, gluten, soybeans, corn, artificial colors, flavors, or preservatives.
If you are pregnant, nursing, have a medical condition, or taking prescription drugs, consult your physican before using this product. KEEP OUT OF REACH OF CHILDREN.