Spectrient w/o Iron
Integrative Therapeutics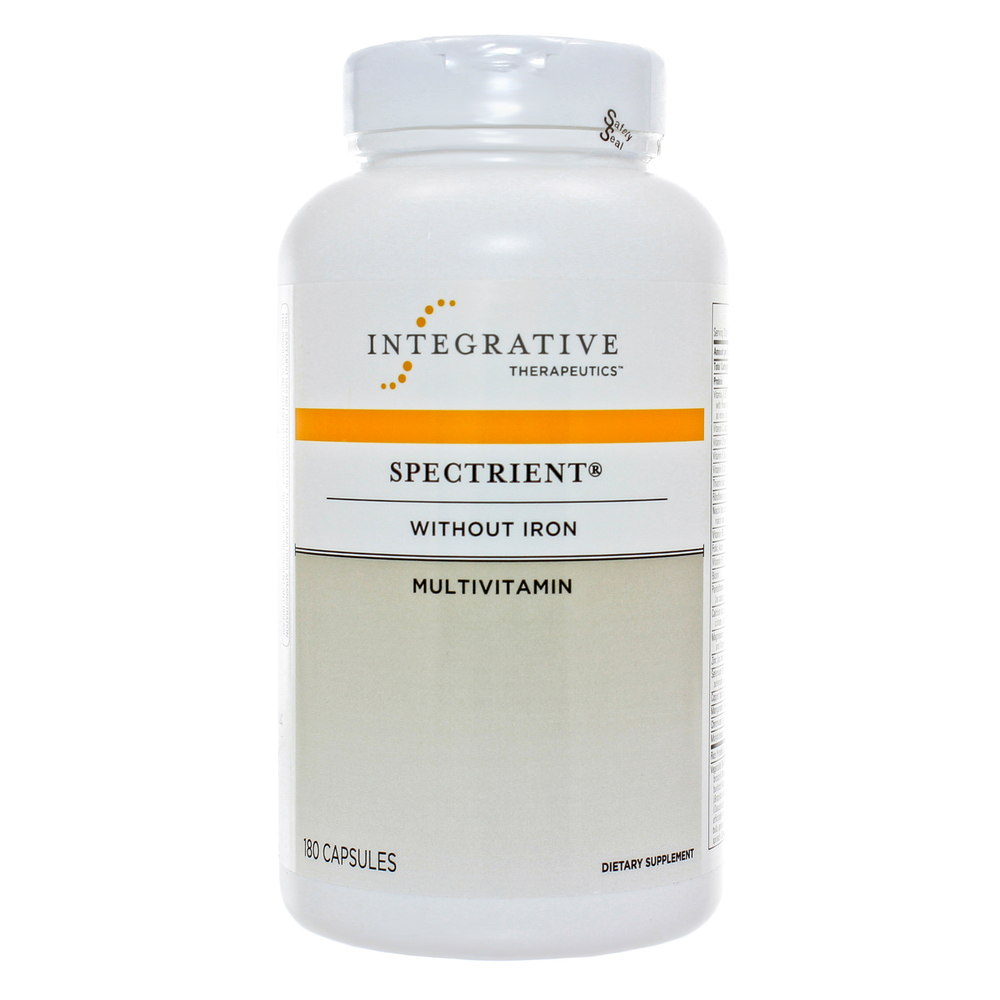 SKU: ITI-196004
Spectrient without Iron contains vitamins, minerals, and botanical extracts for overall support every day.* Much more than a daily multiple vitamin-mineral, Spectrient without Iron supplies comprehensive daily nutritional support.*
Take 4 capsules daily with meals in one or divided doses, or as recommended by your healthcare professional.
Serving Size: Four Capsules
Amount Per Serving
Total Carbohydrate ... <1g
Protein ... <1g
Vitamin A ... 10, 000IU
(as 50% beta carotene and as retinyl acetate)
Vitamin C ... 300mg
(ascorbic acid)
Vitamin D ... 400IU
(as cholecalciferol)
Vitamin E ... 120IU
(as d-alpha-tocopheryl succinate)
Vitamin K ... 20mcg
(as phytonadione)
Thiamin ... 20mg
(Vitamin B1)
Riboflavin ... 20mg
(Vitamin B2)
Niacin ... 60mg
(as inositol niacinate, niacin and niacinamide)
Vitamin B6 ... 20mg
(as pyridoxal-5-phosphate)
Folic Acid ... 400mcg
Vitamin B12 ... 60mcg
(as methylcobalamin)
Biotin ... 200mcg
Pantothenic Acid ... 20mg
(as calcium D-pantothenate)
Calcium ... 300mg
(as calcium carbonate, lysinate, malate and citrate)
Magnesium ... 150mg
(as magnesium oxide, Krebs cycle intermediates)
Zinc ... 10mg
(as zinc picolinate)
Selenium ... 200mcg
(from SelenoExcell® selenium yeast)
Copper ... 1mg
(as copper citrate)
Manganese ... 6mg
(as manganese citrate)
Molybdenum ... 100mcg
(as molybdenum citrate)
Rice Protein Blend ... 400mg
Vegetable Blend ... 200mg
collard greens (Brassica oleracea acephala), broccoli (Brassica oleracea-italica), cabbage (Brassica oleracea-capitata), carrot (Daucus carota sativa), radish sprouts (Raphanus sativus), tomato (Lycopersicon esculentum), mustard greens (Brassica juncea), spinach (Spinacia oleracea)
Phytozyme Enzyme Blend ... 160mg
amylase, protease, diastase, lipase, phytase, lactase, cellulase, invertase
Choline ... 20mg
(as choline bitartrate)
Eleuthero Root Extract ... 20mg
(Eleutherococcus senticosus)
Gamma-Oryzanol ... 20mg
(from rice bran)
Garlic Bulb Extract ... 20mg
(Allium sativum)
standardized to contain 1% allicin
Hawthorn Berry Extract ... 20mg
(Crataegus laevigata)
Hesperidin Complex ... 20mg
Inositol ... 20mg
L-Methionine ... 20mg
Milk Thistle Seed Extract ... 20mg
(Silybum marianum)
standardized to contain 40% silymarin
NAC ... 20mg
(N-acetyl L-cysteine)
Oat Aerial Parts Extract ... 20mg
(Avena sativa)
Turmeric Root ... 20mg
(Curcuma longa)
FOS ... 10mg
(fructooligosaccharides)
L-Glutathione ... 10mg
(reduced)
NAG ... 10mg
(N-acetyl D-glucosamine)
Spectra Probiotic Blend ... 10mg
Lactobacillus acidophilus, Bifidobacterium bifidum, Streptococcus thermophilus, L. casei, L. salivarius, B. longum
Boron ... 200mcg
(as boric acid and citric acid blend)
Vanadium ... 100mc

Caution: Do not use if you have a bleeding disorder, are taking blood thinning medication, or are within a week of any surgical procedure. If pregnant, nursing, taking any medications or have high blood pressure, consult your healthcare professional prior to use.
SelenoExcell® is a registered trademark of Cypress Systems, Inc.