Spectrum 2C w/o Iron
Integrative Therapeutics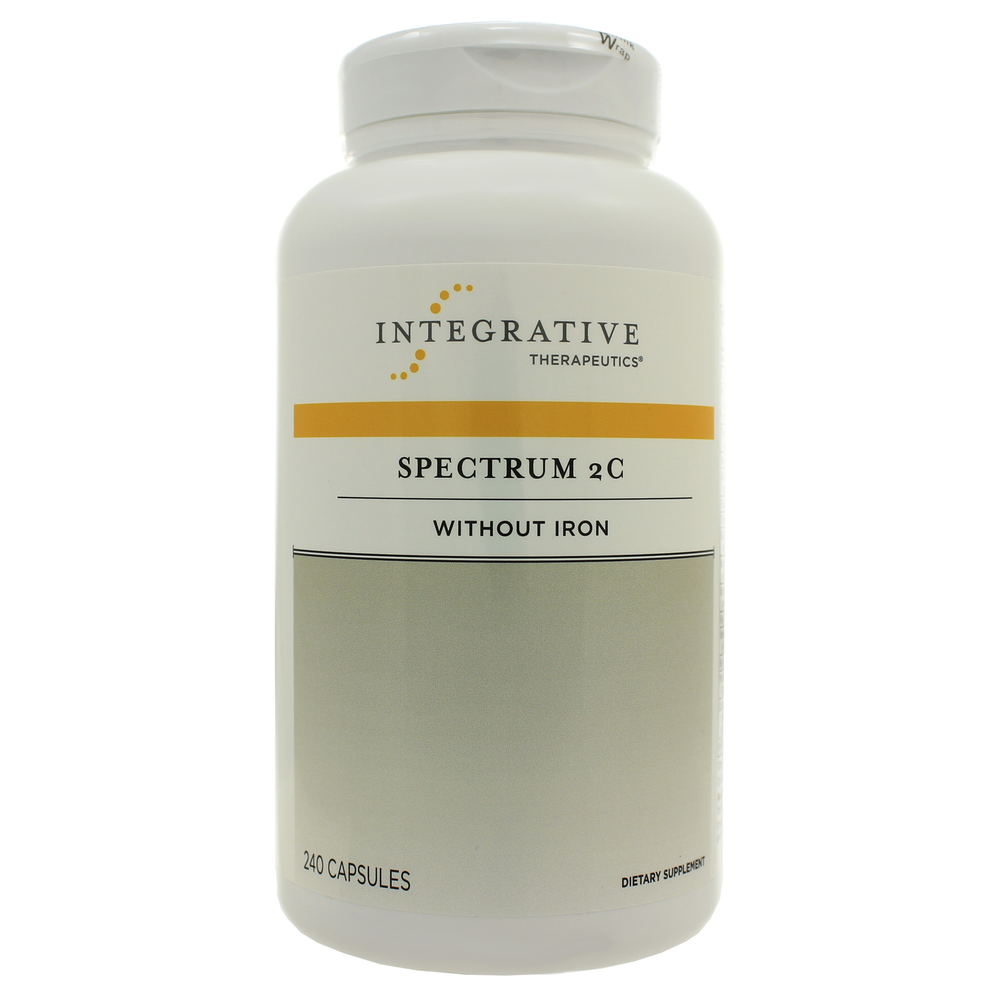 SKU: ITI-196016
Spectrum 2C without Iron is a high potency multivitamin formulated for maximum bioavailabilty.* Designed for maximum bioavailability, Spectrum 2C without Iron uses both water-soluble and fat-soluble vitamin C, phosphorylated forms of riboflavin and pyridoxine, and mineral citrates, malates and chelates.
Take 2 capsules twice daily with meals, or as recommended by your healthcare professional.
Serving Size: 2 Capsules
Amount Per Serving
Vitamin A ... 6, 250IU
(as 60% beta carotene and as retinyl palmitate)
Vitamin C ... 200mg
(ascorbic acid and as ascorbyl palmitate)
Vitamin D ... 25IU
(as cholecalciferol)
Vitamin E ... 100IU
(as d-alpha tocopheryl acetate)
Vitamin K ... 25mcg
(as phytonadione)
Thiamin ... 25mg
(vitamin B1)
Riboflavin ... 15mg
(vitamin B2 and riboflavin-5-phosphate)
Niacin ... 37mg
(as niacinamide and niacin)
Vitamin B6 ... 37mg
(as pyridoxine HCl and pyridoxal-5-phosphate)
Folic Acid ... 200mcg
Vitamin B12 ... 25mcg
(as cyanocobalamin)
Biotin ... 50mcg
Pantothenic Acid ... 37mg
(as calcium D-pantothenate)
Calcium ... 212mg
(as calcium carbonate, citrate, bisglycinate, malate and hydroxyapatite)
Iodine ... 56mcg
(as potassium iodide)
Magnesium ... 162mg
(as magnesium oxide, malate, glycinate and citrate)
Zinc ... 7.5mg
(as zinc bisglycinate chelate)
Selenium ... 43mcg
(as sodium selenite)
Copper ... 500mcg
(as copper glycinate)
Maganese ... 5mg
(as manganese bisglycinate sulfate)
Molybdenum ... 12mcg
(as sodium molybdenum)
Potassium ... 15mg
(as potassium carbonate and citric acid)
Citrus bioflavonoids complex ... 62mg**
Betaine HCl ... 16mg**
L-Glutamic Acid HCl ... 16mg**
Choline ... 12mg**
(as choline bitartrate)
Inositol ... 12mg**
Rutin ... 12mg**
(Sophora japonica)
(bud extract)
Bromelain ... 3.2mg**
(2, 400 G.D.U/g)
Papain ... 1.2mg**
(48, 000 P.U./mg)
Boron ... 250mcg**
(as boric acid/citric acid blend)
Vanadium ... 18mcg**
(as vanadium citrate)
Other Ingredients: gelatin (capsule), cellulose, magnesium stearate.
This product does not contain
sugar
salt
yeast
wheat
gluten
soy
artificial colors
artificial flavors
dairy products
preservatives
If pregnant, nursing, or taking perscription drugs, consult your healthcare professional prior to use.
It looks like there are no similar
products available