Spectrum Awakening
Metabolic Maintenance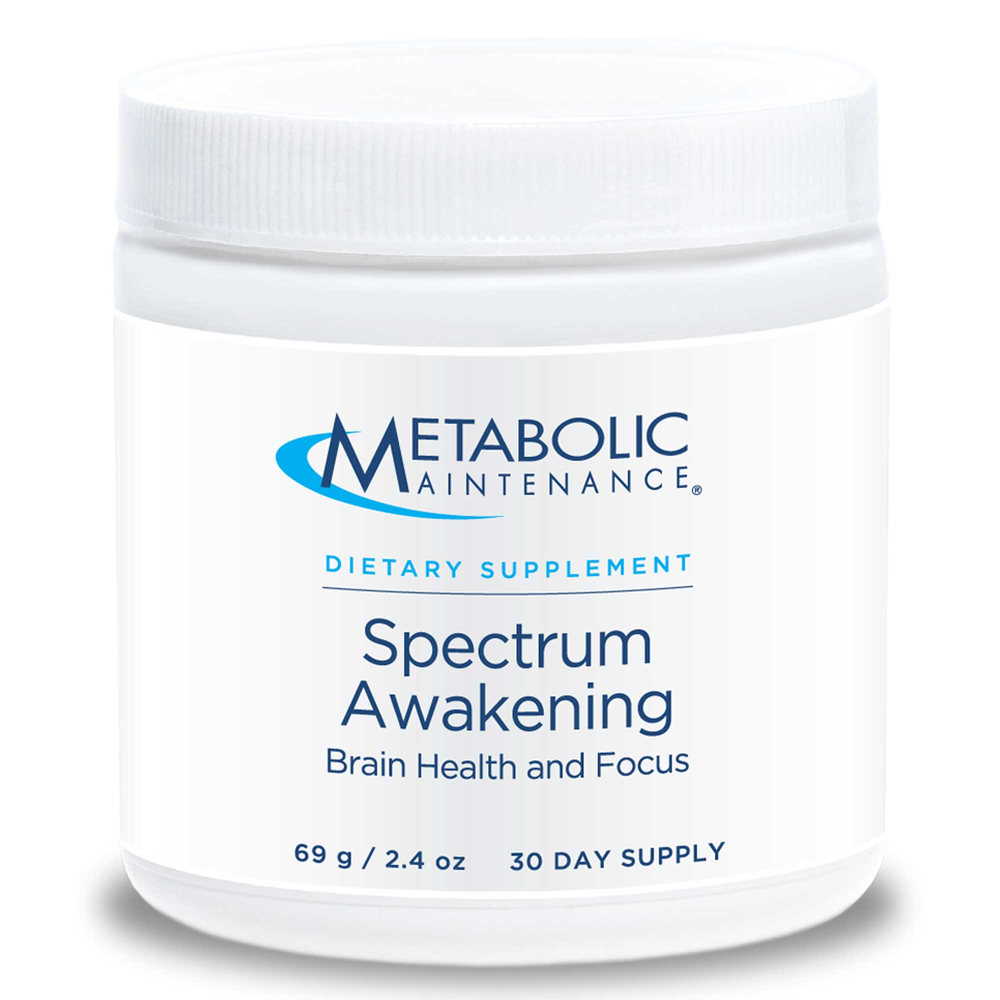 SKU: ME3-00650
Developed by Jared M. Skowron, N.D. Noted naturopathic pediatrician Jared Skowron has used his experience in clinical practice to fine-tune this unique formula. Designed to support methylation, neurotransmitter synthesis, and calm the brain, Spectrum Awakening contains a blend of activated B vitamins, minerals, and amino acids to support optimal nervous system functioning, normal mood, and emotional well-being. Now with higher levels of GABA (750 mg/2 scoops), an inhibitory neurotransmitter researched for its role in normal neurodevelopment, and methylcobalamin (1000 mcg/2scoops), the active, methylated form of B-12. B-12 and L-5-methylfolate are essential for maintaining the integrity of the nervous system and participate in key methylation reactions. 5-HTP is an immediate precursor to serotonin, a reaction catalyzed by B-6. Magnesium affects serotonin receptors and zinc influences brain homeostasis. L-theanine, found in green tea, reduces neuronal overstimulation. Taurine has been added for its neuroprotective properties. Vitamin E has been removed to result in a soy-free formula.

Suggested Use:
Two (2) scoops per day in divided doses of 1 scoop each, or as directed by a healthcare professional. Take away from protein food. Can be mixed with juices or carbohydrates (applesauce).

Serving Size: 2 scoops (2.3g)
Amount Per Serving
Vitamin B-6 ... 25mg
(as Pyridoxal 5 Phosphate)
Folate ... 1667 mcg DFE
(1000 mcg as L-5-Methylfolate, calcium salt)
Vitamin B-12 ... 1000mcg
(as Methylcobalamin)
Magnesium ... 100mg
(as Magnesium Bisglycinate)
Zinc ... 30mg
(as Zinc Bisglycinate)
GABA ... 750mg
(Gamma Aminobutryric Acid)
Glycine … 272mg
Taurine ... 250mg
L-Theanine ... 200mg
(Suntheanine®)
5-Hydroxytryptophan ... 50mg
Quatrefolic® is a registered trademark of Gnosis S.p.A.
Keep tightly closed in a cool, dry place, out of the reach of children.