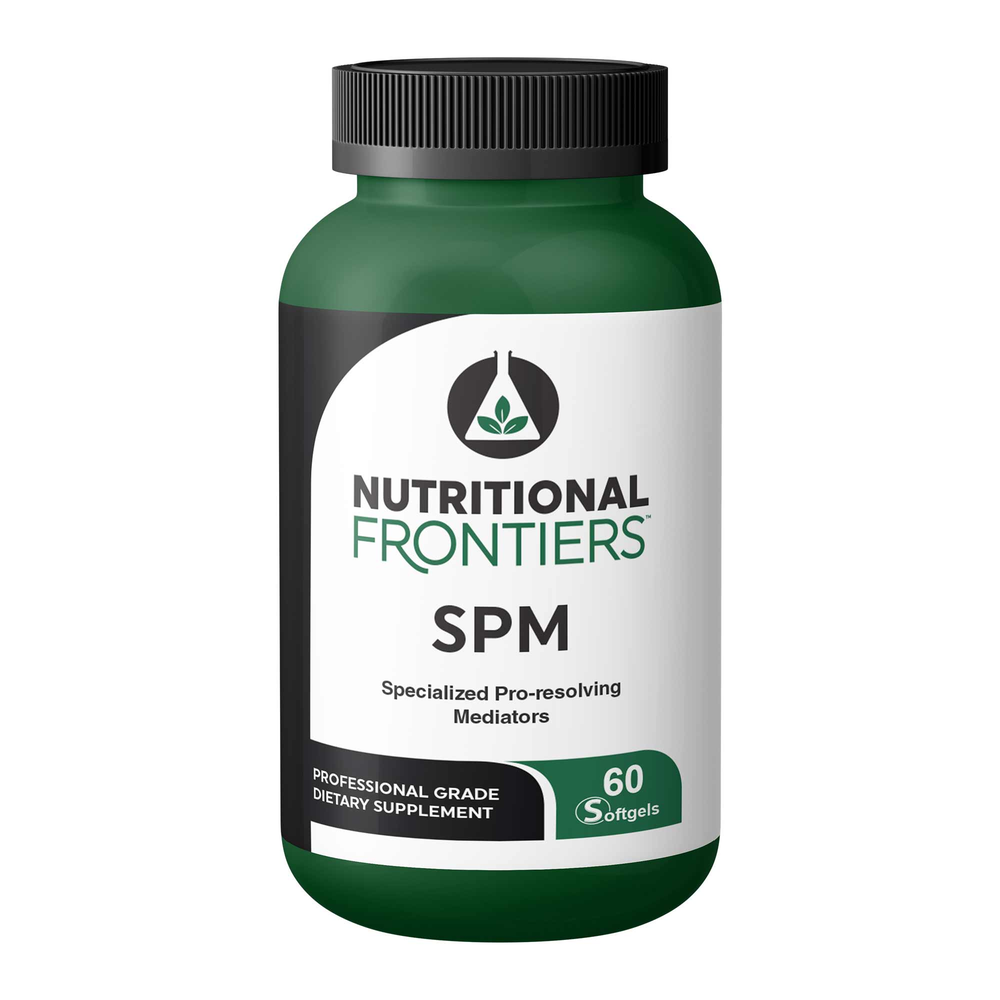 SKU: NUT412-07NF555060
This unique, SPM omega-3 derived supplement was designed to help modulate and resolve inflammation. SPM stands for "Specialized Pro-resolving Mediators" which are recently discovered, naturally occurring substances derived from omega-3 and omega-6 fatty acids. Our bodies make SPMs as a response to help resolve inflammation and they can be produced all over the body in areas like the bloodstream, nervous system tissue, and breastmilk. Specialized pro-resolving mediators are theorized to contribute to the demonstrable beneficial effects of omega-3 fatty acids on reducing inflammation.
The inflammatory process consists of a chain of events in response to trauma or injury. Inflammation may be acute or chronic and leads to changes in the tissues, cells, and blood vessels surrounding the inflamed area. While acute inflammation is a necessary and important response to trauma or injury, ongoing inflammation is associated with many disease conditions such as arthritis, autoimmune diseases, cardiovascular disease, asthma, Crohn's disease and ulcerative colitis, and more. Furthermore, the medical community now understands that uncontrolled inflammation is involved in the pathogenesis of many diseases not previously categorized as inflammatory, such as Alzheimer's disease, Parkinson's disease, and cancer.


Suggested Use:
As a dietary supplement, take 2 softgels daily, or as directed by your healthcare practitioner.


Serving Size: 2 Softgels

Amount per Serving
Calories (energy) … 25
Total Fat … 2 g
Cholesterol … 10 mg
Protein … <1 g
Marine Lipid Concentrate providing … 2.1g
PRMs … 400 mcg
(including 18-hydroxy-eicosapentaeoic acid (18-HEPE), 17-hydroxy-docosahexaenoic acid (17- HDHA), and 14-hydroxy-docosahexaenoic acid (14-HDHA))
Other Ingredients: Highly Refined and Concentrated Omega-3 Fish Oil (one or more of anchovy, squid, sardine, and mackerel) Capsule Shell (gelatin, glycerin, purified water), Natural Lemon Flavor, Natural Mixed Tocopherols.
Warning: If pregnant or nursing, consult your healthcare practitioner before taking this product.