Sustained Release ENDUR-C® Vitamin C with Rose Hips 500mg
Endurance Products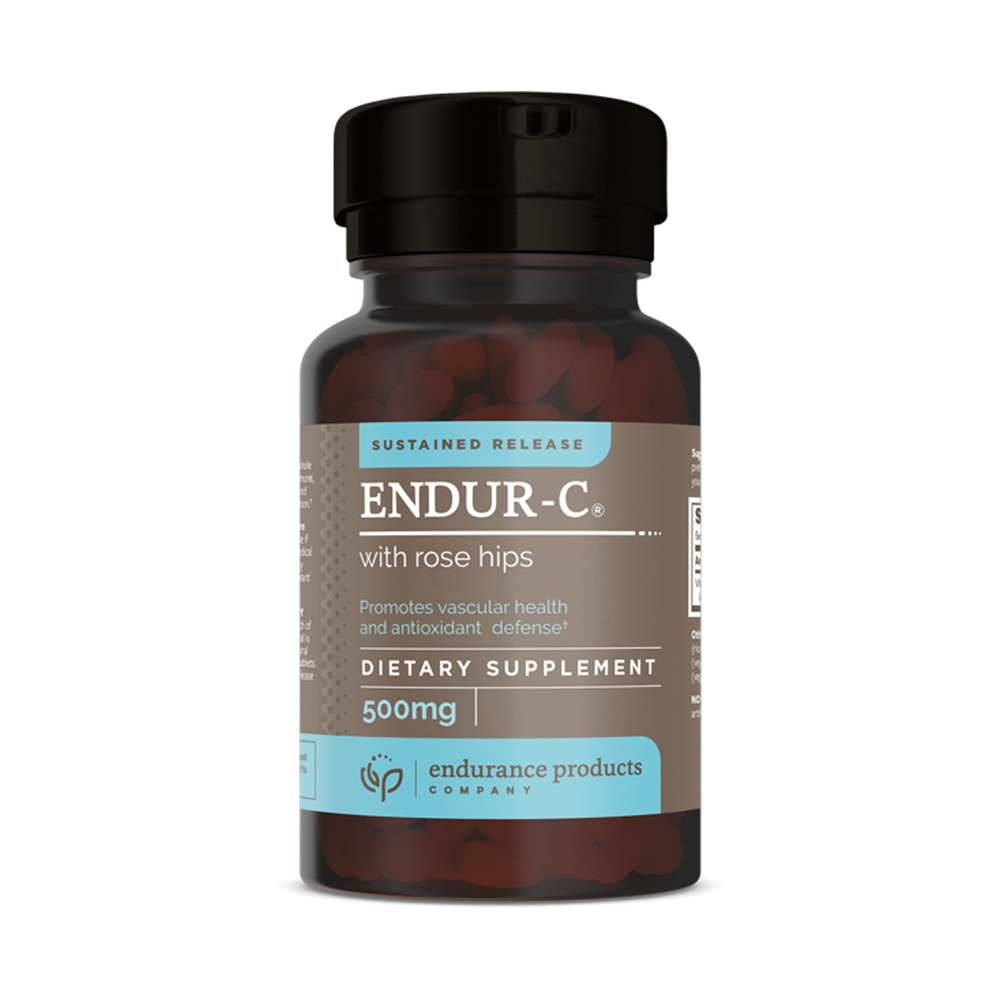 SKU: END503-14390
Sustained-release vitamin C to support vascular health and antioxidant defense*
Easy-to-swallow tablets
Sustained-release over 5 to 7 hours
Gentle on the stomach
For men and women who want to fortify the body's antioxidant defenses and promote optimal immune, skin, and nerve health. Adults interested in healthy blood vessel function and optimal blood flow can also benefit.*
Each sustained-release tablet provides 500 mg of vitamin C in a proprietary vegetable-based wax matrix, resulting in a slow and steady release of ascorbic acid over 5 to 7 hours to promote optimal absorption and tissue retention.*
As the sustained-release tablet travels through the intestine, it releases small amounts of vitamin C over several hours. In this way, the body is able to slowly absorb vitamin C over several hours, which not only helps maintain optimal blood and tissue levels, but avoids the excess loss in the urine that is typical of regular forms of high-potency vitamin C. The tablet also helps minimize digestive upset that some people experience with regular forms of vitamin C.*
ENDUR-C® exerts its antioxidant effect in two ways. Throughout the body, it helps neutralize free radicals that can harm cells, including the endothelial cells that line the blood vessels. These cells play a key role in the ability of blood vessels to relax and promote optimal blood flow. In the blood, it helps recycle and reactivate another antioxidant, vitamin E.*
Take one (1) tablet daily, preferably with a meal, or as directed by your healthcare provider.
Serving Size:
One Sustained Release Tablet
Amount Per ServingVitamin C
... 500mg
(as ascorbic acid, rose hips)
Other Ingredients:
Vegetable wax (rice bran and/or carnauba), stearic acid (vegetable), magnesium stearate (vegetable), and silica.
Does not contain:
Milk, egg, fish, shellfish, soy, peanuts, tree nuts or wheat.
Does not contain:
Salt, sugar, starch, preservatives, artificial color or flavorings.

Gluten-freeVegan/Vegetarian
Consult your healthcare professional prior to use if you have or suspect a medical condition, are taking any medications, or are pregnant or nursing.
STORE IN A COOL, DRY PLACE. Keep out of reach of children. Do not use if seal is broken or missing. Natural color variation occurs in tablets.
Formulated for steady release over 5-7 hours.