St. Johns Wort Max-V 300mg
Douglas Labs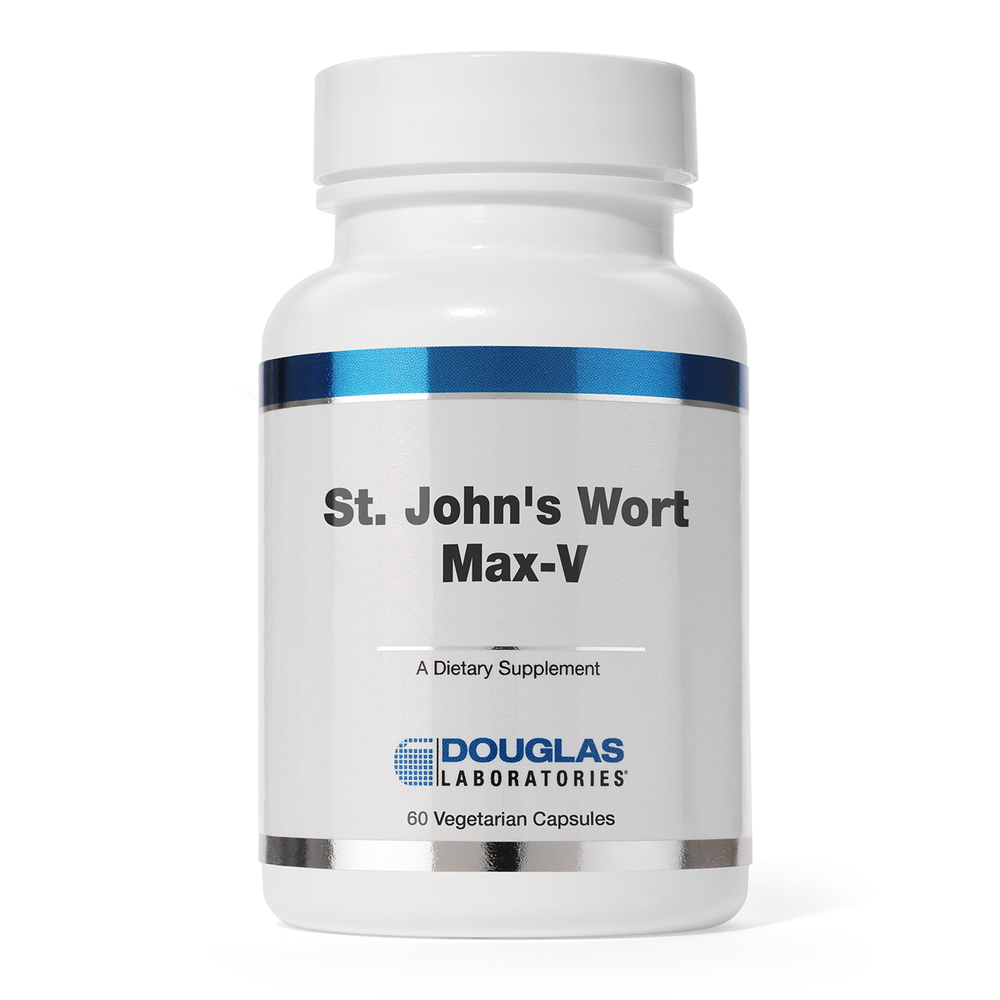 SKU: DL-7737360X
St. John's Wort vegetarian capsules, provided by Douglas Laboratories, contain 300 mg of St. John's Wort extract, standardized to contain a minimum of 0.3% total hypericin.
FUNCTIONS Although St. John's Wort has a variety of traditional uses, extracts of this flowering perennial are best known for their mood balancing properties. St. John's Wort extract is widely recognized for its positive, supportive effects on mental and emotional function. Like many botanicals, St. John's Wort has been used for thousands of years, but is now gaining immense popularity both in the United States and abroad. High tolerability, minimal side effects, and of course its efficacy are credited for the growing popularity of St. John's Wort. Numerous scientific studies have addressed the effectiveness and safety of standardized St. John's Wort extract. The activity of St. John's Wort extract is often attributed to its hypericin content. Interestingly, new evidence indicates that hypericin may not be solely responsible for the beneficial properties of St. John's Wort extract. There are many biologically active components in St. John's Wort, including: naphthodianthrones (hypericin and pseudohypericin), xanthones, phloroglucinols, and various flavonoids, including flavonols and proanthocyanidins. Which of these many other components may be active in extract preparations and how they may exert their activity is unknown. Because St. John's Wort may act through the synergistic action of many components, it is important to ensure not just standardized hypericin content of an extract, but also the availability of these other ingredients. Douglas Laboratories' provides 300 mg of St. John's Wort extract standardized to 0.3% total hypericin content, thereby providing a similar formulation used in the research studies which demonstrated the beneficial effects of this botanical extract. Additionally, Douglas Laboratories' St. John's Wort extract contains other naturally occurring and likely beneficial, constituents of the St. John's Wort plant.
INDICATIONS St. John's Wort capsules may be a useful nutritional supplement for individuals wishing to obtain the benefits of this well-documented botanical extract.
As a dietary supplement, adults take 1 capsule twice daily between meals, or as advised by your healthcare professional. If digestive irratation occurs, take with meals.
Serving Size: 1 Capsule
Amount Per Serving
St. Johns Herbal ...300mg
Extract (flowers and tops) (Hypericum perforatum)
(Hypericum perforatum) Standardized to provide 900 mcg of hypericin)
St.Johns Wort ...100mg
(flowers and tops)(non-standardized)
Other Ingredients: Cellulose and vegetable stearate.
Warning:
If you are pregnant, trying to become pregnant, nursing, or taking any prescription medication (especially anticoagulants, oral contraceptives, anti-depressants, anti-seizure medications, drugs to treat HIV or prevent
transplant rejection), consult your physician before using this product. This product may cause skin rashes or photosensitivity in some people. Avoid excessive exposure to sunlight, tanning lights or UV sources while
taking this product. This product may cause serotonin syndrome in sensitive patients and may cause hair loss.
Tamper resistant package, do not use if outer seal is broken or missing.
Keep out of reach of children.
Store in a cool, dry place.
*This statement has not been evaluated by the Food and Drug Administration. This product is not intended to diagnose, treat, cure or prevent any disease.