Sub M.I.C.
BioProtein Technology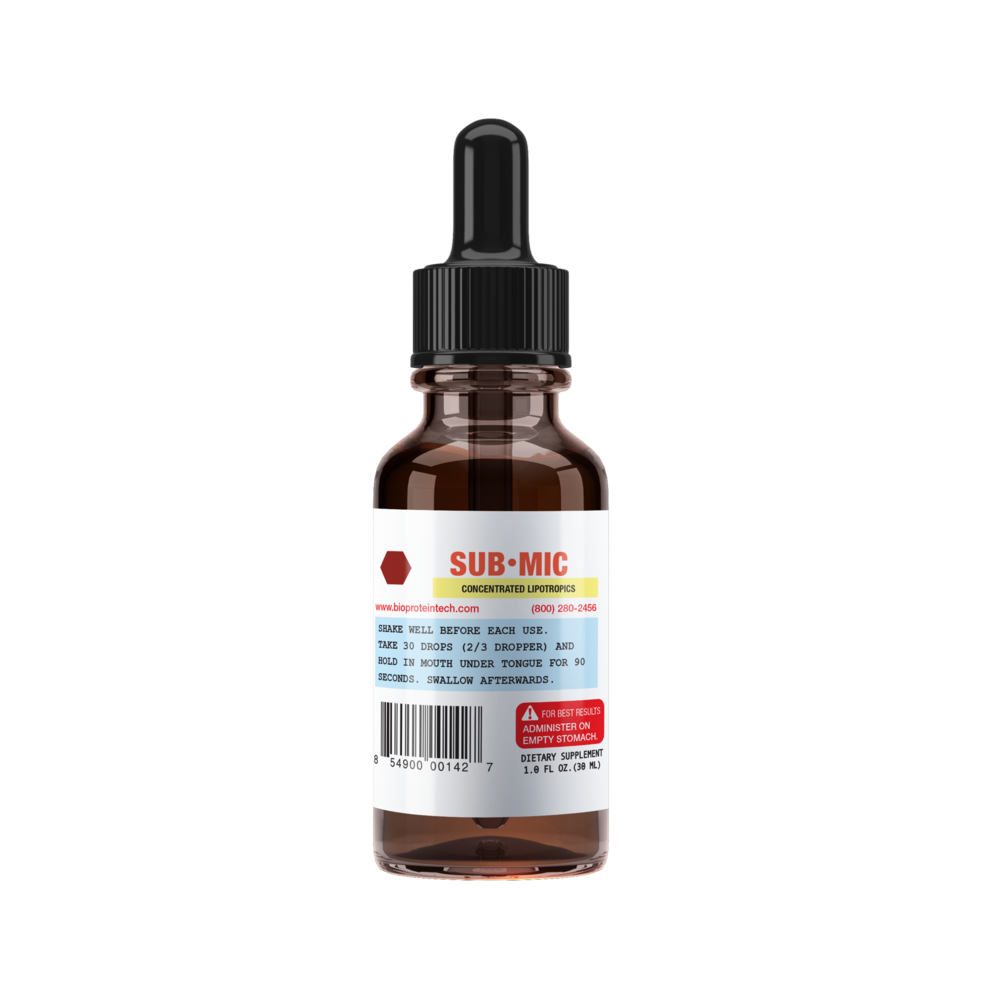 SKU: BIP-BPTMC05
Increases and sustains energy, ideal as part of a weight loss regimen.

Lipotropics are considered to be liver decongestants, meaning that they promote the emulsification of stored fats and bile from your liver. Fatty livers can cause sluggishness, weight gain and other more severe health issues. Methionine, inositol and choline or M.I.C. are considered to be the most powerful lipotropics. Sub• M.I.C. also provides metabolism and energy enhancing high potency B vitamins, delivered in a specialized absorption enhancing delivery system. This formula can provide a thermogenic effect to increase basal metabolic rate and fat burning capabilities and is great for those who are looking for added support in their weight loss regimen.

-Benefits of supplementation may include:
-Increased immediate and sustained energy
-Detoxification of fats and bile from the liver
-Detoxification of heavy metals and toxic byproducts from high protein diets
-Inhibits muscle breakdown during calorie restriction and increased cardiovascular activities
Suggested Use:
SHAKE WELL BEFORE EACH USE. TAKE 30 DROPS (2/3 DROPPER) AND HOLD IN MOUTH UNDER TONGUE FOR 90 SECONDS. SWALLOW AFTERWARDS.
Serving Size: 30 Drops (2/3 dropper)
Amount Per Serving
Vitamin B6 ... 1mg
Vitamin B12 ... 12, 500mcg
(as Methylcobalamin)
Proprietary Blend ... 62.5mg
Guarana (Seed) Extract,
Velvet Anter Extract,
Methionine, Inositol, Choline
Other Ingredients: Purified water, Organic Grape Alcohol, Natural Flavor Blend (Cherry Type) and Stevia
Warning: If you are pregnant or lactating, consult a health care practitioner before using.
BioProtein Technology products are ergonomically designed for ease of use and the highest efficiency. All BioProtein Technology products are made with the highest quality ingredients in a state-of-the-art manufacturing facility right here in Tampa, FL. BioProtein Technology products products are contained in a special amber glass bottle, never plastic, to protect the liquid formula inside from outside contamination, heat, and even sunlight exposure. The two-piece dosing dropper (bulb and pipette) is specifically designed for accurate dosing measurements as well as 1 step separation for easy cleaning.