Norwegian Gold Super Critical Omega
Renew Life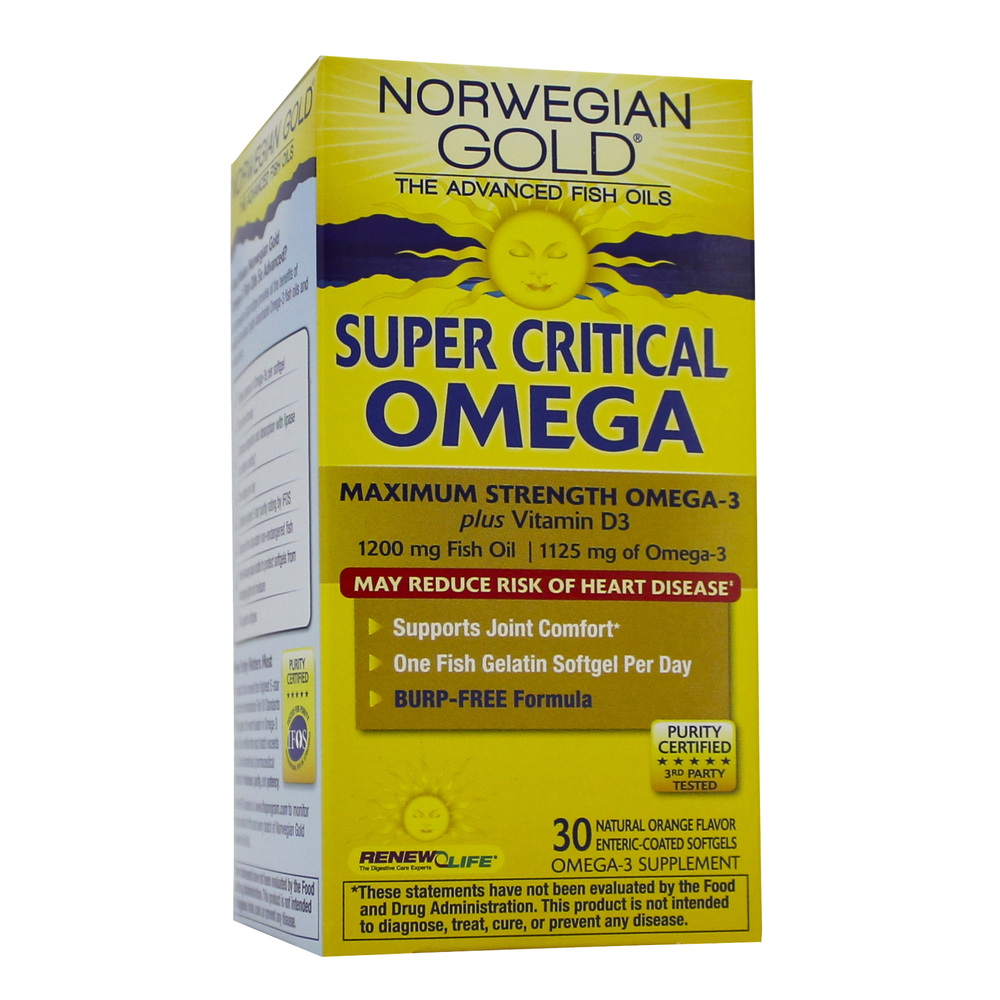 SKU: RNL-15554
Norwegian Gold Omega-3 Fish Oil Super Critical Omega
Supports heart health*
Supports joint comfort*
Enteric coating ensures each softgel reaches your intestinal tract
Enhanced digestion and absorption*
Burp-free formula with no fishy aftertaste
Suggested Use:
For best results take one (1) softgel daily, with or without food, or as directed by your healthcare professional. To maximize your Omega intake, take 2 softgels daily.
Serving Size: 1 Softgel
Amount Per Serving
Calories … 12
Calories from Fat ….11
Total Fat …. 1.2g
Saturated Fat … .05g
Trans Fat … 0g***
Cholesterol … 5mg
Total Omega 3,5,6,7,8,9,11 … 1,040mg
Omega-3 … 900mg***
EPA … 490mg***
(Eicosapentaenoic Acid)
DHA … 244mg***
(Docosahexaenoic Acid)
Other Omega-3s … 166mg***
Whole Omega Complex
Omega-5,6,7,8,9,11 … 138mg***
Lipase … 4mg***
(activity 40 FIP)
Ingredients: Molecularly distilled purified fish oils (from anchovies and sardines)
Other ingredients: Fish gelatin, vegetable glycerin, beeswax, natural orange flavor, caramel color, sunflower lecithin, mixed vitamin E tocopherols (natural flavor protector), enteric coating (cellulose, coconut oil, oleic acid, sodium alginate, stearic acid, purified water).
Contains: Fish (Anchovy, Sardine).
Free of GMOs, gluten, yeast, sugar, soy, salt, dairy, eggs, wheat, artificial preservatives, and artificial ingredients.
Warning: Consult your physician prior to using this or any product if you are pregnant, nursing, taking any medication or have a medical condition.
Keep out of reach of children.