Super EFA Forte Capsules
Seroyal/Genestra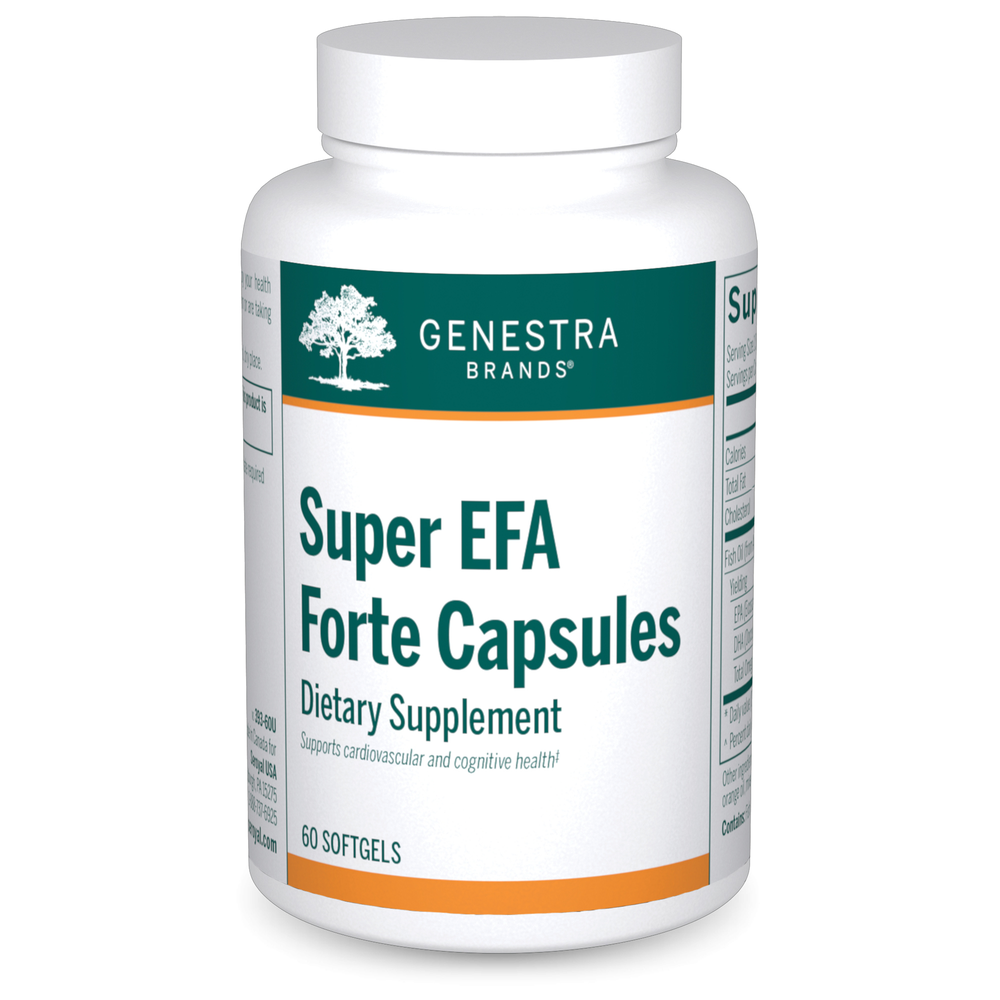 SKU: GN-10393
Concentrated triglyceride fish oil in a convenient softgel format

Double-potency formula offering 475 mg of EPA and 325 mg of DHA per softgel
Helps support cognitive, cardiovascular and joint health*
Supports healthy lipid metabolism*
Super EFA Forte Capsules offer a high-potency fish oil formula providing EPA and DHA in a bioavailable triglyceride form. Each exceptionally pure softgel offers 800 mg of EPA and DHA to support neurological, cardiovascular and joint health. DHA is one of the most important omega-3 fatty acids in the brain, where it helps regulate membrane fluidity, the formation of synapses, and cytokine production. Clinical research has demonstrated that DHA can support cognitive health, including episodic memory and learning in older adults. DHA is also important for the proper development of the brain and retina in young children. EPA and DHA have been found to support cardiovascular health by promoting healthy lipid metabolism, heart rates, and platelet and endothelial function. By regulating immune cell activity and the production of eicosanoids, such as prostaglandins and leukotrienes, these omega-3 fatty acids provide additional support for joint comfort and function. Clinical research has demonstrated that triglyceride fish oils have greater bioavailability than ethyl esters, with one study reporting a significantly higher increase in the omega-3 index after six months of supplementation than an identical dose of ethyl esters.*
Take 1 softgel 1-4 times daily or as recommended by your health professional.



Serving Size: 1 Softgel

Amount Per Serving
Calories ... 15
Total Fat ... 1.5g
Cholesterol ... <5mg
Fish Oil ... 1,430mg
(from Anchovy, Sardine, and Mackerel)
Yeilding
EPA ... 475mg
(Eicosapentaenioc Acid)
DHA ... 325mg
Docosahexaenoic Acid)
Total Omega-3 ... 830mg

Other Ingredients: Capsule (bovine gelatin, glycerin, purified water), sweet orange oil, mixed tocopherols concentrate

Contains fish (Anchovy, Sardine, and Mackerel).
Warning: If you are pregnant or lactating, have any health condition or are taking any medication, consult your health professional before use.
Keep out of reach of children.
Use only if safety seal is intact. Store in a cool, dry place.