Super Methyl-SP™
Apex Energetics, Inc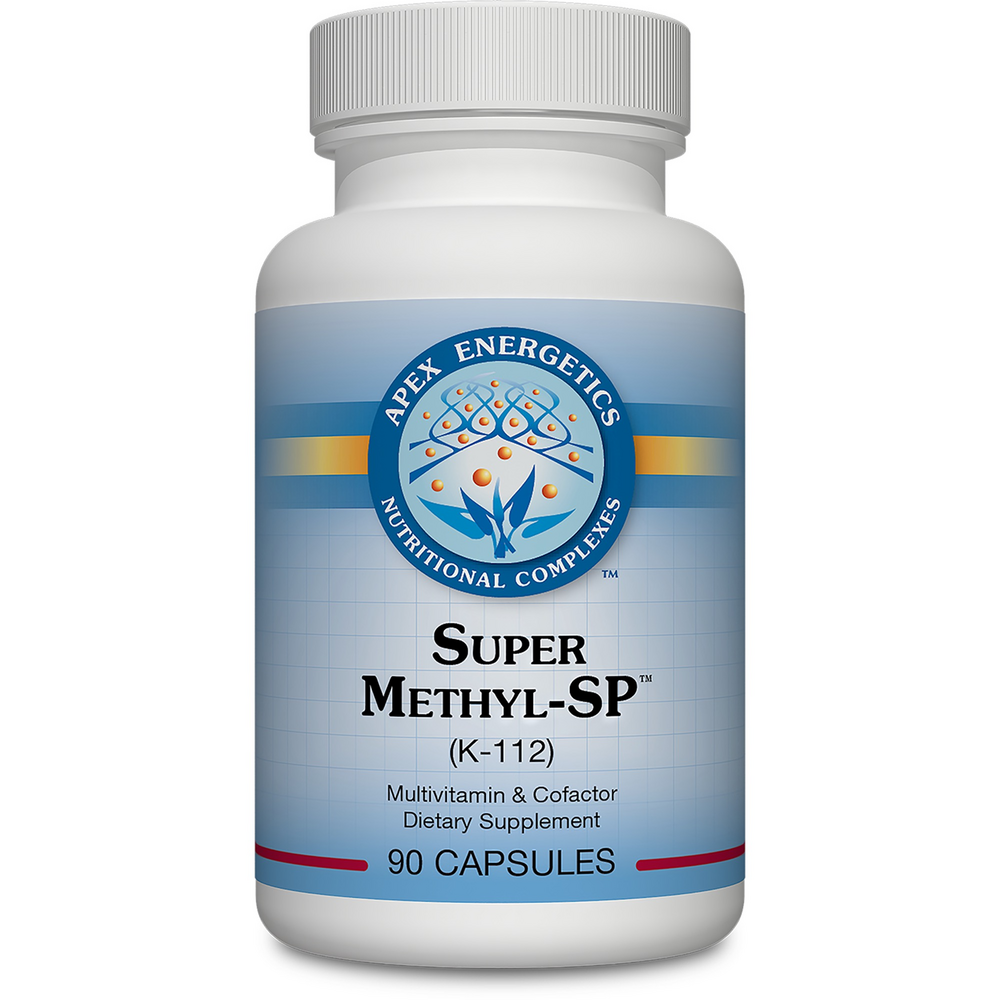 SKU: APE949-K112
Super Methyl-SP™ supports methylation reactions, important for metabolism of homocysteine, by providing a combination of targeted nutrients and cofactors, such as trimethylglycine at 550 mg and MSM at 50 mg per serving.* This formula includes the antioxidant vitamins C and E, as well as high-potency riboflavin, vitamin B6, folate, and vitamin B12. In addition, this formula includes a biologically active form of folate (5-methyltetrahydrofolic acid or 5-MTHF), which is normally produced and available to the body only at the final stage of the folate metabolic process.* Also available, Methyl SP™ (K14) with 1200 mcg of folate per serving.
Take 1- 2 capsules twice a day, or as directed by your healthcare professional.
Serving Size:
2 vegetarian capsules
Amount Per Serving
Vitamin C ... 50mg
(as ascorbic acid)
Vitamin E (as alpha-tocopherol acetate ... (20IU) 13mg
Riboflavin ... 30mg
(as riboflavin 5'-phosphate)
Vitamin B6 ... 14mg
(as pyridoxal 5'-phosphate)
Folate ... 2500mcg DFE
(as L-5-methyltetrahydrofolate calcium)
Vitamin B12 ... 1000mcg
(as methylcobalamin)n)
Magnesium ... 100mg
(as magnesium citrate)
Choline ... 100mg
(as choline bitartrate)
Trimethylglycine (as betaine anhydrous ... 550mg
Betaine HCl ... 60mg
MSM ... 50mg
(methylsulfonylmethane)
Beet ... 50mg
(Beta vulgaris) (root)

Other Ingredients: Vegetarian capsule (hypromellose), cellulose, silica.
Consult your healthcare professional before use if pregnant, nursing, taking medications, or for any use by minors. Do not use if safety seal is broken or missing. KEEP OUT OF REACH OF CHILDREN.