Super Omega-3 EPA/DHA
Life Extension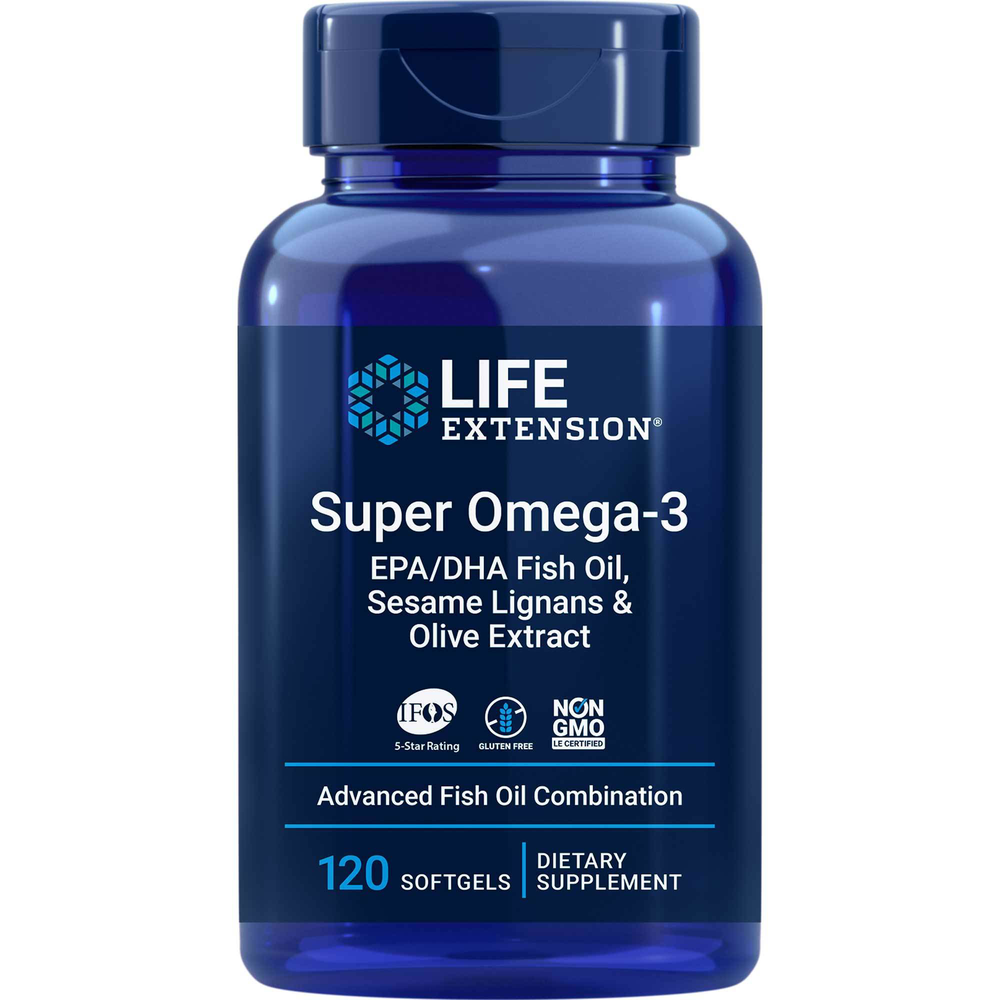 SKU: L48418
As part of Life Extensions OMEGA FOUNDATIONS® line, Super Omega-3 EPA/DHA with Sesame Lignans & Olive Extract features AlaskOmega® — a pure, fresh fish oil made from sustainably harvested Alaska Pollock and that has earned the International Fish Oil Standards' (IFOS™) highest 5-star rating. Inspired by the heart-healthy Mediterranean diet, this superior formula also contains olive extract, sesame lignans, and natural lemon flavor, making it the most comprehensive omega-3 supplement for heart and cognitive health support on the market.
Benefits at a glance:
Powerful cardiovascular and cognitive health support
Good source of Omega-3s and beneficial polyphenols
Made with fresh, IFOS™ 5-star certified AlaskOmega® fish oil
Contains Mediterranean diet-inspired olive fruit extract
Sesame lignans increase stability of omega-3 nutrients
Natural lemon flavor improves taste and palatability
Take two (2) softgels twice daily with meals, or as recommended by a healthcare practitioner.
Serving Size: Two Softgels
Amount Per Serving
Calories ... 25
Calories from Fat ... 25
Total Fat ... 2.5g
Cholesterol ... <5mg
Pure+™ Wild Fish Oil Concentrate ... 2000mg
Yielding:
EPA ... 700mg
(eicosapentaenoic acid)
DHA ... 500mg
(docosahexaenoic acid)
Polyphen-Oil™ Olive Extract ... 300mg
(fruit and leaf)[providing 19.5 mg polyphenols,
5.2 mg hydroxytyrosol/tyrosol, 4.4 mg verbascoside/oleuropein]
Sesame Seed Lignan Extract ... 10mg
Other Ingredients: highly refined fish oil concentrate (Alaska Pollock), gelatin, glycerin, purified water, silica, natural flavor, caramel color, sunflower lecithin, mixed tocopherols, maltodextrin, rosemary extract.
CAUTION
If you are taking anti-coagulant or anti-platelet medications, or have a bleeding disorder, consult your healthcare provider before taking this product.
WARNING
Keep out of reach of children. Do not exceed recommended dose. Do not purchase if outer seal is broken or damaged. When using nutritional supplements, please consult with your physician if you are undergoing treatment for a medical condition or if you are pregnant or lactating.