Support Adrenals
BioMatrix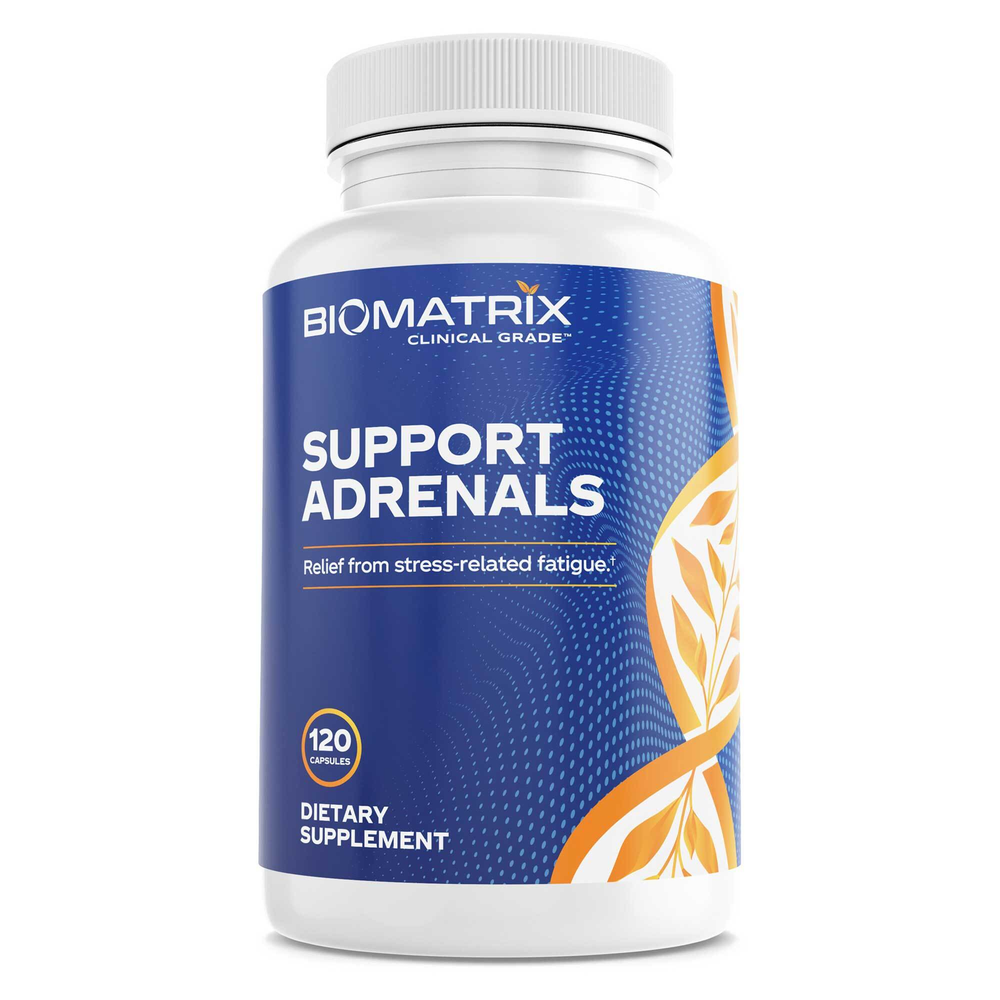 SKU: BMX-51001
Adrenal health is required for production of cortisol and DHEA, hormones involved in HPA function for managing and responding to stress. Support Adrenals has been shown to help nourish and support the adrenals by enhancing the body's ability to deal with stressors of all kinds. This synergistic formula of balanced B-vitamins, minerals, bioflavonoids, and supportive co-factors can help in a myriad of ways to maintain health and recover from stress-related conditions.
Therapeutic levels of nutrients to support health and function of the adrenal glands
Minimizes the adverse effects of stress
Aids in neurological function
Supports steady energy production
Capsules made from natural vegetable sources.
Folate now provided in the form of a proprietary 5 –methyltetrahydrofolate (5-MTHF) known as Quatrefolic. This is the most bioavailable source of folate available. With many of us incapable of converting folic acid, this upgrade of folate form is a great improvement.
Improved sources of bioflavonoids, including addition of citrus peel complex powder.
- A vital component of every anti-aging regimen.
Suggested Use:
Two (2) capsules 10-15 minutes before breakfast and lunch or as directed by your health care provider.
Serving Size: 2 Capsules
Amount Per Serving
Vitamin C ... 100 mg
(as Ascorbic Acid; Ascorbyl Palmitate)
Thiamin ... 50 mg
(Vitamin B1) (as Thiamine Mononitrate)
Riboflavin ... 50 mg
(Vitamin B2)
Vitamin B6 ... 50 mg
(as Pyridoxine Pyridoxal-5'-Phosphate)
Niacin ... 35 mg
(Niacinamide)
Folate... 400 mcg DFE
(from Quatrefolic (6S)-5-Methyltetrahydrofolic Acid Glucosamine Salt)
Vitamin B12 ... 100 mcg
(as Methylcobalamin)
Biotin ... 2,000mcg
Pantothenic Acid ... 200mg
(as d-Calcium Pantothenate)
Choline ... 20 mg
(as Choline Bitartrate)
Zinc ... 1.5 mg
(as Citrate)
Copper ... 0.55 mg
(as Citrate)
Para-Aminobenzoic Acid (PABA) ... 75 mg
Citrus Bioflavonoid Complex ... 50 mg
Eleuthero Root Extract ... 50 mg
(Eleutherococcus senticosus)
Inositol ... 50 mg
Hesperidin Methyl Chalcone ... 36 mg
Naringin ... 36 mg
(Extracted from Citrus; Fruit)
Rosemary Leaf Extract ... 36 mg
Rutin ... 10 mg
Dehydroepiandrosterone (DHEA) ... 8 mg
Pregnenolone ... 8 mg
Other Ingredients: Vegetable Cellulose,
Formulated to be free of allergens derived from gluten, yeast, artificial colors and flavors.
Warning: Do not consume this product if you are pregnant or nursing. Consult your physician for further information. Store in a cool, dry place. Keep out of reach of children. This product was sealed for your protection. Do not use if outer neck seal or inner-seal is missing or damaged.