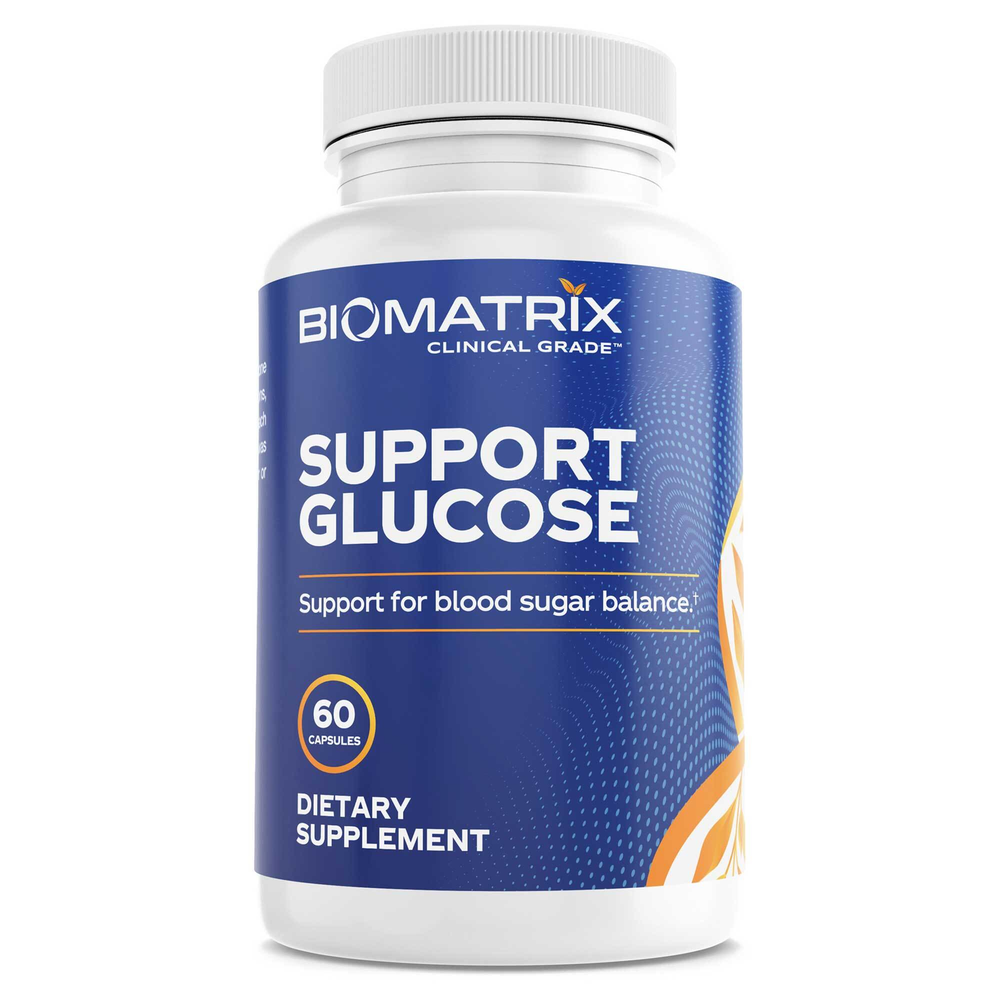 SKU: BMX-51301
When glucose spikes, it acts as a toxin, damaging nerve cells, for example. When glucose dips, the cells sense starvation and overcompensate. This back and forth damages cells, tissues and organs. Support Glucose provides minerals needed as cofactors and herbs that assist in maintaining healthy blood sugar levels.
Support Glucose provides a balanced, evidence-based combination of minerals, herbs and purified extracts that support glycemic control and cell health, along with anti-inflammatory and neuro-protectant effects. This formula includes Cinnulin PF, a patented water extract of cinnamon that supports healthy glucose management and insulin utilization by cells, plus Alpha-Lipoic Acid to promote optimal cell and nerve function. It also includes minerals needed to support sugar metabolism, maintain blood sugar levels within normal range, and aid glucose utilization by cells.
Helps maintain normal blood glucose levels.
Anti-inflammatory effects.
Niacin-bound chromium forms a "Glucose Tolerance Factor."
Aids sugar transport and use by cells.
Supports optimal pancreatic function.
Assists in promoting cell health.
Ingredients based on latest in scientific research.
Provides minerals needed as co-factors in sugar metabolism.
Contains herbs known for centuries to support blood sugar health.
Provides Cinnulin PF, a cinnamon extract that may assist with weight control and supports cardiovascular health.
Suggested Use:
As a dietary supplement, take 1 capsule with food one to three times per day.
Serving Size: 1 Capsules
Amount Per Serving
Chromium ... 200 mcg
(as Cr Polynicotinate)
Gymnema sylvestre Leaf Extract Yielding 50 mg Gymnemic Acid ... 200 mg
Cinnulin PF® … 50 mg
(Cinnamon Extract)
Alpha-Lipoic Acid ... 100 mg
Bitter Melon ... 80 mg
(Momordica charantia) (Extract Yielding 0.4 mg Charantin)
Lagerstroemia speciosa L. ... 50 mg
(Banaba) (Leaf) (Extract yielding 0.5 mg Corosolic Acid)
Vanadyl Sulfate ... 5 mg
Other Ingredients: Microcrystalline cellulose, magnesium stearate,hypromellose (vegetable capsule).
Warning: For specific recommendations, consult your healthcare professional. Keep out of reach of children. Store in a cool, dry place. This product was sealed for your protection. Do not use if outer or inner neck seals are damaged or missing.