Supreme Cleanse Kit
Gaia Herbs/Professional Solutions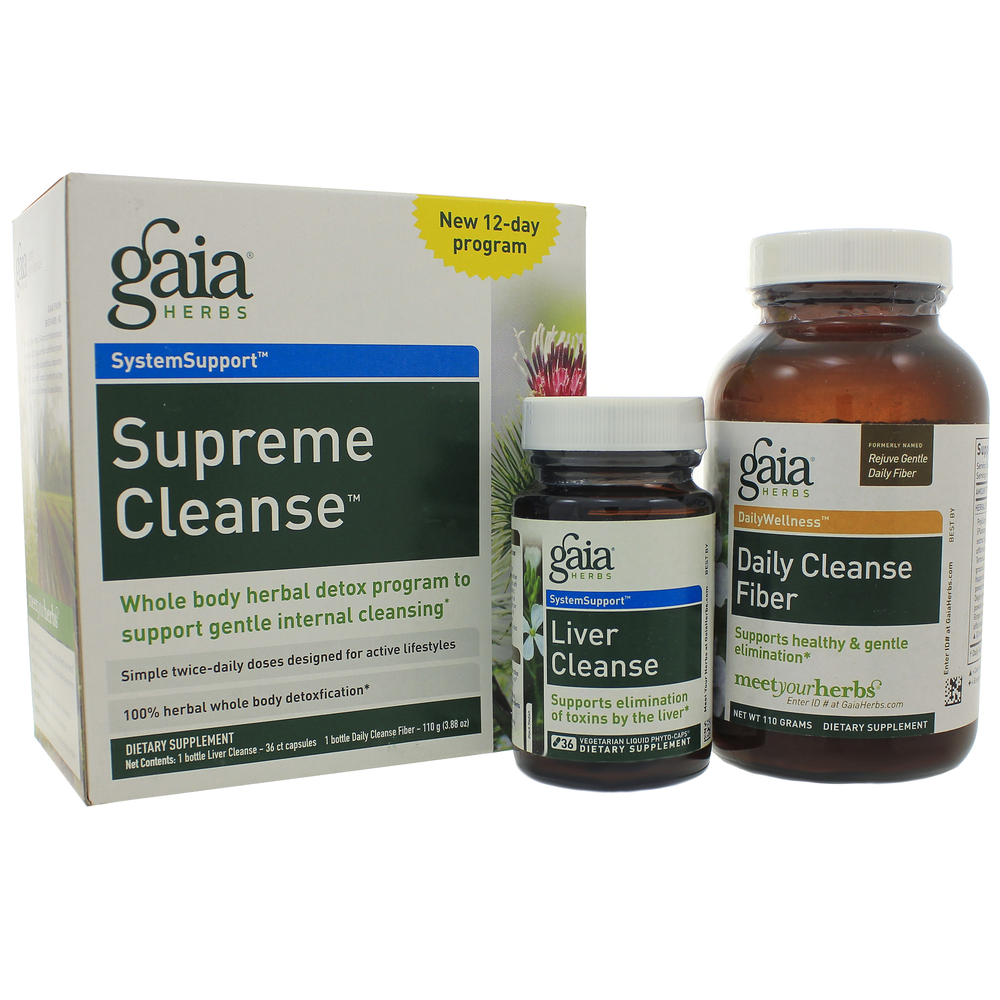 SKU: GAI-90099KIT
Supreme Cleanse Kit
-New 12-Day Program
-SystemSupport
-Whole body herba ldetox program to support gentle internal cleansing
-Simple twice-daily designed for active lifestyles
-100% herbal whole body detoxification
Contains:
1 bottle Liver Cleanse
1 bottle Daily Cleanse Fiber
Supreme Cleanse - The complete herbal cleansing program
Todays environment exposes our bodies to a variety of toxins and pollutants. Gaia Herbs Supreme Cleanse is deigned to support gentle detoxification and assist with elimination. this safe and effective cleanse supports the natural role of the liver, a healthy lymphatic system, digestion, and elimination.
Liver Cleanse: Aids the livers natural detoxification role, supports healthy liver cells, and encourages the removal of cellular waste in tissue
Daily Cleanse Fiber: supports healthy & gentle elimination
Daily Cleanse Fiber - 110 gm
1/2 hour before breakfast, adults take 1 heaping teaspoon of Daily Cleanse Fiber in 8-10 oz. of water. Shake or stir well and drink quickly before liquid thickens. If sensitive digestion or elimination is present, then begin with 1/2 the suggested dose and gradually increase to the full dose.
Liver Cleanse - 32 Liquid Phyto-Caps
Adults take 3 capsules 1 hour after dinner with 4-8 oz of water
Daily Cleanse Fiber
Serving Size: 1 Heaping Teaspoon
Amount Per Serving
Herbal Blend ...3g
Psyllium seed husk powder (Plantago ovata), Triophala fruit extract powder [Emblica officinalis, Terminalia bellerica, Terminalia chebula), ChiaMax ground Chia seed (Salvia hispanica), Marshmallow root powder (althaea officinalis), Deglycyrrhizinated Licorice root poweder extract (Glycyrrhiza spp.), Ginger rhizome powder (Zingiber officinale) Cinnamon bark powder (cinnamomum spp.)Liver Cleanse - 32 Liquid Phyto-Caps
Serving Size: 3 Capsules
Amount Per Serving
Proprietary Extract Blend ...1458mg
Milk Thistle seed (Silybum marianum), Turmeric root (curcuma longa), Corydalis tubers (Corydalis yanhusuo), Artichoke leaf (Cynara scolymus), Dandelion root (Taraxacum officinale), yellow Dock root (Tumex crispus), Burdock root (Arctium lappa), Rooibos aerial parts (Aspalathus linearis), Black radish root (Raphanum sativus var. niger), Figwort aerial parts (Scrophularia spp.), Gentian root (Gentiana lutea), Fenugreek seed (Trigonella foenum-graecum), Ginger root (Zingiber officinale), Red root (Ceanothus americanus).
Other Ingredients: Vegetable glycerin, capsule (vegetable cellulose). Each 3 capsules contain 3, 700 mg dry herb equivalent.
Use only as directed. Not to be used during pregnancy or lactation. If you have a medical condition or take pharmaceutical drugs, please consult with your doctor before use. Discontinue use in the event of bloating or abdominal discomfort.
*This statement has not been evaluated by the Food and Drug Administration. This product is not intended to diagnose, treat, cure or prevent any disease.