Sustained Release L-Arginine 350mg
Endurance Products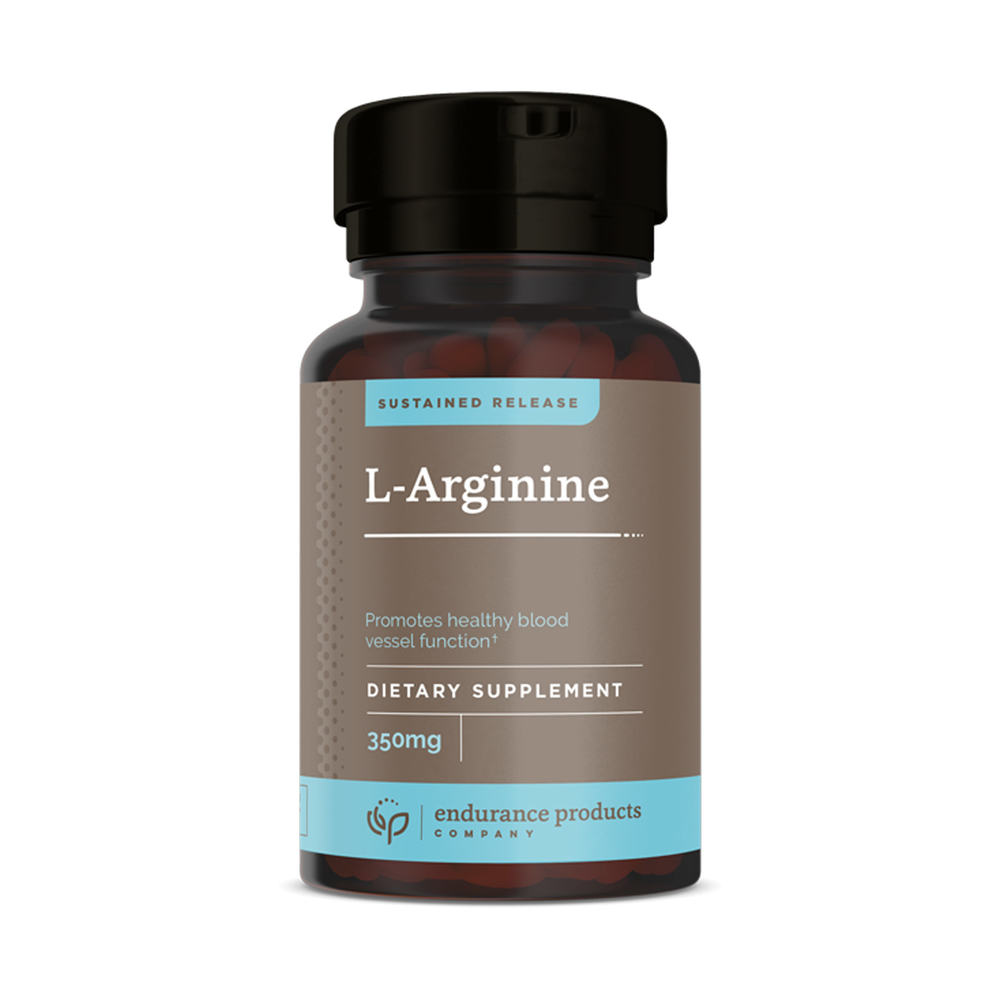 SKU: END503-40560
Sustained-release L-arginine to support healthy blood vessel function*
Easy-to-swallow tablets
Sustained-release over 4 to 6 hours
Gentle on the stomach
For men and women interested in overall cardiovascular health, including maintaining healthy blood pressure in the normal range.*
Each sustained-release tablet provides 350 mg of the amino acid L-arginine in a proprietary vegetable-based wax matrix. Each tablet dissolves slowly for a steady release of L-arginine. This promotes optimal absorption and tissue retention without an excessive amount of L-arginine typically found in regular immediate-release forms that can cause digestive upset.*
The endothelium (the layer of cells that lines blood vessels) relies on L-arginine for a healthy production of nitric oxide. Nitric oxide, in turn, plays a key role in vascular health, including promoting blood vessel relaxation and optimal blood flow.*
This ability to support blood vessel health is ideally suited for athletes, active adults and others interested in maintaining healthy blood flow. Adults interested in overall health can also benefit as L-arginine – one of the body's most metabolically versatile amino acids – also plays a role in immune health, detoxification, protein synthesis, hormone regulation, male fertility, and more.*
For adults, take three (3) tablets twice daily, preferably with meals, or as directed by your healthcare practitioner.
Serving Size:
Three Sustained Release Tablets
Amount Per ServingL-Arginine
... 1050mg
(as arginine alpha-ketoglutarate)
Other Ingredients:
Calcium phosphate, vegetable wax (rice bran and/or carnauba wax, stearic acid (vegetable), magnesium stearate (vegetable), and silica.
Does not contain:
Milk, egg, fish, shellfish, soy, peanuts, tree nuts and wheat.
Does not contain:
Salt, sugar, starch, preservatives, artificial color or flavorings.
Consult your healthcare professional prior to use if you have or suspect a medical condition, are taking any medications, or are pregnant or nursing.
STORE IN A COOL, DRY PLACE. Keep out of reach of children. Do not use if seal is broken or missing.
Natural color variation occurs in tablets.