Sweet Defense
Enzymatic Therapy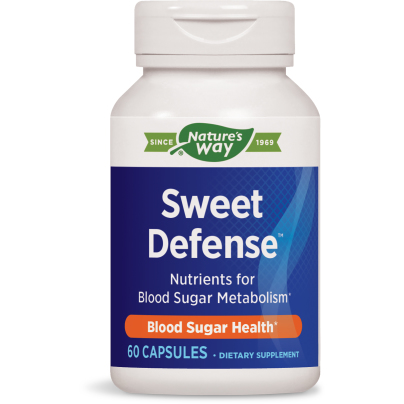 SKU: EN2-02366
Sweet Defense is available by Enzymatic Therapy.
DIETARY SUPPLEMENT
Sweet Defense
Fast-Acting Formula
(Formerly Hypo-Ade)
-Reduces sugar cravings
-Clinically-studied ingredients
Enzymatic Therapy
What Better Feels Like
BLOOD SUGAR
Supplemental Facts:
All colors used are from natural souces.
Benefit:
LABORATORY TESTED
PURITY, SAFETY & PERFORMANCE
Two (2) capsules three (3) times daily with or after meals.
Serving Size: 2 capsules
Amount Per 2 Capsules
Vitamin A ...5, 000 IU
(53% as beta carotene and as retinyl acetate)
Vitamin C ...200mg
(ascorbic acid)
Thiamin ...25mg
(as thiamin HCL) (vitamin B1)
Riboflavin ...25mg
(vitamin B2)
Niacin ...115mg
(as niacinamide and niacin)
Vitamin B6 ...25mg
(as pyridoxine HCL)
Vitamin B12 ...25mcg
(as cyanocobalamin)
Pantothenic Acid ...100mg
(as calcium D-pantothenate)
Zinc ...10mg
(as zinc gluconate)
Manganese ...2.3mg
(as manganese gluconate)
Chromium ...267mcg
(as chromium picolinate)
Potassium ...50mg
(as potassium picolinate)
Inositol ...200mg**
Pancreas Extract ...150mg**
(freeze-dried)
Choline Bitartrate ...100mg**
L-Methionine ...100mg**
Beet ...100mg**
(Beta vulgaris) Root
Adrenal Extract ...65mg**
Betaine HCL ...50mg**
Wild Yam ...50mg**
(Dioscorea villosa) Root
Barberry ...30mg**
(Berberis vulgaris) Bark of Root Extract 6:1
Herbal Blend: ...8mg**
dandelion (Taraxacum officinale) leaf and goldenseal (Hydrastis canadensis) root
Multi-Glandular Complex ...4mg**
liver, lung, pancreas, heart, kidney, and spleen
** Daily Value (DV) not established
Contains:
Gelatin, Magnesium Stearate, Silicon Dioxide, Titanium Dioxide Color
Does Not Contain:
Sugar, Salt, Yeast, Wheat, Gluten, Corn, Soy, Dairy Products, Artificial Flavoring, Preservatives
If pregnant, nursing, or taking prescription drugs, consult your healthcare practitioner prior to use.
It looks like there are no similar
products available