SystemWell® Ultimate Immunity
Nature's Way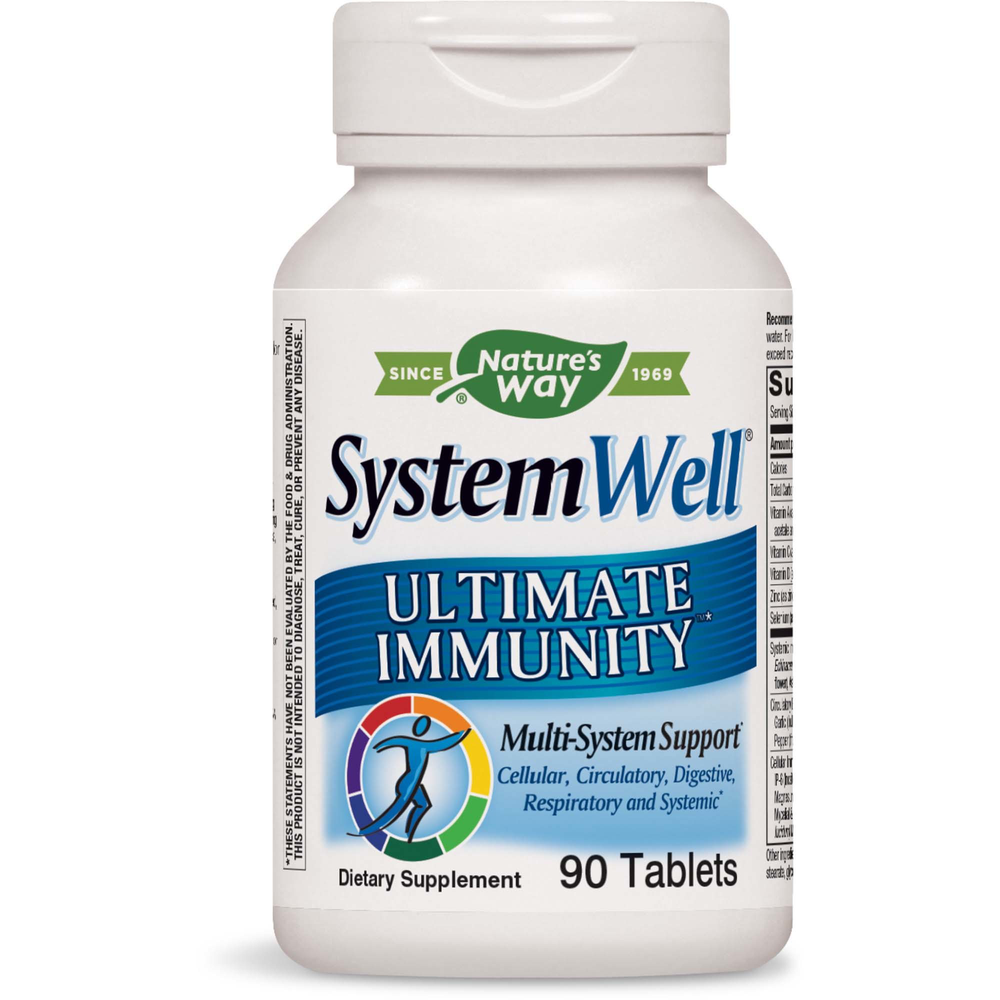 SKU: NW-15023
Support for five essential aspects of health: respiratory, digestive, systemic, circulatory, and cellular health.* Help support each with SystemWell Ultimate Immunity tablets, developed to help you feel your best with vitamins, minerals, and herbs. You can use SystemWell Ultimate Immunity as daily maintenance or take an extra tablet for more intensive use when you'd like it.*
Suggested Use:
For Daily Maintenance: Adults take 1 to 2 tablets daily with water.
For Intensive Use: Adults take 3 tablets up to twice daily with water.
Serving Size: 3 Tablets
Amount Per Serving
Calories … 5
Total Carbohydrate … 1 g†
Vitamin A … 1.5 mg
(as 80% retinyl acetate and 20% beta carotene)
Vitamin C … 1 g
(ascorbic acid)
Vitamin D … 10 mcg
(as ergocalciferol)
Zinc … 15 mg
(as zinc bisglycinate chelate)
Selenium … 25 mcg
(as L-selenomethionine)
Systemic Immunity Blend … 455 mg**
Echinacea purpurea (stem, leaf, flower), Astragalus (root), Olive (leaf)
Circulatory Blend .. 350 mg**
Garlic (bulb), Cayenne pepper (fruit)
Cellular Immunity Blend … 315 mg**
P-6 (Inositol Hexaphosphate) (from Calcium Magnesium Phytate), Maitake (Grifola frondosa) Mycelial & Primordia Biomass, Reishi (Ganoderma lucidum) Mycelial & Primordia Biomass, Shiitake (Lentinula edodes) Mycelial & Primordia Biomass, Yamabushitake (Hericium erinaceus) Mycelial & Primordia Biomass
Digestive Blend … 290 mg**
Arabinogalactan (from Larix laricina), Oregon Grape (Mahonia aquifolium) (root and stem), Goldenseal (Hydrastis canadensis) (aerial parts), Fructooligosaccharides
Respiratory Blend … 240 mg**
Fenugreek (seed), Horehound (herb), Thyme (leaf), Elecampane (root)
Eleuthero … 65 mg**
(root)
Guggul Extract … 65 mg**
(gum resin)
Rosemary … 65 mg**
(leaf)
Gotu Kola … 50 mg**
(aerial parts)
Plantain … 20 mg**
(leaf)
Other Ingredients: Cellulose, stearic acid, silica, sodium croscarmellose, hypromellose, magnesium stearate, glycerin, brown rice.
Does not contain:
Yeast
Soy
Artificial Colors
Artificial Flavors
Preservatives
Dairy Products
Warning:
Do not exceed recommended dosage per day. Do not use this product if you are pregnant, nursing, or attempting to become pregnant. Do not use if you have a bleeding disorder, are within a week of any surgical procedure, or are taking blood thinning medication. If you are taking any other medications, have a kidney disorder, diabetes, or high blood pressure, consult a healthcare professional before use. Not recommended for individuals with autoimmune conditions. Individuals with allergies to plants of the Asteraceae (Compositae) family, including ragweed, should use this product with caution.Keep out of reach of children.