Cholesterol-PMF with Sytrinol™
Protocol for Life Balance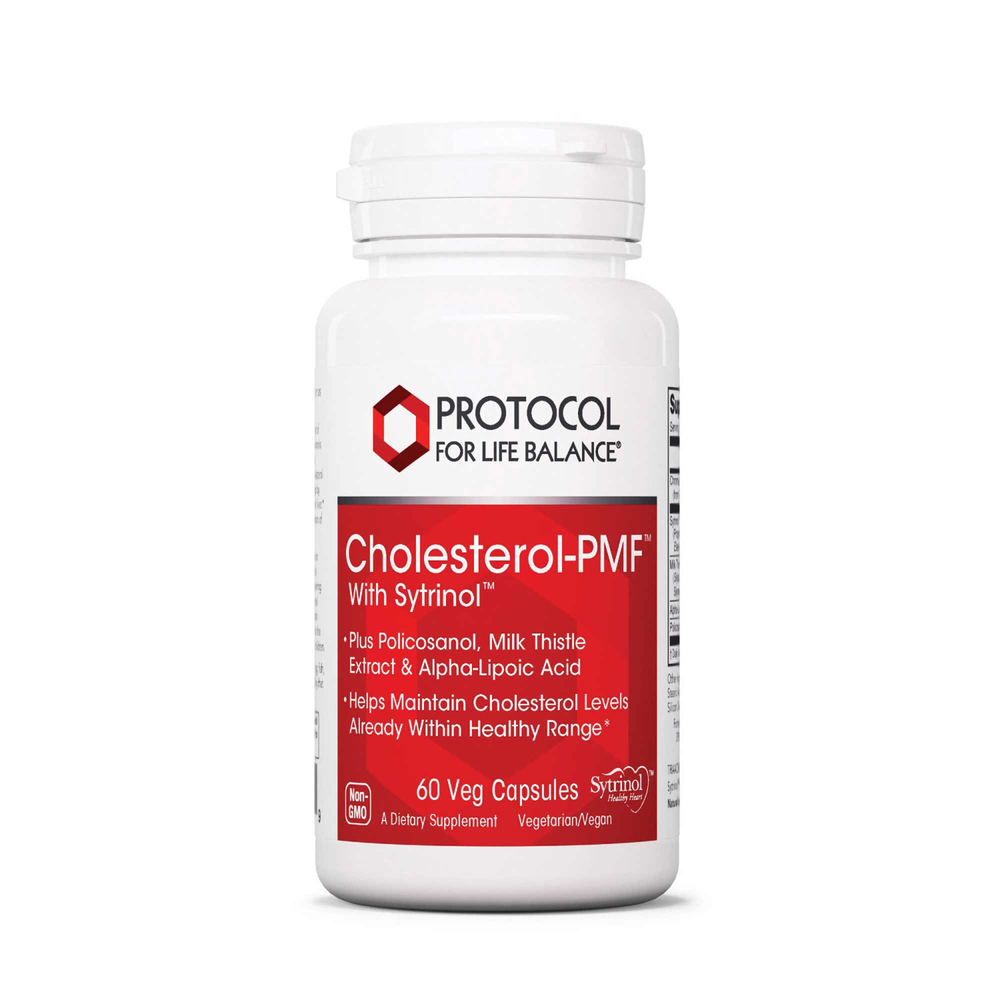 SKU: PROT-P3507
Cholesterol-PMF™With Sytrinol™
Plus Policosanol, Milk Thistle Extract & Alpha-Lipoic Acid
Helps Maintain Cholesterol Levels Already Within Healthy Range*
How it Works
Sytrinol™ is a clinically tested blend of bioflavonoids (polymethoxylated flavones) and tocotrienols extracted from natural citrus and palm fruits. Studies demonstrate that Sytrinol™ may help to maintain cholesterol and triglyceride levels already within the healthy range by supporting a balanced production of cholesterol by the liver.* This formula also includes a complementary combination of milk thistle, policosanol, and alpha-lipoic acid
Suggested Use:
Take 1 capsule twice daily, or as directed by your healthcare practitioner.
Serving Size: 1 Veg Capsule
Amount Per Serving
Chromium ... 60mcg
(from Chromium Nicotinate Glycinate) (TRAACS®)
Sytrinol® ... 150mg
(Proprietary Blend of Citrus sinensis L extract and Elaeis guineensis extract)
Milk Thistle ... 50mg
(Silybum marianum)(Fruit/Seeds)(Standardized to 40mg Silymarin Flavanoids - equivalent 80%)
Alpha Lipoic Acid ... 50mg
Policosanol ... 10mg
(from Sugar Cane)
Other Ingredients: Rice Flour, Hypromellose (cellulose capsule), Stearic Acid (vegetable source), Calcium Carbonate and Silicon Dioxide.

Not manufactured with yeast, wheat, gluten, soy, milk, egg, fish, shellfish or tree nut ingredients.

TRAACS® is a registered trademark of Albion Laboratories, Inc.
CAUTIONS AND INTERACTIONS: Ingredients in this product may interact with anti-coagulant and anti-platelet, cholesterol-lowering and anti-inflammatory medications. If you take any prescription medications, plan to have any surgical procedures, or if you are pregnant/lactating, consult your healthcare practitioner before taking this product. Milk thistle may cause an allergic reaction in individuals sensitive to the ragweed and related herbs.

Keep out of reach of children.