Taxifolin Complex SR
Endurance Products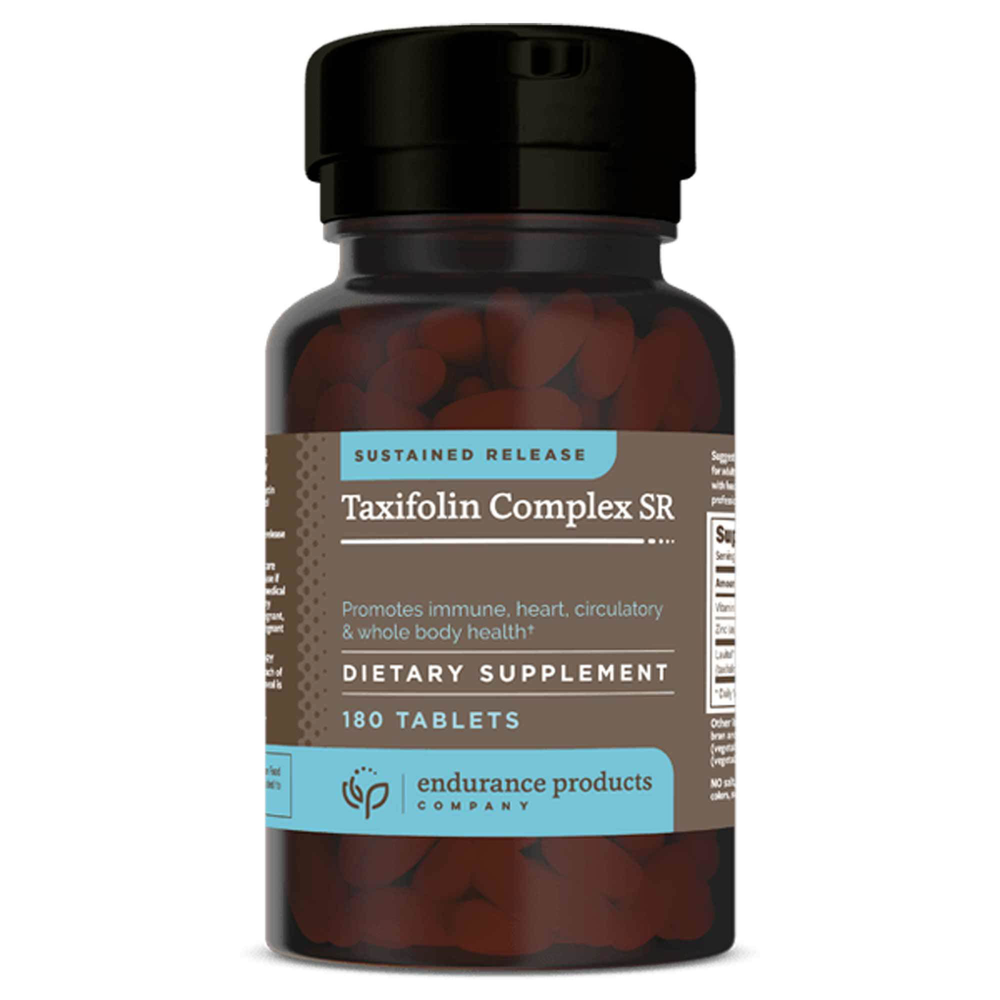 SKU: END503-20360
Taxifolin Complex SR is ideal for men and women who want to take antioxidant protection and immune defense to the next level without compromising convenience.
Taxifolin Complex SR features high-potency vitamin C, highly bioavailable zinc bisglycinate, and Lavitol® a patented bioflavonoid extract dihydroquercetin (taxifolin). Lavitol® dihydroquercetin is a prized plant antioxidant sourced from Dahurian larch trees native to Siberia, backed by an extensive safety evaluation, and affirmed GRAS (Generally Recognized as Safe) for use in foods and dietary supplements.*
By using our proprietary vegetable wax-matrix tablet core, each sustained-release tablet slowly dissolves for a steady release of this powerful antioxidant trio over a period of 5 to 7 hours to promote optimal absorption and tissue retention.*
Taxifolin Complex SR exerts its key health benefits in a variety of ways, including:
Vitamin C helps neutralize free radicals that can harm cells, including cells that line your blood vessels (endothelial cells). In the blood, vitamin C helps recycle and reactivate another antioxidant, vitamin E. Vitamin C helps maintain the protective membranes that line the nose, mouth, throat and intestinal tract. It also plays a role in the production or activation of key immune cells, helps ensure a healthy inflammatory response, and helps protect the integrity of the skin and underlying capillaries.*
Zinc protects cells from oxidative damage primarily as a component of the enzyme superoxide dismutase (SOD). Zinc plays a key role in the optimal function of several immune cells — neutrophils, natural killer cells and T-lymphocytes — that help maintain a healthy immune function. Like vitamin C, zinc also helps maintain the integrity of skin and the protective membranes that line the nose, mouth, throat and intestinal tract.*
Taxifolin may exert its antioxidant effects by helping to recycle and reactivate vitamin C, based on pre-clinical research. Emerging research also shows that taxifolin, also known as dihydroquercetin, may be better able to protect capillary function compared to regular quercetin, thanks to its special chemical configuration.*
Supports the body's antioxidant defenses*
Helps maintain immune health*
Promotes heart health & healthy circulation*
Formulated for steady release over 5-7 hours
With GRAS-affirmed Lavitol® dihydroquercetin (taxifolin), a premier brand backed by an extensive safety evaluation
Suggested Use:
As a dietary supplement for adults, take one (1) tablet, twice daily with food, or as directed by your healthcare professional.
Serving Size: 1 Tablet
Amount Per Serving
Vitamin C … 500mg
(as ascorbic acid)
Zinc … 15 mg
(as zinc bisglycinate)
Lavitol® Dihydroquercetin … 50mg*
(taxifolin) (from Larix gmelinii stump extract)
Inactive Ingredients: Vegetable wax (rice bran and/or carnauba), stearic acid (vegetable), magnesium stearate (vegetable), and silica.
No salt, sugar, starch, artificial flavors, colors, sweeteners or preservatives.
Lavitol® is a registered trademark of Ametis Co. Ltd.
Warning: Consult your healthcare professional prior to use if you have or suspect a medical condition or are taking any medications. Do not use without the advise of your physician if you have diabetes or a related condition as dihydroberberine may lower blood sugar. Do not use if you are pregnant, planning to become pregnant or nursing.