TetraCumin SR
Tesseract Medical Research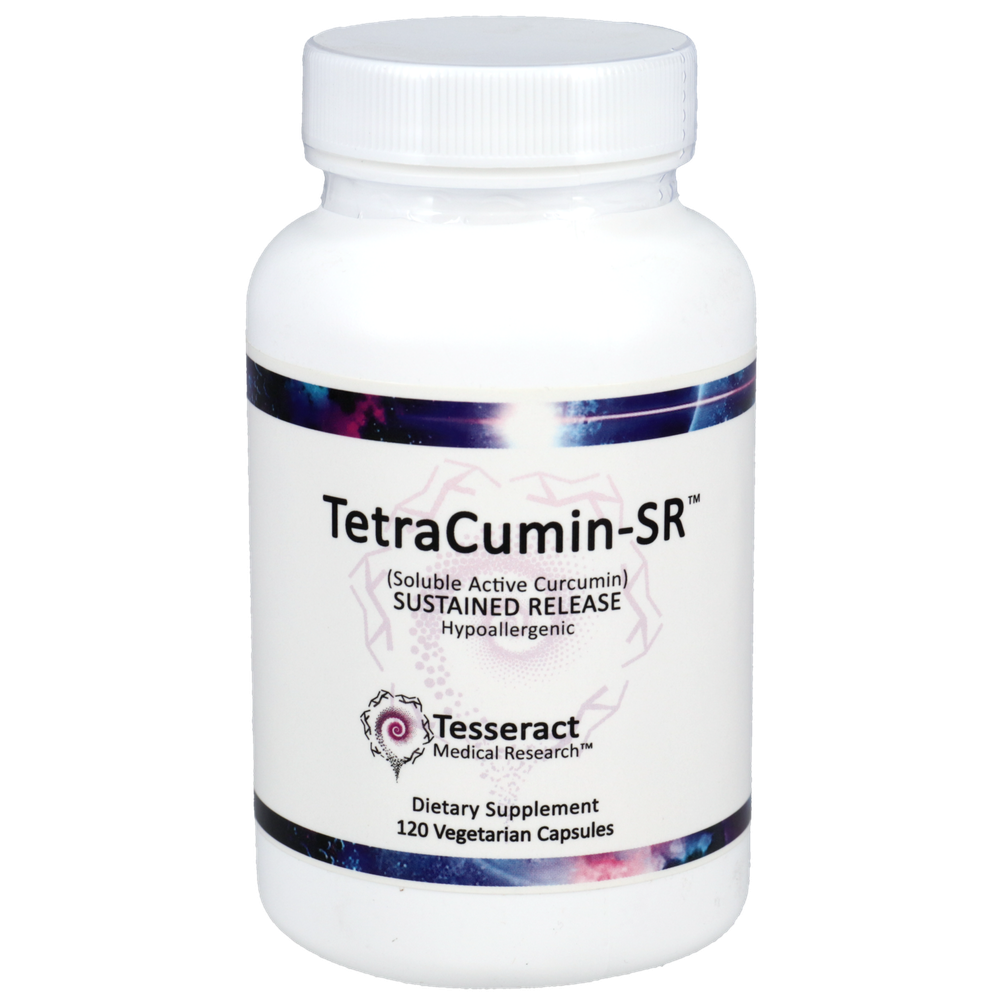 SKU: TES617-EX021
TetraCumin-SR™ is Tesseract's powerful TetraCumin™ with the added benefit of sustained release delivery.
Formulated using the CyLoc™ matrix and DexKey™ delivery science, TetraCumin SR™ delivers Tetrahydrocurcumin, the only bioactive metabolite the body can readily absorb.
Supports and maintains a normal inflammatory response*
Provides Anti-Oxidant and Cell-Protective Activity*
Supports a Healthy Gastrointestinal Environment*
Supports Optimal Lipid Profiles and Cardiovascular Health*
Provides Relief from Occasional Joint and Muscle Soreness*
TetraCumin-SR™ is the only brand to feature the bioactive curcumin metabolite, Tetrahydrocurcumin. TetraCumin-SR™ eliminates the need for intestinal microorganisms to convert curcumin to Tetrahydrocurcumin, – the only form the body can readily absorb. TetraCumin-SR™ is complexed in a CyLoc™ molecular food matrix to further ensure maximum solubility, optimal bioavailability, and rapid delivery throughout the intestinal tract.*
Features
TetraCumin™ is the only Tetrahydrocurcumin product available on the market
No bioperine additive – allows for higher dosing
Strategic soluble active Tetrahydrocurcumin delivery in individual molecule form, locked in a specialized molecular food matrix with a release agent to ensure solubility and maximum absorption
Utilizes the patent-pending DexKey™ release process to carefully break the molecular matrix cage and release each molecule of Tetrahydrocurcumin as it is needed in the body
Effective therapeutic delivery of Tetrahydrocurcumin throughout the intestinal tract providing optimal absorption
Designed for 12 hour sustained release delivery for extended support
Take 1-2 Capsules two times daily or as recommended by your health-care practitioner.
Serving Size: Two Capsules
Amount Per Serving
TetrahydroCurcumin complex** ... 700mg
Other Ingredients: CyLoc™ gamma dextrin fiber matrix, high and low hydroxypropyl methylcellulose (sustained release), hypromellose (derived from cellulose) capsule, calcium laurate, leucine, plant amylase and silicon dioxide.
**Solubility enhanced TetrahydroCurcumin (from Curcuma longa (rhizomes) in an octadextrin matrix molecular trap compounded with DexKey™ release agent (patent pending, Al Czap, Czap R&D, licensed by Tesseract Medical Research, LLC)
Tamper Evident: Use only if bottle is sealed.
Store tightly sealed in a cool, dry place.
If pregnant, consult your health-care practitioner before using this product.