Ther-Biotic® Women's
Klaire Labs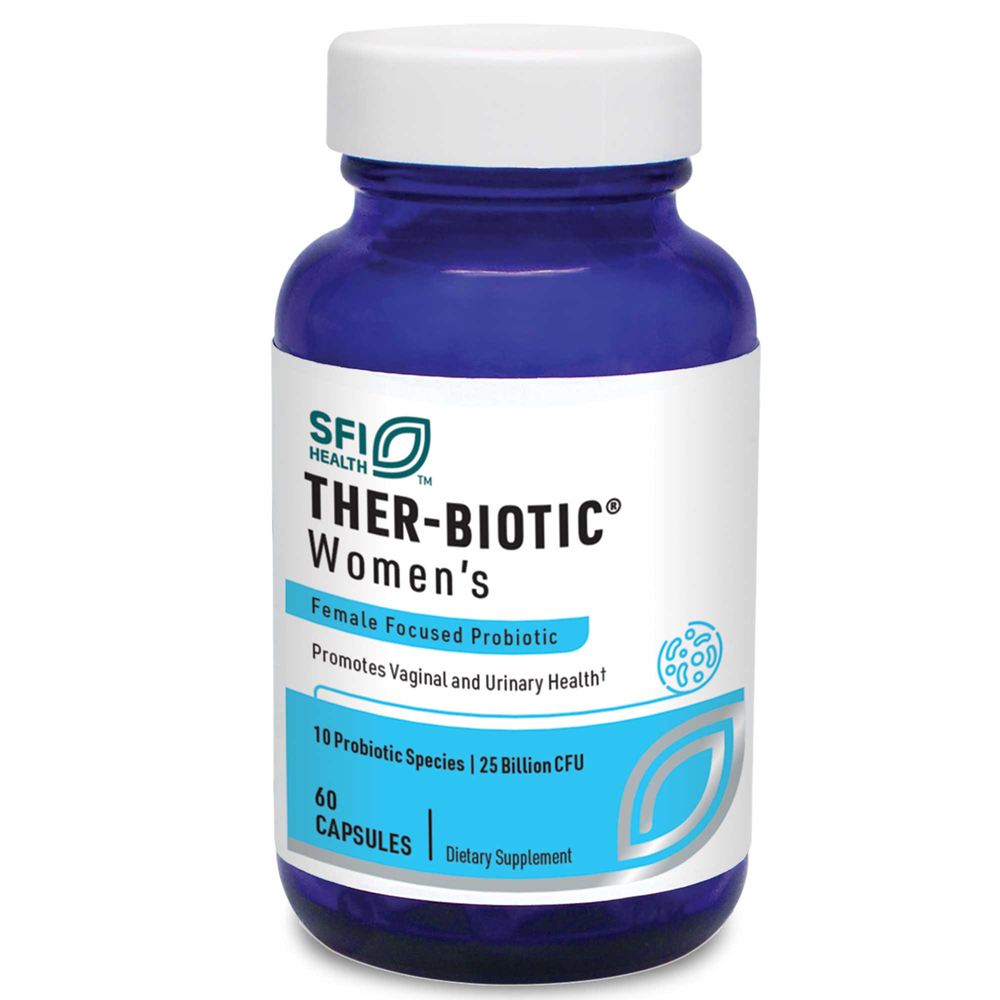 SKU: KL-KTWF
Benefits and Features
-10 probiotic species in a potent 25B CFU blend
-Helps restore and maintain healthy vaginal microbiota balance†
-Supports a healthy acidic vaginal pH†
-Promotes healthy bacterial and yeast balance†
-Supports mucosal immune response†
-May reduce occasional vaginal itching, discomfort, or discharge†
-May support odor reduction and vaginal comfort†
-Leveraging the power of probiotic diversity, Ther-Biotic® Women's formula is designed to adapt to each woman's unique vaginal and urinary microbiome needs with multi- species support.†

Detail Overview
Ther-Biotic® Women's is a broad-spectrum probiotic featuring 10 clinically studied Lactobacillus and Bifidobacterium species selected to help restore and maintain a healthy balance within the female genitourinary microbiota.† Leveraging the power of probiotic diversity, Ther-Biotic® Women's is designed to adapt to each woman's unique microbiota. The range of probiotic species promotes a healthy vaginal pH, healthy bacterial and yeast balance, and mucosal immune response while promoting vaginal comfort and potentially addressing occasional vaginal itching, discomfort, discharge, or odor. †


Suggested Use:
Adults: 1 capsule daily with food or as directed by a healthcare professional.
Children: As directed by a healthcare professional.


Serving Size: 1 Capsule
Amount Per Serving
Probiotic Blend (25 billion CFU) in a base of inulin (from chicory root) … 300 mg*
Lactobacillus species … 20 billion CFU*
Lactobacillus acidophilus*
Lactobacillus brevis*
Lactobacillus rhamnosus*
Lactobacillus gasseri*
Lactobacillus casei*
Lactobacillus salivarius*
Lactobacillus plantarum*
Bifidobacterium species … 5 billion CFU*
Bifidobacterium bifidum*
Bifidobacterium breve*
Bifidobacterium longum*

Other Ingredients: Vegetarian capsule (hydroxypropyl methylcellulose, water), InTactic® proprietary polysaccharide complex, and L-leucine.


Made without common allergens: milk/casein, eggs, fish, shellfish, tree nuts, peanuts, wheat, gluten, soybeans, and sesame. No synthetic colors, flavors, or preservatives. Non-GMO, Vegetarian.
Refrigerate and keep tightly closed to maintain product potency. Do not use if shrinkwrap is broken or missing. Keep out of reach of children.