Theralac
Master Supplements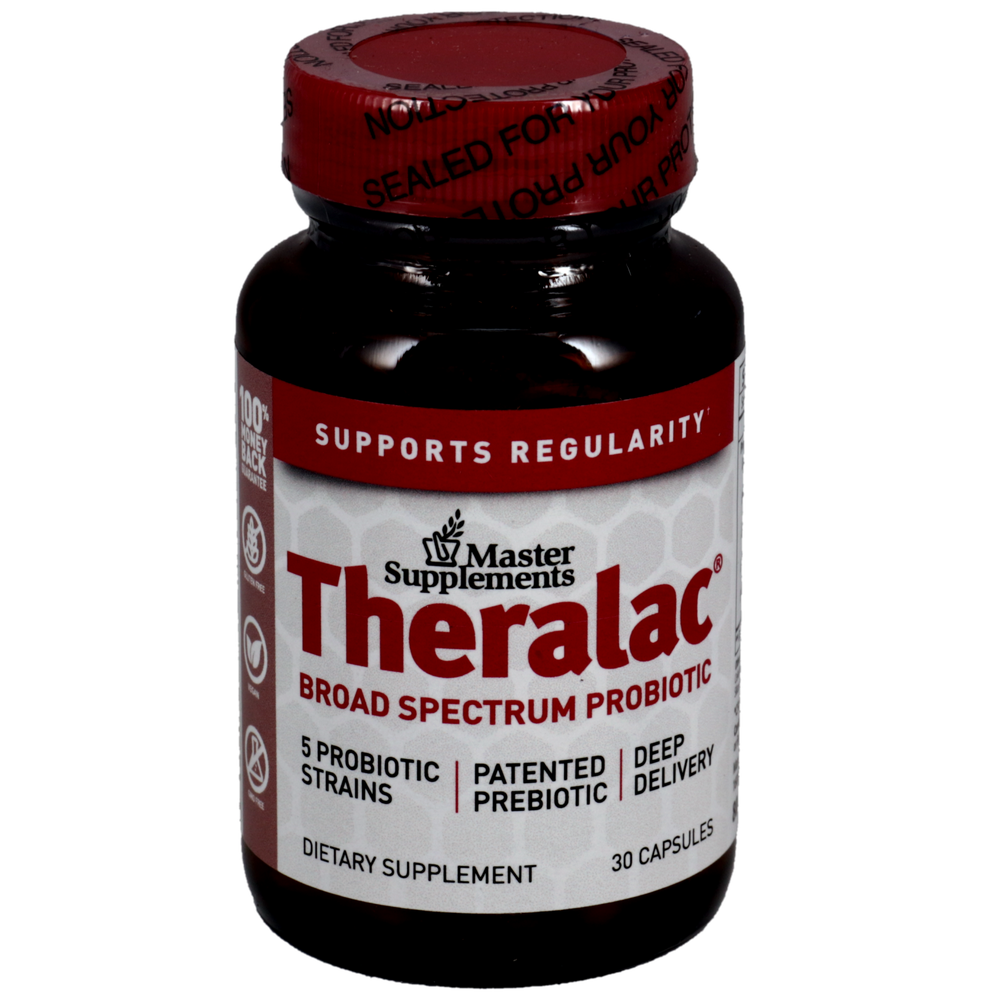 SKU: MSP-21111
A multi-strain probiotic supplement designed to boost immune health and digestive regularity.
Theralac contains 30 billion CFU of lactobacilli and bifidobacteria probiotic cultures for complete intestinal coverage. The strains synergize and work together to promote digestive health, wellness, and a return to regularity so you can feel your best.
As a dietary supplement for adults' take one capsule daily for two weeks followed by two capsules per week thereafter. Return to one capsule daily whenever additional supplementation is desired. (Theralac can be taken with antibiotics: Allow at least 3 hours separation).
Serving Size: 1 Capsule
Amount Per Serving
Proprietary Blend ... 133mg
Lactobacillus paracasei ... 5 billion CFU
(Strain LPC-37)
Lactobacillus rhamnosus – 2 billion CFU
(Strain LR-32
Lactobacillus acidophilus – 10 billion
(Strain LA-1)
Bifidobacterium lactis – 10 billion CFU
(Strain BL-04)
Bifidobacterium lactis – 3 billion CFU
(Strain Bi-07)
Other Ingredients: Microcrystalline cellulose, sodium alginate, hydroxypropyl methyl cellulose (capsule shell), tri-sodium phosphate, magnesium stearate, silicon dioxide, calcium silicate, ascorbic acis, LactoStim® (sunflower lecithin + olic acid).
Does not contain milk, eggs, gluten, wheat, soy, casein, nuts, seafood, or beef products.
Keep out of reach of children.
Best if refrigerated. (Refrigerate upon arrival).